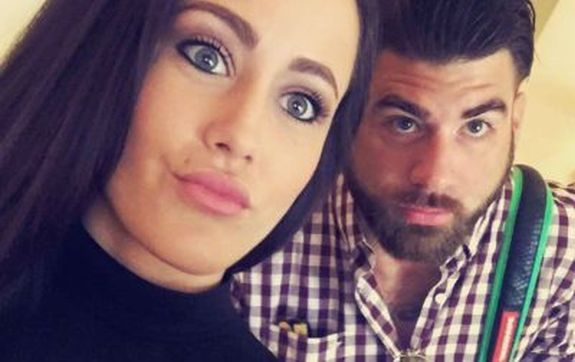 Jenelle Evans and David Eason trekked back to the courthouse for the third day to fight for custody of their kids– and The Ashley has some details of what went down today!
The Ashley's sources tell her that the former Teen Mom 2 stars— who were in court two days last week fighting to regain custody of their kids Maryssa, Kaiser and Ensley— will next appear in court on Friday to continue the fight.
According to The Ashley's sources, Jenelle took the stand for several hours on Wednesday and, at one point, the judge became irritated with Jenelle's lawyer.
(From what The Ashley hears, Jenelle's lawyer was hired, but David has a court-appointed lawyer.)
"They aren't really bringing the stuff that was shown on ['Teen Mom 2'] into the case," one source said. "They don't really need to. There is enough to discuss from the CPS investigation."
The custody placement hearing is taking much longer than usual, as there are multiple lawyers involved (one for Jenelle, one for David, one for Nathan, etc.) who can all cross-examine those who take the stand.
The Ashley also hears that Jenelle and David visited with the three kids on Wednesday before court began.
There have been a lot of reports from other outlets put out today regarding Jenelle, David and the case, so The Ashley will attempt to clear up some of the rumors, and also reveal what info she has been told.
Radar Online reports that Jenelle's lawyer tried to get the judge thrown off the case, accusing the judge of being biased toward CPS.
The Ashley's source say this is TRUE.
"He tried to have the judge recuse himself from the case," Radar's source stated. "Jenelle's attorney said that the judge had a prejudice against them because he was biased toward CPS. The attorney said he had evidence that the judge was prejudiced against them but after a long break he said he couldn't find what he was looking for.
The Ashley's source tell her that this actually happened on Friday, and that those involved had to take an extended break on Friday from court because of their request for a new judge. (The request was denied.)
TMZ reports that Nathan "wants Jenelle to visit Kaiser, but only if David isn't around. She has rejected that offer but does FaceTime with her son."
The Ashley's sources say this is TRUE.
Jenelle did have visitation with Kaiser (as well as Ensley and Maryssa) before court today (which was supervised by CPS), as did David. She has maintained regular FaceTime contact with Kaiser, though.
Jenelle's son Jace was also in court today, but The Ashley can't confirm if Jenelle and David had supervised visitation with him or not.
TMZ reports that Jenelle wanted Kaiser removed from Nathan's care and placed (along with Ensley) with "a friend."
The Ashley's sources say this is TRUE.
This happened on Friday, The Ashley hears, right before the court was adjourned for the day.
"Jenelle tried to convince the judge that Nathan was not fit to have Kaiser, and asked that he and Ensley be placed with her friend Katrina," the source said.
(Teen Mom Shade Room Instagram account captured this video of Katrina walking out of court with Jenelle and David.)
View this post on Instagram
Katrina– who appeared on recent episodes of 'Teen Mom 2'–is not related to either Ensley and Kaiser, already has multiple children in her home, and has a husband who has had multiple run-ins with the law, according to public records.
The judge denied Jenelle's request and Kaiser remained with Nathan. Ensley remained with Barbara, after a judge ordered the two-year-old be moved into her care on Friday.
Several sites report that this hearing will decide who the kids will live with permanently.
The Ashley's sources say this is FALSE.
This battle is for temporary guardianship of the kids. Should Nathan (for Kaiser) and Barbara (for Ensley) be awarded temporary guardianship of the kids in their care, they will still have to battle in court to make it a permanent arrangement. (For Jace, Barb did not have to "battle" because Jenelle signed over custody willingly when he was a baby.)
Nathan was scheduled to begin his custody court battle on May 30, but that date will be pushed back until this is decided. Should the judge rule that Kaiser can stay with Nathan, Nathan will still have to fight for full custody in another court battle.
David told a TMZ reporter that he filed harassment charges against him last week.
While David did say this to a reporter outside a nearby lawyer's office on Wednesday, The Ashley could find no record of anyone by the reporter's name being arrested (as David claimed he would be), or being charged last week or on Wednesday.
If David did, indeed, want to file "harassment charges" against the reporter as he stated in the video, he would have a hard time doing so as the reporter was not doing anything illegal (at least that was shown in either this video or the video taken by the same reporter last week that was shown on TMZ.)
To catch up on what happened last week in court, click the links below:
(Photos: Instagram)