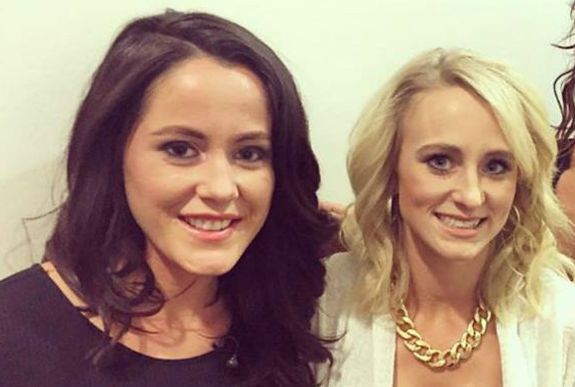 Jenelle Evans is currently in court (again) fighting to get custody of her kids back (more on that later). Most of the Teen Mom 2 family has been rather quiet about what's happening with their former co-star, but Leah Messer recently gave her thoughts on the custody situation— as well as Monday's Reunion episode of 'Teen Mom 2' in which Jenelle was called out big time by the Reunion co-host, Nessa!
Leah— who is generally less outspoken than her co-star Kail Lowry in regard to all topics Jenelle—responded to a fan's question about Jenelle on the most-recent episode of her Life Reboot podcast. It was obvious that Leah was hesitant to say anything about her former co-star but she eventually opened up about it.
"I really don't have much to say," Leah said, before stating that she is not surprised by what's happened in terms of the custody of Jenelle and her husband David Eason's kids. (As The Ashley told you, all of the Easons' children are currently in the care of others after CPS took them earlier this month.)
"I think that what happened was coming," Leah said. "I really pray and hope that the kids remain safe and, you know, have a healthy life."
Earlier in the week, Leah also spoke up about Nessa ambushing Jenelle on-stage during the 'Teen Mom 2' Season 9 Reunion. The ambush went down just as The Ashley told you it would in her story from the day Nessa and Jenelle faced off on-stage in April. Jenelle was called out by Nessa for posting negative things about Nessa's boyfriend, Colin Kaepernick, to her social media, and Jenelle ran off the stage crying.
While 'Teen Mom 2' fans seemed to have mixed feelings about what Nessa did, Leah was all for it!
"I give mad props to Nessa," Leah said in an Instagram Story posted after the episode aired. "That was a very healthy conversation that I respect you for. I admire you, actually."
Leah then started leading a cheer for the co-host.
"Go, go, go Nessa!" Leah sang.
Fellow 'Teen Mom 2'-er Kail gave her thoughts on the custody situation last week, telling TMZ that fans have been asking if she'll take custody of Jenelle and David's daughter Ensley. (Again, The Ashley will tell you that this is ridiculous and, of course, would never, ever happen!)
As The Ashley told you on Tuesday, Jenelle's mother, Barbara, has had the two-year-old since Friday.
"People are messaging me asking me if I'll take Ensley!" Kail said. "I'm like, 'Ohhhh, I don't want to get involved! I'm not considering it at this time but I hope that [the kids] are happy and healthy overall."
The Ashley will have more info on Jenelle and David's latest day in court soon. To catch up on what's happened so far, click the links below:
EXCLUSIVE! Judge Orders Jenelle Evans & David Eason's Daughter Ensley to be Placed in Care of Jenelle's Mother Barbara Evans
UPDATE! The Latest on Jenelle Evans' & David Eason's Custody Court Battle: Day 2
Updates on Jenelle Evans' & David Eason's Court Hearing for Custody of Their Kids (Exclusive!)
(Photos: Instagram)