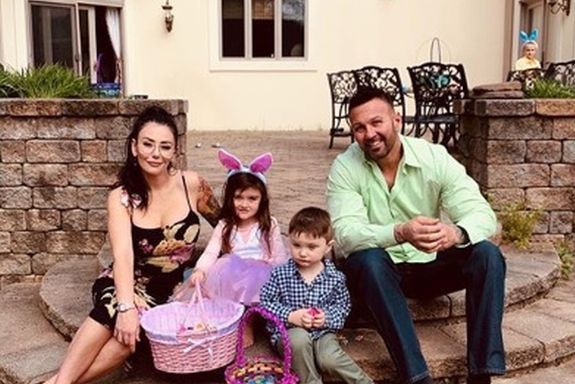 Despite the fiasco that is Jenni "JWOWW" Farley and Roger Mathews' divorce, the father-of-two surprisingly came to his ex's defense earlier this week.
The Jersey Shore star was attacked by fans after being out and about with her new boyfriend, Zack Carpinello, last weekend. Fans were claiming that, with Jenni seemingly spending so much time away from her children, Roger may be a better parent, but Roger was quick to shut those claims down in a post to his Instagram account.
"There seems to be an overflow of negative comments both toward me and toward Jenni on many of my posts still," he wrote. "I'm a big boy and a proud supporter of free speech, I can take it. Jenni also has tough skin and can take it however the comments as to who the better parent is, or who spends more time our children are unnecessary."
Of course, just months ago, Roger himself was claiming that Jenni was a less-than-great mother to their daughter Meilani and son Greyson. He also addressed that in his recent posts.
"I accept my responsibility in the divide I caused in the eyes of the public but I'll always post about my children and if we can move past the negativity certainly it wouldn't be too much to ask for everyone else, too," Roger said. "We both love our children emphatically and always will. It takes far more effort and energy to be negative than it does to be positive."
Fans were quick to attack Roger's ex in the comments section.
"It seems like you spend more time with the kids than their own mother," one person wrote in the comment section of Roger's Instagram post.
"All I see is kids, kids, kids on your posts," another wrote. "The mother is out partying with her new boyfriend and drinking and barely see posts with the kids. Sad."
Of course, Meilani and Grayson spend time with their mother as well, and it turns out they've also been hanging with Jenni's new boo — which is why another user added, "New dude shouldn't even be around the kids yet. I'm sorry but I'm really disappointed in Jenni overall."
The mother-of-two recently opened up about how the kids get along with her new man.
"[Meilani] honestly probably likes him more than me at this point, because he's cooler and will do a lot more," Jenni told Entertainment Tonight of Zach, who is the brother of Jenni's friend. "And I'm like, the mom yelling in the background. But it's fine. I'll let him have his moments."
Jenni and Roger have come a long way in their parenting in the past few months. The 'Jersey Shore' star recently told People that she's hopeful they've made it through the darkest times.
"I've always wanted to be amicable. I've always wanted to put my kids first and that's what we're really trying to do right now," she said. "There's always going to be drama because you have two people that are very hard headed, and we have two kids together. At the end of the day, we love our children and we want what's best for them, so I think we're over the hump and I'd like to say it's smooth sailing from now on. We're doing really well though. My biggest thing is to keep it off social media."
RELATED STORY: 'Jersey Shore' Star Jenni Farley Calls Out Ex Roger Mathews for Ditching His Kids to Go "Rage" During His Parenting Time
(Photos: Instagram)