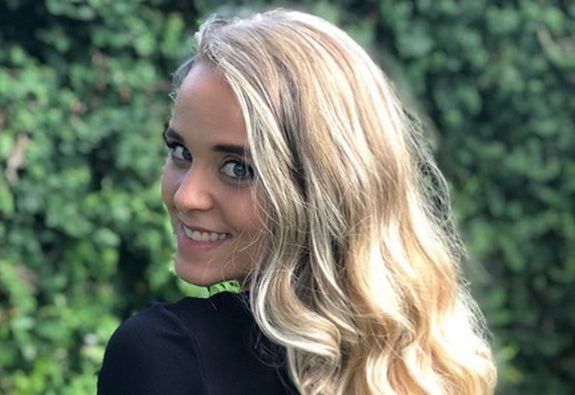 Jinger Vuolo is once again shucking Duggar Family traditions!
The Counting On star shocked fans on Thursday when she debuted her brand-new blond hair, making her the first of the Duggar girls to dramatically change her hair color!
"Decided to go with the blonde balayage this summer," Jinger captioned a series of photos posted to her Instagram account.
While Jinger's new 'do got mostly rave reviews in the comment section of her Instagram post, there were some nay-sayers who scolded her for going against God's hair will…or something…
"Be careful sweety not to follow the temptations of the World!" one person commented.
"God made you a brunette for a reason!" another wrote.
"What's wrong with your God-given color? What's next?" one person wrote to Jinger.
It's no surprise that Jinger was the first of the Duggar gals to take a risk with her hair. A few years back, she also became the first of the family's female spawn to buck Fundie tradition and put on a pair of shorts(!) and regularly wear pants. (Her sister, Jill Dillard, has since followed suit, but none of the other Dugs have dared to wear anything but dresses and skirts).
This is not the first time Jinger has played with blond; in the past she has added highlights to her hair, but this is the first time any Duggar girl has turned herself into a blond bombshell!
Although the Duggar girls have all continued to have long hair, even after marriage. In their 2014 book, Growing Up Duggar, the Duggar girls (Jinger, Jill, Jessa and Jana), state that they "choose longer hair based on our understanding of 1 Corinthians 11:14-15. It says that even nature itself teaches us that, while it is a shame for a man to have long hair, a woman's hair is her glory." This is most likely why no Duggar girl has cut their hair significantly, even after marriage.
However, despite what some fans think, the Duggars have nothing against dyeing their hair. In Growing Up Duggar, Jana mentions in one passage that she and her sisters don't think there is "anything wrong with dyeing your hair…We love to experiment with different styles, and some of us may decide someday to add highlights or change our hair color." However, Jana says that, after a disastrous attempt to bleach her hair, "I've been content with the color God chose for my hair."
Jinger's sisters, however, provided some much-needed positive comments on Jinger's photos.
"Looks lovely, Jinge!" Jessa wrote.
"You are gorgeous!" Anna Duggar commented.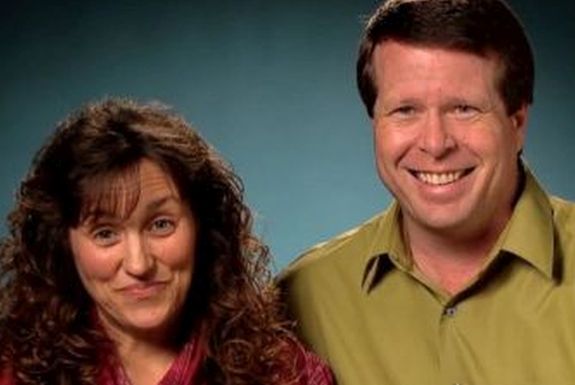 Jinger (and her new blond tresses) will soon be moving to California with her husband Jeremy Vuolo and their daughter Felicity. The move is scheduled to take place this summer.
RELATED STORY:'Counting On' Stars Jinger & Jeremy Vuolo Announce They're Moving Out of Laredo, Texas
(Photos: TLC, Instagram)