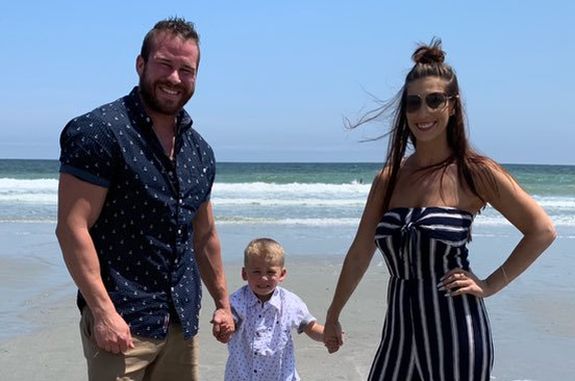 Teen Mom 2 fans aren't the only ones who have seen a visible change in Jenelle Evans' son, Kaiser Griffith, since the four-year-old went to live with his father, Nathan Griffith last month. Nathan's best friend Katlyn McCormick says she sees Kaiser thriving in Nathan's care.
"His demeanor as a little boy has changed so much since being with Nathan," Katlyn— who was actually Jenelle's friend before becoming pals with Nathan– told Hollywood Life in a new interview. "Kaiser is so happy and he even told me he isn't scared anymore."
Kaiser has been living with his dad since mid-May, when CPS removed him (and later the rest of the kids Jenelle and her husband David Eason have) from their home on The Land. According to Katlyn, Nathan and his girlfriend Ashley Lanhardt are working to help Kaiser get over the trauma he may have experienced from witnessing the death of the family dog Nugget at the hands of David.
"With everything that happened with Nugget and such, Kaiser knows all of that and at four years old, he's aware of what happened," she told the site. "He just feels so much love now and attention and everything he's supposed to have…[Nathan has] really been able to take Kaiser out of his shell and change everything that he went through."
Katlyn revealed that Nathan and Ashley have attended therapy sessions with Kaiser "to make him feel better and get past this trauma that he's been going through.
"Kaiser is so happy, you can just tell the difference in him," she added.
'Teen Mom 2' fans have noticed a change in Kaiser's demeanor as well, judging by the comments they have left on the videos and photos of the boy that have been posted by Nathan and Ashley on social media.
Thought I might share a few. #teamGriffith #soontobe #putaringonit #damsel #Gentlemen pic.twitter.com/Q48O9Xu3Y0

— Nathan J. Griffith (@GroundLevelUp) May 20, 2019
"Omg what a HUGE difference in appearance and his smile in pictures," one person wrote in response to photos Nathan posted of Kaiser recently. "Praying for him and you."
"It's amazing to see the difference in Kaiser's smile when he's with your family, his smile reaches his eyes," another wrote. "I wish you all the luck, your son needs you."
About the cutest thing EVER!!! I love @a_lynn423 and how she treats Kaiser so good. He loves his Ashley. #smile #teamGriffith pic.twitter.com/jLA38Yn83s

— Nathan J. Griffith (@GroundLevelUp) May 20, 2019
Nathan spent much of last month in court fighting to keep temporary custody of Kaiser. On May 28, a judge decided that the Easons' kids would stay with the caretakers they are currently with for the foreseeable future. Jenelle and David were not happy with that decision, leading them to have several very public outbursts at the various caretakers, including Nathan. (Currently, Jenelle's mother Barbara Evans is taking care of Jenelle and David's daughter Ensley, as well as Jenelle's son Jace, while David's daughter Maryssa is at her grandmother's house.
Katlyn told Hollywood Life that Nathan has put Kaiser "on a routine."
"It's not stuck in a house being scared anymore," she added.
Jenelle has yet to respond to what her former friend said about her in this interview. Her friendship with Katlyn ended sometime around 2014 (while Jenelle was pregnant with Kaiser). While Katlyn never appeared on 'Teen Mom 2' (to The Ashley's knowledge), she did appear on the short-lived TLC reality show Welcome to Myrtle Manor. Nathan and Ashley recently attended Katlyn's wedding in New Jersey.
RELATED STORY: David Eason Has Verbal Altercation with Nathan Griffith Outside Courthouse After Jenelle Gets Into Argument with Mother Barbara (Exclusive Details)
(Photos: Twitter)