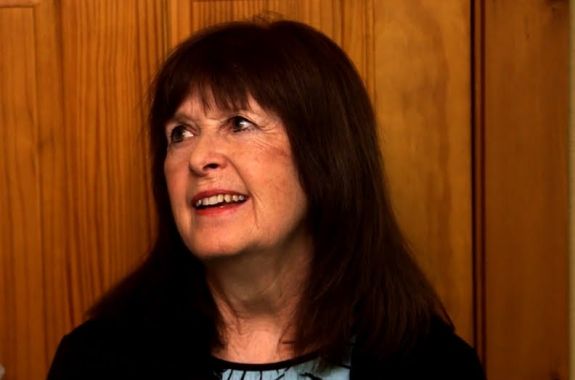 It's a sad day for the Duggar Family.
The TLC reality stars used their official Facebook page to break the news that Grandma Mary Duggar had died suddenly on Sunday.
Mary— who was the mother of Jim Bob Duggar— was featured frequently on both 19 Kids and Counting and Counting On. Her death must have been very unexpected, as large group of Duggars spent Sunday attending the Alert Academy graduation of Jason and James. Just two days earlier, an assortment of Dugs were at Silver Dollar City amusement park in Branson, Missouri. (It's unlikely the family would have left the state had Grandma Duggar been ill.)
Mary had just celebrated her 78th birthday, on the same day that her granddaughter, Jessa Seewald, gave birth to her daughter Ivy last month.
Although the Duggars have yet to reveal how Mary died, they did mourn her loss on social media.
"We are so sad to share that Grandma Duggar (Mary) passed away Sunday afternoon, June 9th, 2019," a message posted to the Facebook page reads. "Mary Lester Duggar grew up in Farmington, Arkansas and was married almost 50 years to J.L. (Jimmy Lee) Duggar who preceded her in death…"
Later on in the post, the family wrote about Mary's extra-large family and her stint as a reality TV star.
"She is survived by her daughter Deanna and her son Jim Bob, 21 grandchildren, 13 great-grandchildren, with several more great-grandchildren on the way!" the post reads. "Mary Duggar was also a successful real estate broker who owned Good Neighbor Realty… Grandma Mary Duggar has been on the TLC shows, "19 Kids & Counting" and 'Counting On' with her family for over 15 years.
"She is greatly loved and will be missed so very much! She lived a tremendous life as a follower of Christ, a wife, a devoted mother, a loving mother-in-law, and a much-loved grandmother. Proverbs 31:10-31 describes the virtuous woman, indeed she personified these beautiful verses with her life."
It has been long-rumored that Grandma Mary was actually responsible for the Duggar clan getting their first TV special, after she called several networks to gauge their interest in her son's supersized family. While that report has never been officially confirmed by the Duggars, they have acknowledged that Mary played a huge part in their family over the years, taking over laundry duty for the Duggars and renting out several of her houses to the Duggar kids after they got married. (Jessa and Ben are currently living in one of Mary's houses.)
The Duggars took to their personal Instagram accounts to express their sadness over the loss of their grandmother.
"Great-Grandma Duggar went to heaven today to be with Jesus!" Anna Duggar wrote on Instagram. "What an awesome woman of faith and such a loving example of God's love. She was a true soul-winner and loved everyone she met, telling them to turn from sin and trust Jesus for salvation! Miss her soooo much and we cherish each moment we were blessed to spend together! Lots of tears being shed here — grateful for all the prayers."
"My heart breaks," Jill Dillard wrote. "My grandma died suddenly today! She was an amazing woman of God and such a great example to so many! Grandma, you are greatly missed by all who knew you! She was a feisty, incredible woman who always took the time to talk about Jesus with everyone she knew! I know she was ready to check outta here and get her new body in heaven before the old one started giving her too much trouble! We miss you so much!!"
UPDATE! More of the Duggars have posted tributes to their Grandma on social media, including Cousin Amy Duggar, who was particularly close with Grandma Duggar.
"It breaks my heart to write this," Amy wrote. "My best friend passed away yesterday afternoon. Jesus sure took home a treasure. I'm at a loss for words, shaking as I even type this out. I loved her so much. She helped raise me, we did everything together. We've been on countless trips, we had lunch together 3 times a week, and if we weren't together we were either texting or calling each other. She was so supportive and was so excited to meet our little guy. I just can't believe she is really gone…"
Jana Duggar and Jinger Vuolo, among others, also posted about Grandma Duggar's death.
"Grandma Duggar will be greatly missed!" Jana wrote. "On her last morning spent here on earth I drove Grandma to church where she worshiped her Savior. Later that afternoon, she went to meet Him face to face! I'd say that's probably how she would've chosen to finish out the day if she got to pick."
"Yesterday, this precious woman went home to be with Jesus," Jinger wrote. "Our hearts are broken, yet at peace, knowing that she is now in glory with her Savior. She was the best grandma, counselor, friend, woman of faith, bargain shopping buddy, McDonald's fish sandwich lovin' lady, who was always up for an adventure—whether across town or across the world! She loved the Lord more than anything, and thus shared the hope of Jesus Christ with everyone who crossed her path. She was always there for her family, and was so sacrificial in her service toward us. She will be greatly missed. Thank you for your prayers for our family during this immensely difficult time.
(Photos: TLC, Instagram, Facebook)