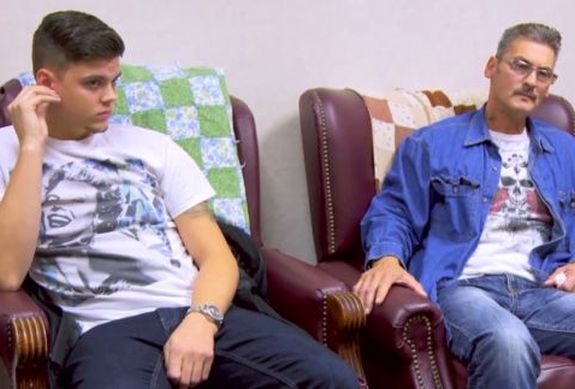 A new season of Teen Mom OG is upon us, but not all of the show's cast members are in the same good place they were when we last saw them.
During last week's episode of the Coffee Convos podcast, Tyler Baltierra confirmed that his father, Butch, has officially relapsed after over a year of sobriety. He and his wife Catelynn Lowell discussed Butch's downfall with Kail Lowry and her podcast co-host Lindsie Chrisley.
"He's relapsed," Tyler said of Butch. "He's in the middle of a relapse right now. That's the reality of that situation right now."
Tyler stated that we will be seeing Butch on the new season of 'Teen Mom OG,' though.
"He's filming, he filmed a couple of scenes," Tyler said. "So, this season you'll see me go down there a couple of times. He lives in Austin and he got out of rehab he did his sober living, all that stuff."
As The Ashley previously reported, Tyler's sister Amber Baltierra mentioned in April that Butch was no longer totally sober, and that he had begun to smoke marijuana and drink again.
"He drinks a couple beers here and there as well," Amber wrote on Facebook. "He thinks he can manage all this but it will progress into something big again. That's what this disease does."
Butch has long-struggled with substance abuse issues, and has admitted to being a crack cocaine user. On the last season of 'Teen Mom OG,' he was shown going to rehab in Austin, Texas, and following it up with sober living. In November 2018, he celebrated one year of sobriety.
On the podcast, both Tyler and Catelynn hinted that they believe Butch's relationship with a woman named Caroline played a part in Butch's relapse. They mention that we will probably be seeing Caroline on the new season as well.
"We don't really try to film with her because I said if I see her, my ass is going to be sitting in jail," Catelynn said. "The stuff that she said about [Amber] my sister-in-law does not make me happy and I would love to beat her ass!"
Tyler stated that "the stuff" Catelynn is talking about was some very "disgusting" messages Caroline allegedly sent to Amber after Amber opened up to MTV cameras about the sexual abuse she suffered at the hands of her mother's former boyfriend. Kail and Lindsie told Tyler that Caroline had reached out to their podcast's press email address as well to try to get herself on the podcast.
"[Caroline] went wild and, I'll tell you right now, that's the sign of relapse," Tyler said. "So my dad dating a woman who is going to reach out to you guys, probably in a crazy, drunken state [is not good]."
"Now we go back to square one, do this relapse thing and kind of ride this train out and see what happens," Tyler said of his dad's slip in recovery. "You'll see that in the new season."
Although Butch is no longer sober, Catelynn and Tyler revealed that Amber is doing well in her sobriety.
"My sister ended up going in [to rehab] right after [my dad]," Tyler said. "[She was struggling with addiction] bad, and I was in kind of denial of that, but whatever. She completed her rehab program so I went down there just recently to celebrate and give her her one-year sobriety chip."
As for Catelynn's mother, April, the pair stated that she still struggles with her addictions as well.
"My mom's definitely a binger," Catelynn said, adding that she has had to cut herself off from April for periods of time in the past due to April not being sober.
The new season of 'Teen Mom OG' premieres tonight on MTV.
RELATED STORY: Tyler Baltierra's Sister Amber Says Their Father Butch Baltierra is Allegedly Drinking & Smoking Pot Again
(Photos: MTV, Instagram)