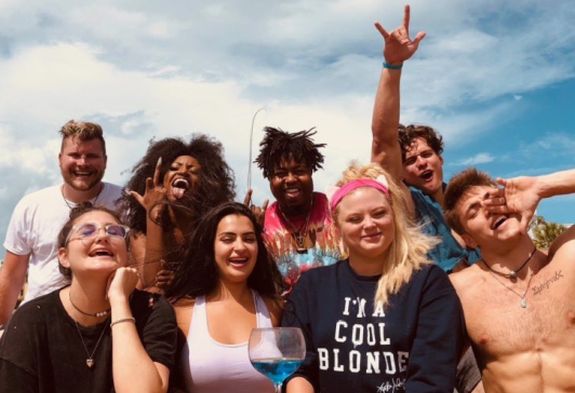 The Floribama Shore crew is relocating– to St. Petersburg and Tampa!
MTV announced on Tuesday that it has renewed the hit reality show for a third season and, while the cast will remain the same, the show's shooting location is being changed from Panama City Beach to the Tampa/St. Pete area of Florida.
"Audience's favorite southerners will reunite and head to St. Petersburg, FL, bringing the drama, the romance, the friendship and fun along with them for the hottest time yet," the press release announcing Season 3 reads, adding that the original "puke and rally" crew will all be there to bring the shenanigans to the new season.
"After a dramatic wrap up in Panama City Beach last season, Season 3 reunites original cast mates Jeremiah Buoni, Codi Butts, Kortni Gilson, Aimee Hall, Kirk Medas, Nilsa Prowant, Candace Rice and Gus Smyrnios and the gloves are off. From hookups and breakups to laughs and tears, they've been through it all together. Now, in a new city, there are fresh stories to tell as the crew parties it up and puts real life on hold for another summer."
In the press release, MTV didn't reveal its motives for moving the show's shoots from the Florida panhandle to the St. Petersburg area; however, several local media outlets provided reasons why the show was relocated.
According to the Pensacola News Journal, many Panama City Beach locals have been upset about the show filming in town since it began production in 2017, as they feel it gives PCB "a bad reputation."
However, the Bay County film commissioner Julie Gordan told the Tampa Bay Times that locals were happy to have 'Floribama Shore' filming in their community, as "they had a great economic impact for us" and the locals "barely noticed they were there."
"Of course, you can ask local officials, and they'll say it's the most god-awful thing they ever saw," she said of the show. "Well, it's not for you, it's for 25-year-olds. I've talked to many Uber drivers who say people want to see the shore house, or the bars they hang out at…The show is not all pure nasty."
Unfortunately, Panama City sustained significant damage from Hurricane Michael in October 2018, with several of the show's main filming locations– such as Club La Vela– being destroyed or damaged.
Pinellas County film commissioner Tony Armer confirmed to the Tampa Bay Times that the cast began filming Season 3 earlier this week, adding that the show's official "Shore House" would be located somewhere in the southern part of the county. The show will also film in and around town.
"It could be [filmed] anywhere from downtown St. Petersburg to the Clearwater beaches," he said. "I'm guessing they'll have some outings in Tampa as well."
The Tampa Bay Times also reports that 495 Productions— the production company behind both 'Floribama Shore' and its "big sister" Jersey Shore— applied for and was granted permits to shoot in public locations that include Clearwater Beach, Gulfport, Main Street Dunedin, Madeira Beach, Downtown St. Petersburg, Beach Drive, Pass-A-Grille and "an address on Punta Vista Drive in St. Pete Beach through July 15."
The production company previously shot the show Party Down South in this location a few years ago.
MTV has not released a premiere date for Season 3, but stated in the press release that fans can expect it to air sometime this fall.
(Photos: Instagram, MTV)