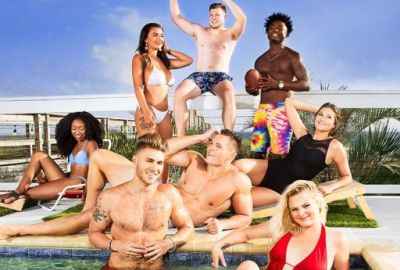 It's time to say goodbye to our favorite trainwrecks from the Gulf Shore.
MTV has decided not to move forward with the fifth season of Floribama Shore and is "evaluating the show's future," TMZ and Deadline are reporting, although TMZ reports that the show's cast was told about the show's cancelation on Friday morning. The site reports that the producers didn't tell the cast why they were pulling the plug on the show.
According to Deadline, 'Floribama Shore' has been "shelved indefinitely" but not officially cancelled.
Part of the network's "Shore" franchise that launched with Jersey Shore, 'Floribama Shore' debuted in 2017 and aired its COVID-impacted fourth season last year.
Fans took to the show's official Instagram account to share their reactions to the news, commenting on a post from February that announced the debut of All Star Shore.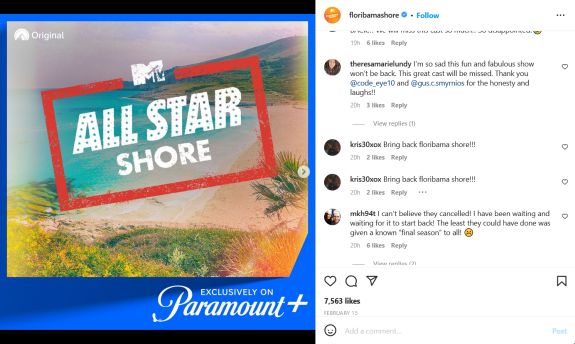 "I can't believe they cancelled! I have been waiting and waiting for it to start back! The least they could have done was given a known 'final season' to all!" one fan wrote.
TMZ reported that most of the cast did film together at Nilsa Prowant's wedding in November, believing that footage would be used to launch the show's fifth season. Production had originally slated to pick back up in February 2022 before being halted due to COVID.
At press time, only Gus Smyrnios (Nilsa's ex) has commented publicly about 'Floribama Shore's' end.
"Rip to a time in all of our lives," he wrote in an Instagram post. "Turn the page. Despite everything, I love each of these people in their own way and I wouldn't have wanted to experience any of it with anyone else. For a bunch of young kids from the south I'm proud of everything we did and accomplished, when everyone wrote us off from the start.
"Wish everyone the best with their next page in life. Even you Jeremiah and Nilsa lol. Not bitter about anything anymore," he continued. "People forget we were in our early 20s getting filmed drinking 24/7, gonna be some mistakes that lead to growth. I can truly say I laid my whole life out [there] to get critiqued and judged and I hope I at least helped some kids that could have struggles with the same things. Thanks to the fans who showed love to all of us through the years instead of trying to tear us down. Much love and on to new things."
Earlier this month, cast member Kirk Medas hinted at what he's working on next in an Instagram post.
"Floribama fans be patient…" he wrote. "I'm apart of something you'll get to enjoy in the meantime. Coming soon."
Despite this news, the 'Shore' franchise keeps going. In addition to 'All Star Shore,' which airs on Paramount+, MTV debuted Buckhead Shore in June and continues to air Jersey Shore: Family Vacation.
(Photos: MTV, Instagram)