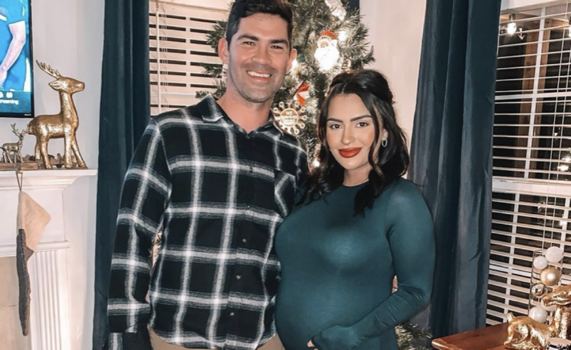 Floribama Shore star Nilsa Prowant and fiancé Gus Gazda have welcomed their first child together.
Nilsa took to Instagram Thursday to announce that after 31 hours of labor, the couple's son, Gray Allan Gazda, "came into this world."
"He is completely perfect in every single possible way," she wrote. "We are so blessed! Thank you God for our beautiful baby boy this is everything I have always wanted, a family of my own with the man of my dreams."
Baby Gray weighed in at 7 lbs, 14 oz., and measured 19.5 inches long.
'Floribama Shore' stars (past and present) shared congratulatory messages with the new mom on social media, including Candace Rice, Aimee Hall, Kirk Medas and Mattie Breaux.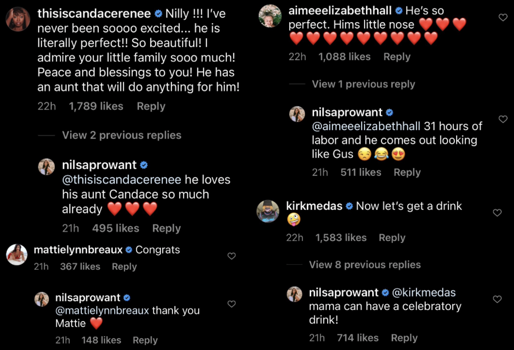 "Nilly !!! I've never been sooo excited… he is literally perfect!!" Candace commented on Nilsa's post. "So beautiful! I admire your little family sooo much! Peace and blessings to you! He has an aunt that will do anything for him!"
Some of Nilsa's co-stars also reposted her baby news on their Instagram Stories.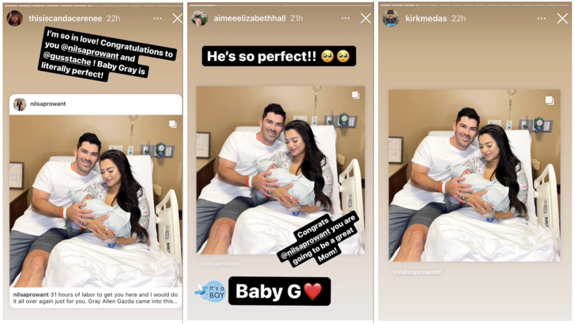 The official 'Floribama Shore' Instagram page welcomed baby Gray "to the bam" as well, and Nilsa confirmed that her little one "can't wait to meet his aunts and uncles!!!"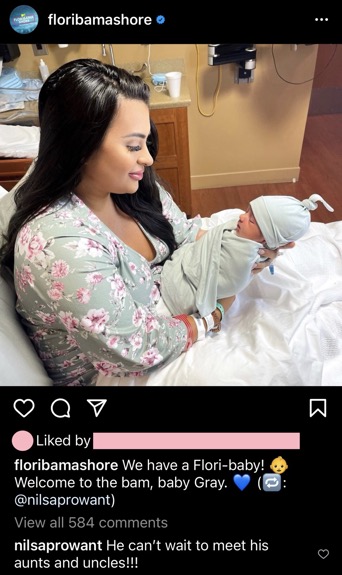 Nilsa announced her pregnancy in December on social media and nine days later, she and Gus revealed they were expecting a baby boy.
Nilsa went on to ring in the New Year and her 27th birthday with an engagement.
"The love of my life asked me to spend forever with him tonight on my 27th birthday," she revealed to fans in January. "Today has been more than I could have ever imagined. I can't believe I get to marry my best friend and bring our son Gray into this world soon."
The couple became Instagram official back in November 2019. Prior to that, Nilsa was in an on-off relationship with a different Gus– her 'Floribama Shore' co-star Gus Smyrnios.
RELATED STORY: 'Floribama Shore' Star Nilsa Prowant is Engaged to Baby Daddy Gus Gazda
(Photos: Instagram)