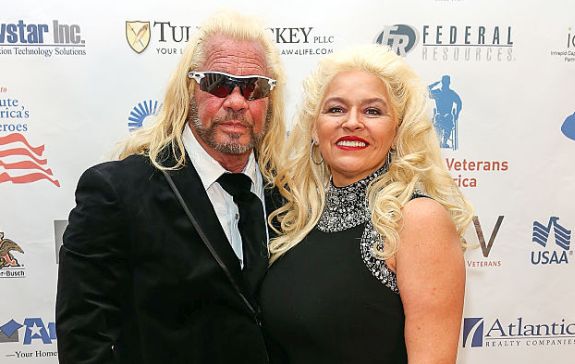 Dog Chapman has confirmed that his wife, Beth, has succumbed to the cancer she has been fighting.
Beth, who starred with her husband on the long-running reality show Dog the Bounty Hunter, died Wednesday in the Hawaii hospital she had been in for nearly a week. She was 51.
"It's 5:32 in Hawaii, this is the time she would wake up to go hike Koko Head mountain," Dog tweeted Wednesday. "Only today, she hiked the stairway to heaven. We all love you, Beth. See you on the other side."
The Chapmans' rep confirmed Beth death's in a statement, adding, "She was surrounded by family and Dog was there, holding her hand."
Beth had been fighting cancer since 2017. In September of that year, she announced that she had been diagnosed with Stage II throat cancer.
"I have what is referred to as a T2 Tumor in my throat that is blocking my breathing," she revealed at the time.
After undergoing treatment (and documenting it on the 2017 A&E special Dog & Beth: Fight of Their Lives) the Chapmans revealed that Beth was cancer-free.
Her remission was short-lived, unfortunately. In November 2018, Beth underwent emergency surgery to clear a throat blockage that was obstructing her airway. The family announced that Beth was once again fighting cancer. The couple also announced that they would be starring in a new reality show for WGN America called Dog's Most Wanted. Early promos for the show discuss Beth's fight with cancer.
In early June, Beth posted a photo of herself, sitting at the couple's bail bonds shop in Hawaii.
"Get up dress up show up! #cancerwillnotbeatme," she captioned the photo.
However, on Sunday, Dog confirmed reports that Beth had been placed in a medically induced coma. Later, her condition was described as "grave" by various news sites, although Dog denied that all the reports were true.
"90% of what you're hearing is fake news," he tweeted on Tuesday. "I don't mean to be nasty but some are filling in the blanks. @wgnamerica will be releasing an accurate update soon. Please keep prayers coming!"
He also posted a photo of his wife's nails, which she took great pride in.
"You all know how she is about HER NAILS!!" he captioned the photo.
You all know how she is about HER NAILS !! pic.twitter.com/w8iWMYrWZd

— Duane Dog Chapman (@DogBountyHunter) June 25, 2019
On Wednesday, WGN America posted a statement in regard to Beth's death.
"We are deeply saddened by the tragic news that @MrsdogC lost her battle with cancer today," the channel wrote on Twitter. "She was an exceptional woman, all of us at #WGNAmerica will miss her tremendously. Our thoughts and prayers are with @DogBountyHunter, her family, loved ones and millions of fans."
WGN has not revealed whether it will still air 'Dog's Most Wanted,' and, if so, when the show will air. It was originally slated to premiere this year but the premiere date has reportedly been pushed back.
Hawaii News Now reports that Beth died at Queen's Medical Center in Honolulu, and that funerals would likely be held in both Hawaii and Beth's native Colorado. A spokesperson released a statement to the local news outlet.
"Duane and the Chapman ohana send their love and sincere mahalo to everyone who prayed for Beth throughout this journey."
(Photos: Teresa Kroeger/Getty Images; Twitter; Instagram)