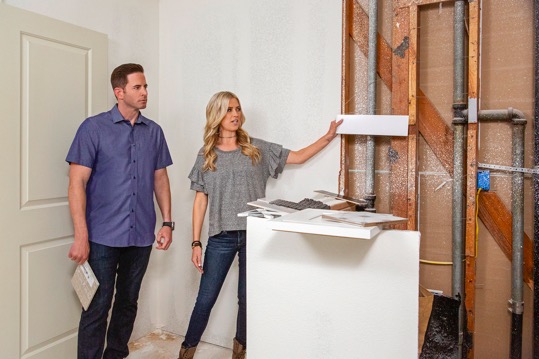 House flippers and former husband and wife Christina Anstead and Tarek El Moussa are reuniting (as business partners only) for a new season of Flip or Flop, premiering August 1 on HGTV.
The network announced that the 18-episode season will follow the divorced couple as they "find their stride as successful business partners and co-parents" while buying, renovating and selling SoCal properties. HGTV revealed the new season will open with a glimpse at the new family dynamic between the exes when Christina—- who is expecting a baby with her new husband Ant Anstead—- drops off the couple's two children at Tarek's house.
https://www.instagram.com/p/BvUHGNmj9-0/?utm_source=ig_web_copy_link
While the idea of working with an ex under these unique circumstances might cause some to flip in a different way, Tarek and Christina appear to play nice for the sake of their kids- 8-year-old Taylor and 3-year-old Brayden—- as well as their business (and those HGTV checks, naturally).
"Christina and I are in a really good place right now," Tarek said in the network's announcement. "We've worked hard to keep our business strong, but our kids will always be our #1 priority. It's important they know we respect each other and that we only want the best for them."
https://www.instagram.com/p/ByoV_DgDj4Y/?utm_source=ig_web_copy_link
Christina echoed similar sentiments, despite her ex-husband recently spoiling the gender of her baby on TMZ Live.
"I feel like Tarek and I have started a brand-new chapter," she said. "We may not always agree on kitchen backsplashes or floor plans, but we're always on the same page when it comes to our kids. We've learned to put our differences aside, so we can give Taylor and Brayden the best and happiest life possible."
HGTV announced that Tarek's new digital series, Tarek's Flip Side, will also premiere August 1, giving viewers a glimpse into the single dad's personal life. (This is not the pilot HGTV announced in January, by the way.) 'Tarek's Flip Side' will be available on the HGTV app, HGTV.com, on demand and on the network's Facebook page and YouTube channel.
As The Ashley previously reported, Christina's solo show, Christina on the Coast, premiered in May on HGTV.
'Flip or Flop' premieres Thursday, August 1 on HGTV.
RELATED STORY: Um… Oops? 'Flip or Flop' Star Tarek El Moussa Accidentally Spoils Gender Reveal of Ex Christina Anstead's Baby
(Photos: HGTV, Instagram)