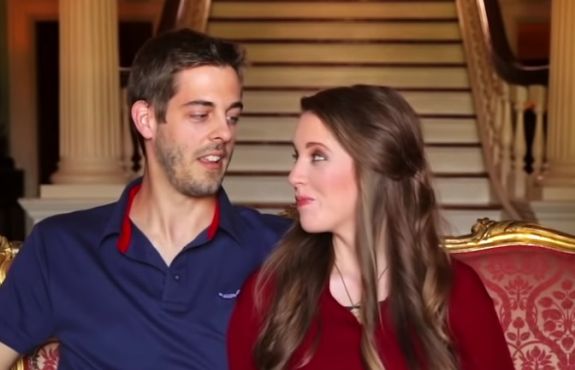 Jill Dillard shocked the Fundie fandom earlier this week with an Instagram post that seemingly promoted the Kama Sutra, an ancient Hindi text that discusses sexual positions, spirituality and other "sexy" topics. Fans were surprised (and a little creeped out) that the former Counting On star and her husband Derick not only used the sex manual (because…ew), but also that they would promote something that discusses non-Christian beliefs and various sex positions and ideas.
In her Instagram story on Saturday, though, Jill clarified that she and Derick have never read the Kama Sutra…at least, not the freaky one!
"We are not recommending the Kama Sutra," Jill wrote in her Instagram story. "We believe marriage is ordained by God and husbands and wives should filter everything they read and hear together through the lens of the Bible and not practice anything unbiblical."
She then explained that her previous post— which showed her and Derick celebrating their five-year wedding anniversary with a trip to Branson, as well as sex games and the Kama Sutra— was not what it appeared to be.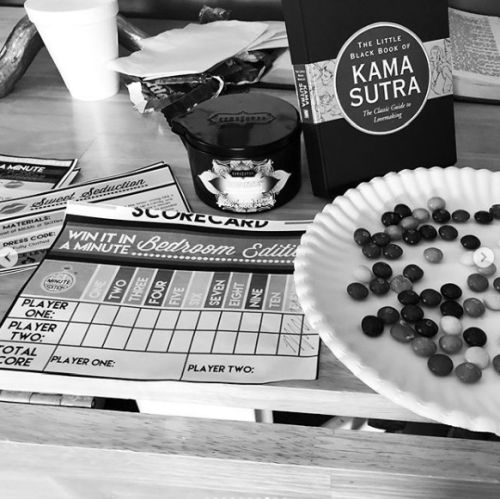 "The little book pictured is a modern, smaller, cleaner, edited version that doesn't focus on spiritual aspects, homosexual or extramartial relationships and, again, we don't take everything in there either as the truth," Jill wrote. "It is always good to be aware and careful of what we allow into our minds, hearts and marriages."
Jill then reiterated that she– much like her outspoken husband Derick— does not condone homosexual marriage or premarital sex.
"We've not read the actual Kama Sutra and only promote biblical marriage (i.e. between a man and a woman who are married)," Jill wrote. "We just wanted to clarify since there has been a lot of discussion after this post.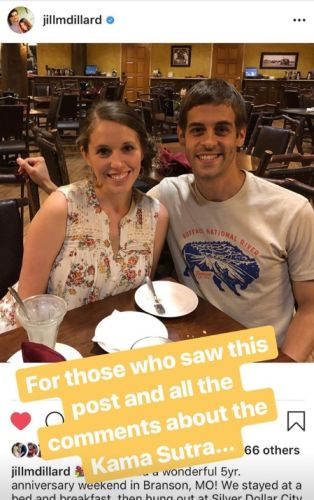 Jill's clarification came after her Instagram followers lit up the comment section of the original post.
"No offense to y'all but I don't want to know what goes on in between the sheets," one person wrote. "Please keep it PG and remember you were raised a Christian."
"Bible open in the background, Kama Sutra and massage oil in the foreground…just weird," another wrote. "You wear modest clothing to keep your body covered, yet you share intimate details about your sex life with the world? This is very odd to me."
Although Jill and Derick aren't getting it on using the actual Kama Sutra, they're still going to the boneyard at least three or four times a week, according to Jill's recent blog post about sex. In the cringeworthy post, she also discussed her feelings on masturbation, staying freshly washed for your man, and other um, interesting, sex and marriage tips.
See Jill's original anniversary/sex Instagram post below.
RELATED STORY: 'Counting On' Star Jill Dillard Gives Tips for a Healthy Sex Life & Marriage: Here Are Her 10 Most Cringe-Worthy Suggestions
(Photo: TLC, Instagram)