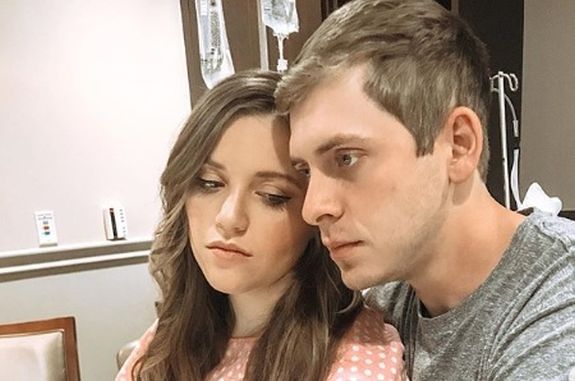 The Duggar Family is mourning the loss of yet another family member.
On Thursday, Joy and Austin Forsyth announced on social media that they have lost the baby Joy was carrying. The Counting On stars stated that they found out that their baby had no heartbeat at Joy's 20-week ultrasound appointment.
"Today marks one week since we heard these words…'So this is your baby's heart (pointing to the ultrasound screen). I don't hear a heartbeat or see any movement,'" the couple wrote in an Instagram post. "We had gone in for our 20-week ultrasound and gender reveal. It was a baby girl."
The couple went on to share that they named their daughter Annabell Elise.
"Annabell means 'God has favored me,' and Elise means 'God satisfies.' What a precious thing to know that when our daughter opened her eyes, the first thing she saw was the face of Jesus.
"Although we don't understand why, God has given us unexplainable peace and comfort during this very difficult time. Yes, it still hurts and we have cried countless tears, but we know that we can trust the Lord."
Annabell is Joy and Austin's second child. They are already parents to one-year-old son Gideon.
Due to how far along in the pregnancy Joy was, she needed to deliver Annabell. Her best friend, Carlin Bates of Bringing Up Bates fame, came to be with Joy and Austin for the delivery. She later shared more details and photos from Joy's hospital room on Instagram.
"I wish there were words to express how brokenhearted I am for my best friend," Carlin wrote. "Seeing her give birth to her little girl, Annabell Elise, and knowing that she would never be able to hold her again while on earth just brings tears to my eyes. Yet, through it all, she has been so strong and held on to Jesus, knowing that we will see her little baby in heaven one day. I know that Jesus doesn't promise that we will not face difficulties in this life, but He does promise to be by our side every step of the way. I'm so grateful to have a friend as precious as Joy, and I know that she would covet prayers at this hard time."
On Friday, Joy and Austin shared photos of themselves with Annabell, and Joy thanked Carlin for coming and fixing her up so she and Austin could take the photos with their baby.
"We only had her for 20 weeks, Life is fragile and precious," Joy posted to Instagram. "So thankful the Lord gave her to us for that short time! She will be in our hearts forever! Thank you all for your love and support! We can feel the prayers! Thank you, @carlinbates98 for coming to town to be here for me and for doing my hair and makeup for pictures with our little girl!"
In one photo posted by Joy and Austin, Joy's sister Jill Dillard and mother Michelle Duggar are shown, as Joy holds the baby. Jill later shared her thoughts on Instagram.
"Joy Joy & Austin, our hearts break for y'all with the loss of your precious Annabell Elise," Jill wrote. "May God continue to give y'all peace and comfort in the days ahead. 💞We love y'all dearly!"
In the comment section of Joy and Austin's post, other members of the Duggar family offered their support.
"Such a precious little life! Annabell is so missed. We love you so much Joy and Austin!" Anna Duggar wrote.
"We love y'all so much and we grieve with you over this loss," Jessa Seewald wrote. "I love the name you chose and the meaning behind it. Annabell Elise will forever be in our hearts."
"We love you and are praying for you," Jeremy Vuolo wrote. "Your trust in the Lord throughout these days has inspired me to know God more intimately. I look forward to meeting Annabell Elise with you in heaven."
This is just the latest tragedy for the Duggar Family. Last month, Grandma Mary Duggar died unexpectedly in a drowning accident.
(Photos: Instagram)