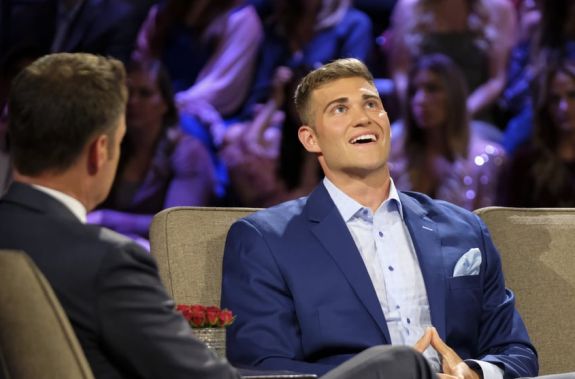 Luke Parker's family is not happy about the skewering he took on Monday's "Men Tell All" episode of The Bachelorette and, in a new interview with his local newspaper, Luke's brother Mike Parker claimed that the show's producers are anti-Bible and that Hannah pretended to be something she wasn't.
Mike, who like Luke states he is of the Christian faith, opened up about how he really feels about the show.
"The only thing that's obvious to me is this show is produced by people who are very much opposed to a biblical gospel," he told The Gainesville Times.
Bachelor Nation watched as Luke took a verbal beating from 'Bachelorette' Hannah Brown, as well as the other guys on the show, after he told Hannah he wouldn't want to remain in the "competition" if she had used the show's Fantasy Suites to have sex with the other men she was dating alongside him. While many claimed Luke "sex-shamed" Hannah after she admitted to having sex (or, as she so eloquently put it, "f**king in a windmill—twice!"), others felt that Luke had a right to ask the woman he was considering marrying if she was on the same page as him when it came to having pre-marital sex.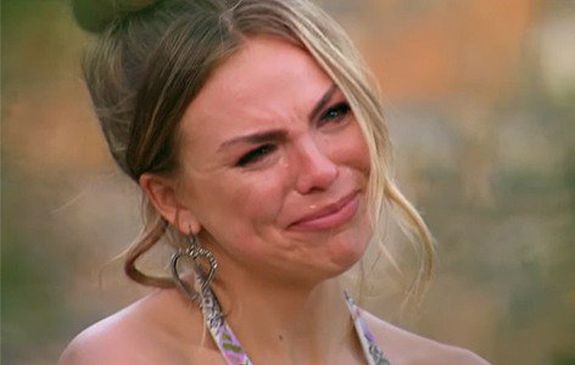 Luke's family certainly felt that the show's editors and producers made Luke look bad because of his religious beliefs. During the 'Men Tell All,' Luke stated that Hannah purported throughout the season to be of a similar faith as him, and that was something that had bonded them together.
"Their whole relationship was built on faith," Luke's brother Mike said. "The show doesn't highlight it, but that was the foundation of their relationship. And the next thing that happens is she comes to hometowns; she tells us how all the guys in the house hate Luke. And I start watching the episodes and I start seeing the things they make Luke to be and I'm like, questioning God. I'm like, 'Why God? What's the purpose here? What's the reason?'"
Luke's brother also stated that viewers didn't get to see everything that went on between Luke and Hannah, in regard to their shared religious values.
"Luke has spoken faith out this entire season, and they don't show any of it," Mike said. "At Curt's Cafeteria, when Hannah was in front of the Bible study [during Luke's hometown date], she told the whole Bible study group that Fantasy Suites aren't for sex, and she wasn't going to be having sex in the Fantasy Suite. She said she was going to be having deep conversations with them. She told that in front of the whole Bible study group and they don't show that."
Mike also believes that producers decided Luke was going to be this season's "villain."
"These conversations are hours of conversations that get chopped up, rearranged," he told the newspaper. "I'm very aware that they've had an agenda this whole time … From the very beginning, they need an antagonist, they need to tell a story. They need that drama…And I wholeheartedly believe that from the very beginning of the show, they have meticulously drawn this narrative that Luke's a liar, that he is a manipulator who, to this point that we are now, no matter what Luke says, no one is going to listen to him."
Mike's father-in-law, Bucky Kennedy, echoed these claims, calling the franchise "destructive" and a "very manipulated environment."
His brother also claimed 'The Bachelorette' "arrogantly boast[ed] about" her sexual encounters.
"They go into the Fantasy Suite date and Luke looks like he's coming out of left field with this question," Mike said. "But Luke thought they were on the same page about it. Luke wasn't bringing it up to test her or whatever. He was bringing it up just to confirm, and if anything, give her an opportunity to speak that. Because she had voiced concerns that she was worried that the show would make it look like she was having sex in the Fantasy Suites when she wasn't."
However, as 'Bachelorette' fans saw on Monday, none of this stopped Luke from going back (with an engagement ring!) after Hannah eliminated him.
"It wasn't the fact that she had sex that would make me want to leave her. I went in there because I felt like she was making a mistake," Luke explained on the 'Men Tell All' special. "I really thought, no matter what, this is the one for me. I've never felt anything like this. If you're wondering, these feelings were real and I know they were real for her. That's why you see me say things like, 'She has never told me she loves me, but I believe that she does.'"
The religious 'Bachelorette' hopeful took to Instagram days after his elimination to clear a few things up.
"It hurt my heart that @alabamahannah felt I was shaming her," he wrote, later adding, "I made mistakes and no I'm not perfect (crazy right) I didn't totally behave as the man I want to be and I did not represent Christ the way I thought I was prepared to and that has broken me."
Maybe Bucky was right when he said he "didn't think the show was a place for" Luke…
"I just think that what that show does to relationships is what kryptonite does to Superman," he said. "It's just very destructive. … I just don't see anything that demonstrates a healthy, biblical relationship."
Bucky stated that, during the season, Luke has been getting hateful messages and even death threats regarding his alleged "slut-shaming" of Hannah.
"I didn't think this show was something he needed to do, and that's what I told him and what I've said consistently," Bucky said. "I'll never be a fan of the show, but I'll always be a Luke Parker fan."
In the wake of the 'Men Tell All' special, Luke reached out on Instagram to thank his supporters for "taking the time to speak words of encouragement" to him, noting that his world has seemed "upside down"—hence the handstand in the photo that accompanied his statement.
(Photos: ABC, Instagram)