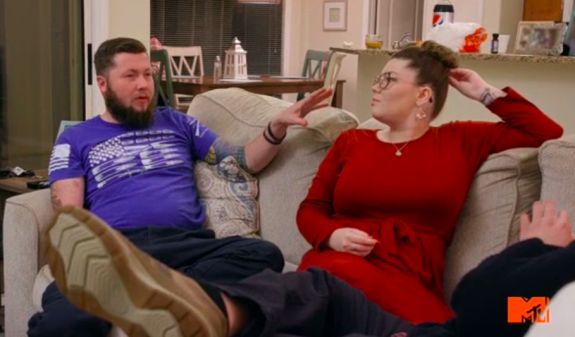 Amber Portwood's brother is speaking out regarding the Teen Mom OG star's legal battles!
Shawn Portwood (also known as "Bubby" to 'OG' fans) spoke to The Ashley about Amber's custody fight with her Andrew Glennon, who claimed in court documents that Amber attacked him with a shoe and her fists on July 5, before coming at him with a machete. She is now facing three felony charges, and only as of Thursday had been granted supervised visitation with her son, James.
Despite what Andrew told the police on the night in question and afterward, Shawn feels like Andrew's story does not add up.
"This whole thing is a setup and it has been from the beginning, the more I read about what's going on," Shawn told The Ashley. "It's amazing that [Andrew's]trying to get her to pay for literally everything so that he doesn't have to pay for anything. [He's] fighting for full custody [and] he's trying to get her to pay for his insurance."
According to the legal documents filed in court, Andrew is requesting full custody of James, as well as child support and other payments from Amber.
"[Andrew's] trying to get her to pay child support," Shawn continued. "He's trying to get her to pay for everything and make it to where the only thing he has to do is literally just look after the boy. It is not fair and she doesn't deserve what's happening to her."
Shawn also believes that Andrew lied to his sister.
"Apparently he said he had a lot of things that Amber recently come to find out it weren't true," Shawn said.
Shawn isn't the only person supporting Amber through the ordeal. At her court hearing on Thursday, Amber's 'Teen Mom OG' co-stars– Maci Bookout, Catelynn Lowell and Cheyenne Floyd— showed up to back Amber, as did Amber's other baby daddy Gary Shirley and his wife Kristina. (An MTV film crew was there documenting the hearing; however The Ashley has yet to hear what they will be using the footage for.)
On Thursday, a judge dismissed the No Contact Order barring Amber from seeing her son James. She is now allowed to have supervised visitation with the one-year-old. The No Contact Order that Andrew has against her remains in effect, though.
RELATED STORY: Amber Portwood's 'Teen Mom OG' Co-Stars Support Her At Court Hearing; Judge Lifts No-Contact Order So Amber Can See Son James
(Photos: MTV, Instagram)