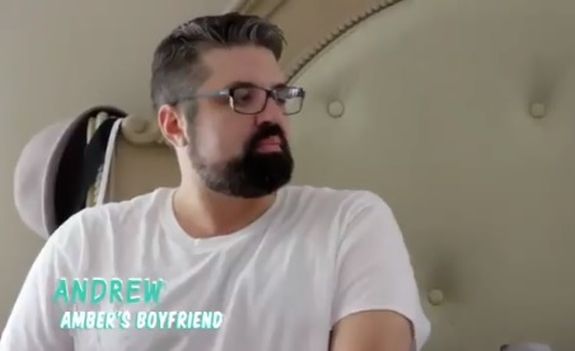 Andrew Glennon is opening up on Instagram about his relationship with Teen Mom OG star Amber Portwood in the wake of Amber's arrest and subsequent three felony charges.
As The Ashley previously told you, Amber was arrested July 5 for allegedly hitting Andrew with a shoe while he was holding their infant son, James, and she was also accused of coming at Andrew with a machete. In the days following Amber's arrest, a No Contact order was put in place, preventing Amber from seeing James and from contacting Andrew, however, the No Contact order regarding James has since been dropped.
Andrew took to social media yesterday to share an image featuring the quote, "Nothing better in the world than a clean conscience," adding, "…Except baby James," in his caption.
After seeing the post, many followers commented on Andrew's post with their own opinions or assumptions of what he was referring to—many of whom received a response from Andrew himself. He confirmed that the post was in regard to Amber's recent insinuations that he cheated on her.
While Andrew revealed to one person that he had forgiven Amber, he admitted to another that the July 5 incident was not the first time Amber allegedly got violent with him, but rather "the worst time."
Andrew added, "It's just been a long road of trying to heal."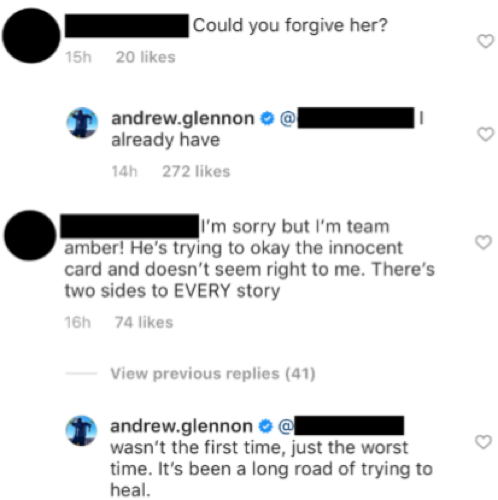 In response to a person who accused him of doing something to cause Amber to become so angry the night of the altercation, Andrew said he had stopped "trying to find the rational explanation" for Amber's actions.
"I've been trying to find the rational explanation for the actions, but doctors have told me to stop for the sake of my own mental well-being," he wrote.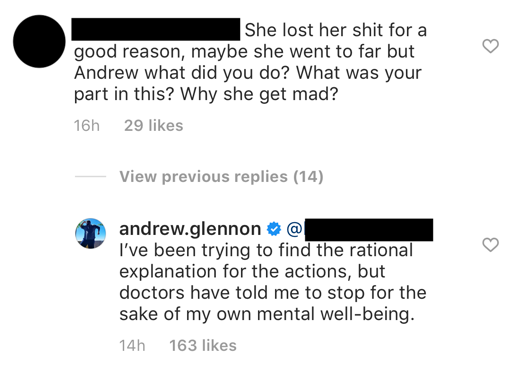 Andrew told another person there was "more to come" in regard to what really happened that night.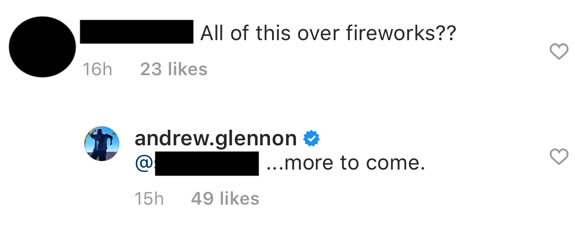 When someone accused him of setting Amber up (as her brother Shawn Portwood recently told The Ashley), Andrew replied with sarcasm.
"Yes, you are right, my plan was to destroy everything that I loved in my world, correction, my ENTIRE world (sarcasm)," he wrote.
Earlier this week, Amber took to Instagram to reveal she was "heartbroken," right after a Radar story was posted that alleged Andrew had been texting another woman. However, Andrew said the texting story was "taken out of context and blown out of proportion per usual."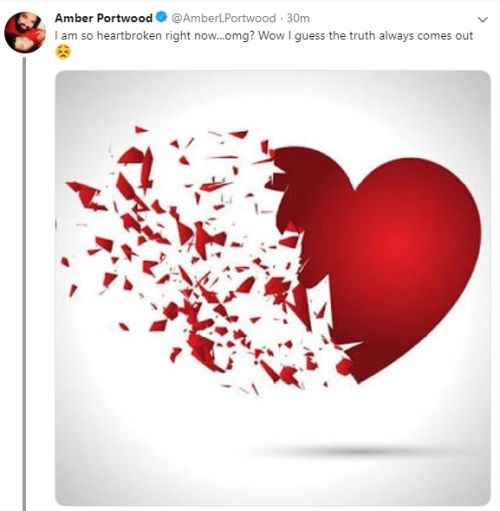 "You're more than welcome to have a pity party for literally nothing, but I've no time for the nonsense, and the extent of my energy spent talking on the sordid topic ends with the period of this message," Andrew commented on social media—seemingly aimed at Amber.
Here are some other things Andrew revealed during his Instagram vent session on Thursday:
– MTV (or the other 'OG' cast members) have not reached out to him at all, even though they've all rallied around Amber.
Andrew claimed he was not surprised by the 'OG' crew's lack of support toward him.
"I don't expect them to [reach out to me]," he told one person. "I didn't know them for 10 years."
"James and I aren't a part of the show anymore it seems," he wrote in another response. "Follow your ladies. They went that way…"
-Amber later tried to wiggle out of those cheating accusations, according to Andrew.
"I was told by people close to her that she posted that about a 'friend's relationship,' and took it down when it was 'taken the wrong way,'" Andrew wrote. "OK, fine, but when all those stories came out [about me cheating] she never once thought to clear the air and my name…that hurt deepest."
-Andrew was offended that people think he cheated on Amber.
"I'm sure Amber's conscience is perfectly clean," he wrote. "Don't read into it too much, I just don't like being called a cheater when I'm not. If I cheated you wouldn't hear a peep from me but I'm not that species of animal so conscience clean."
"I've never cheated nor am on on the market to. Eveeeer," he told another thirsty follower who was trying to get some of that salt-n-pepper lovin' from Andrew.
RELATED STORY: Amber Portwood's 'Teen Mom OG' Co-Stars Support Her at Court Hearing; Judge Lifts No-Contact Order So Amber Can See Son James
(Photos: MTV, Instagram)