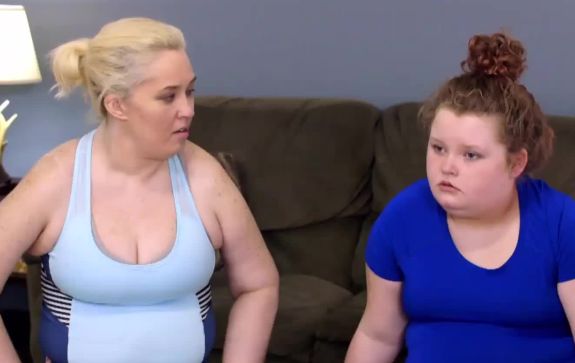 Alana "Honey Boo Boo" Thompson turned some heads this week by pretending to snort a line of cocaine on Instagram live—- an ill-timed joke as her mom, Mama June Shannon, is currently (allegedly) battling drug addiction.
Alana simulated the act while answering fan questions Thursday evening on the social media app.
"OK, guys we're gonna have to cut off the camera really quick, 'cause I have to do something," Alana, who is only 13, told her fans before pretending to snort some nose candy.
Shortly after, someone can be heard going off on Alana from behind the camera—presumably her older sister, Lauryn "Pumpkin" Shannon, whom she is currently living with.
"Alana, quit f**king doing … don't even f**king mimic that on f**king Live, don't f**king ever do that again," Pumpkin can be heard yelling. "Acting like a f**king idiot on Live, that's why you don't go Live on your f**king Instagram!"
As those who have kept up with the Mama June: From Not to Hot family already know, Pumpkin became Alana's caretaker shortly after June and her boyfriend Geno Doak were arrested for crack cocaine in March. June's family even went as far as to hold a drug intervention for her, as fans saw last season.
As of a month ago, Alana still refuses to move back in with June until Geno is out of the picture and continues to live with her sister and her family in the meantime. (As The Ashley previously reported, Geno went "Live" himself last month, defending his actions, calling out WEtv and the producers of Mama June's show for allegedly allowing drug use on set in the past, and declaring that he's not going anywhere in the video rant!)
On Thursday, Pumpkin shared on Instagram that Alana, who she referred to as her "sister/daughter," was starting high school this week.
"Well everyone my little sister/daughter is going to be a freshman in high school starting tomorrow morning. Where has the time gone? So excited to be going through this big adventure with you … ," her post read.
Watch the clip of Alana's Instagram live below.
Honey Boo Boo Pretends to Snort Cocaine on Social Media https://t.co/MWWeTDhqyH

— TMZ (@TMZ) August 2, 2019
RELATED STORY: Alana "Honey Boo Boo" Thompson Has Reportedly Protected Her Money From Mama June Shannon
(Photos: TLC, Twitter, Instagram)