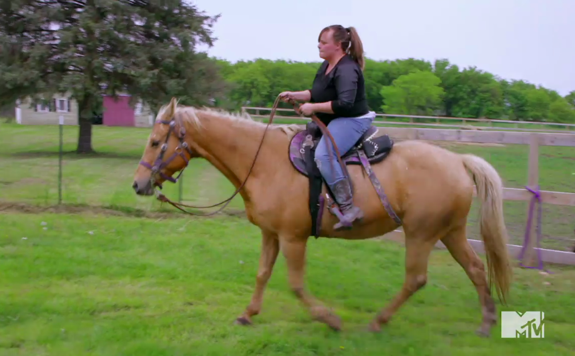 Take a break from looking for your missing tooth and/or brushing your therapy horse, and settle in on the couch next to Amber, it's time to break down the latest episode of Teen Mom OG!
We start things off at Cate and Tyler's farm (?), with a special appearance by Cate's cloud of cigarette smoke that the camera crew is trying their very best to hide.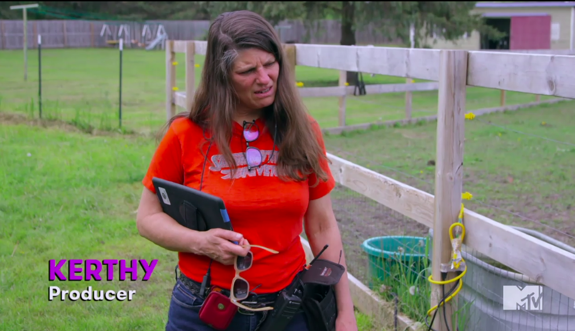 It's almost Carly's 10th birthday so Producer Kerthy decides to talk to Cate about how she and Tyler handle the adoption topic with Nova. Cate says they keep the conversation pretty light, being that Nova is too young to understand the situation. She then saddles up on her therapy horse and rides off, leaving Kerthy to ask Tyler similar adoption-related questions.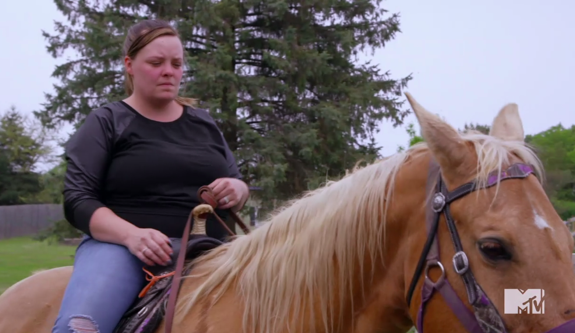 Tyler's advice to anyone considering placing their child is to know the people that are looking to adopt your child "very, very well." Tyler says Carly's parents, BrandonNTeresa,are "well off people." (Strangely, though, it's highly likely that, thanks to their giant 'Teen Mom' paychecks, Cate and Ty are way more "well off" than BrandonNTeresa now.)
He also says that BrandonNTeresa are more reserved than he and Cate…i.e. they've never spent the afternoon cleaning their mom (or dad's) yak off the living room Lazy Boy chair.
Tyler says if he and Cate had it to do over, they would have considered a couple that was more relaxed and down with things… such as chain smoking, the United States Prison System and mullets.
On the flip side, Tyler admits BrandonNTeresa probably didn't know what they were getting into having Tyler and Cate as their child's birth parents either. I'm sure if Mr. and Mrs. Whitebread had known that they'd still be getting verbally trashed on TV a decade after meeting Cate and Ty, they'd have reconsidered the adoption.
Next up we check in with Cheyenne and her boyfriend Matt. It's the day before Father's Day, and, in honor of the holiday, Cheyenne says she plans to leave Matt at home while she goes to lunch with Ryder and Cory. After treating her baby daddy to lunch, Cheyenne plans to take Matt to meet her father and grandfather.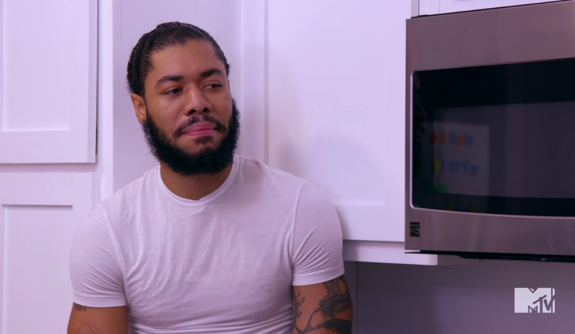 Matt tells Cheyenne he's fine with her and Cory going out to lunch alone with Ryder and he even reaches out to Cory himself to thank him for sharing his "bundle of joy."
I think that's nice…unless of course he's referring to Cheyenne, in which case that's weird.
Later on, Cheyenne meets Cory and Ryder at a nearly empty restaurant for lunch. After Cory opens up his Father's Day gift of workout sweats, he and Cheyenne talk about their situation and both agree that Matt and Taylor are good sports for being cool with their co-parenting relationship.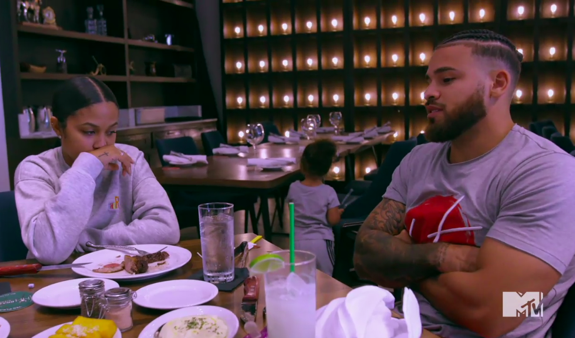 Next up we check in with Mackenzie in Oklahoma. Mackenzie makes an awesome first impression in her first 'Teen Mom OG' scene by changing her seemingly school-aged child Broncs' crappy diaper in the middle of the hallway, as her daughter runs away due to the stench.
AS.YOU.DO.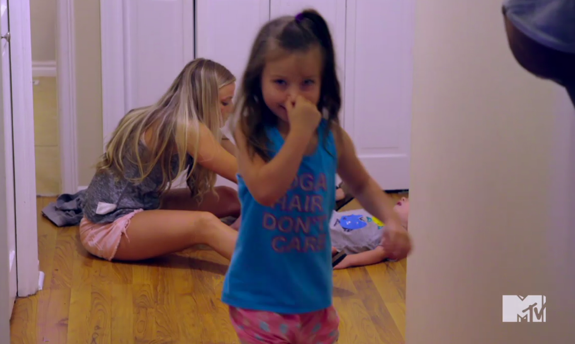 Mackenzie's show introduction includes (but is not limited to) Broncs' aforementioned crappy diaper, a giant dogging licking the table, and Broncs gnawing on a plastic water bottle.
You seriously can't make this crap (no pun intended) up!
After recovering from that mess, we then see Mackenzie attempt to "do some work" on her laptop while her kids run around like animals. It's seriously like a menagerie of feral children.
"I'm Mackenzie and you'll be seeing more of my life for the next few episodes," Mackenzie tells us.
Um…is that a promise or a threat?
In what may be the most robotic voiceover reading since Leah Messer graduated from Hooked on Phonic, Mackenzie tells us that "A.Lot.Has.Changed.Since.I.Was.On.Sixteen.And.Pregnant."
For one, Mackenzie is working to become the Jane Fonda of our Generation. She's building a Jazzercise brand (or something) where she uses the Internets to inspire people to do jumping jacks…or something. We learn that Mackenzie's husband Josh is still "doing the rodeoing," which requires him to travel often.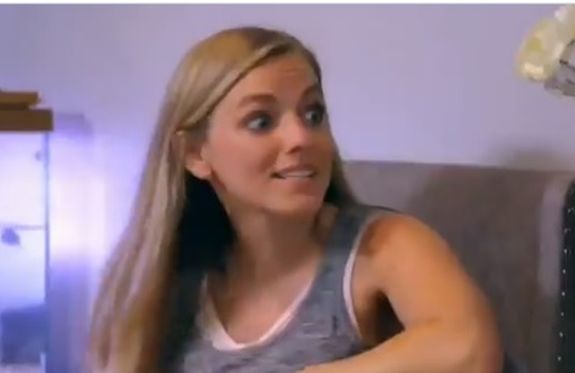 Mackenzie's daughter plunks down a jumbo-sized box of Top Ramen on the freshly dog-licked table. (Apparently, Mack's kids are following the Leah Messer Nutrition Plan? There's no doubt Mack's pantry is jam-packed with cans of raviolis, just ripe for the microwaving!)
It's about noon, so Mackenzie's fixin' to finally wake up Josh because she needs someone to yap at. She shrieks in his ear to wake up, as some of the Feral Kids rollerskate through the house.
Once Josh has rolled himself out of bed, he sits down for a spell to listen to Mackenzie yell at him for making her watch the kids when she should have been "doing business." Josh looks like he wants to chew his own ear off so he won't have to listen to Mack bitch about having to be the one to make the kids' Top Ramen lunches.
She has this entire conversation with her eyes bugged out to massive levels. (Mack better chill. We all know Ryan Edwards has the monopoly on eye-bugging for 'Teen Mom OG.')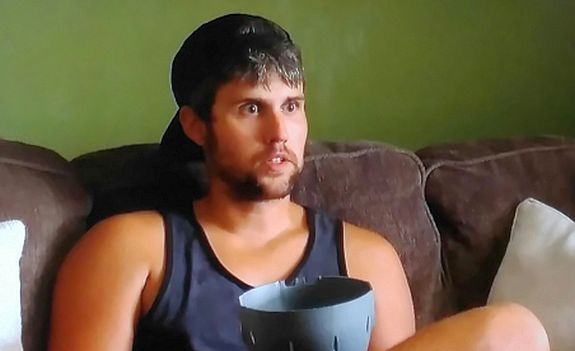 Later, Josh talks with his dad about his marriage. As his dad is praising Josh for overcoming all the "rocky roads" with Mackenzie, Josh just randomly blurts out that there's "a lot of cheatin' that goes on in Rodeo."
Um…no one asked you that but thanks…
Meanwhile, at home, Mack is trying to get Broncs to take his cough medicine…chased with root beer.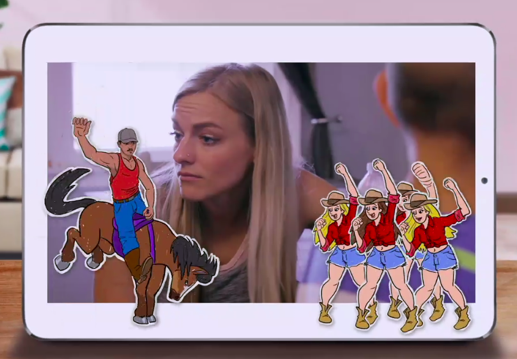 Next, we head to Indiana, where we find Amber and Andrew occupying their usually couch cushions. Because Amber's storyline is pretty bleak right now (something she surely won't have to worry about next season), she talks to Andrew about Leah wanting her own Instagram account.
I mean, we've already spent an ENTIRE EPISODE watching Amber get a blood test. What's left for a story line? Amber buying tampons?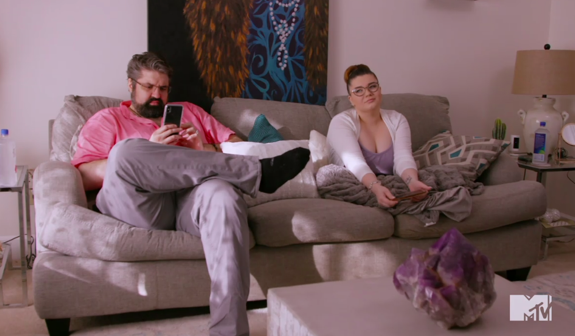 Amber thinks Leah is too young to be on social media, especially because she's grown up on TV. Andrew suggests giving Leah an alias to use on her account, such as "Daisy Duke 29 or whatever"… because that name would definitely keep creepy old men from sliding into a child's DMs.
(Besides, I'm fairly certain that Farrah Abraham is probably already using that alias for her daughter Sophia, anyway!)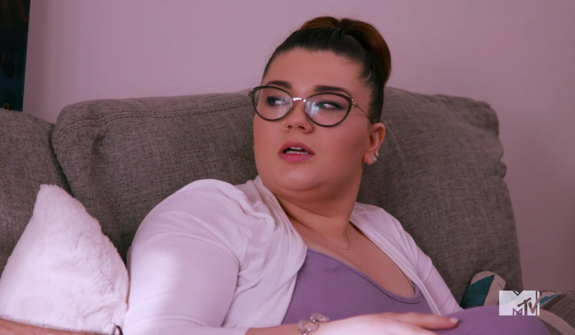 Amber decides she'll talk to Gary about the Instagram issue instead of relying on Andrew's "alias" ideas.
Next we head to Tennessee where Maci and Taylor are making plans for Father's Day—-plans that don't include Ryan, as he's yet to reach out to them. Instead, Maci, Taylor and the Oopsie Baby Brigade are sticking to their own plans and traveling to Atlanta for Bentley's baseball tournament.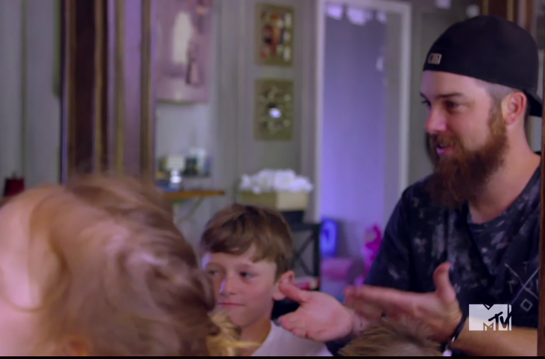 Maci tells Taylor she hopes Ryan will remember he's a father and show up for Bentley's games, but neither of them are holding their breath. Maci says if Ryan happens to reach out last minute to make Father's Day plans, he's SOL because her days of being accommodating are gone.
Maci tells Producer Jeni that Bentley doesn't expect Ryan to come to his games. In fact, the kid never even asks anymore. Luckily, though, Ryan's parents Jen and Larry make frequent appearances at the ball field to support Bentley.
Also, Maci does this entire scene while wearing what must be latest look from the TTM jailbird line.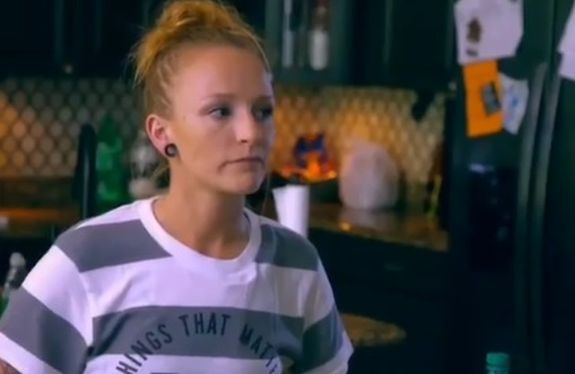 When we check back in with Mackenzie McKee, we learn that the wife of one of Josh's rodeo friends reached out to let her know that her husband had tried to pick up a rodeo groupie at a bar and Josh happened to be his wingman for the conquest.
Can we stop here for a sec? If this woman's own husband was trying to play "Hide the Horsie" with some bar ho-bag, why isn't she trying to focus on that rather than rat out Josh, who was a seemingly incident bystander to the ho-bag hookup?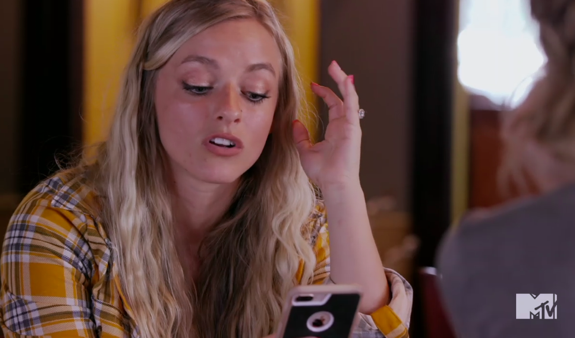 Mack admits that, before they were married, she and Josh were both cheaters and liars, but she says she thought they were over all that now that they are hitched and raising an assortment of feral children together.
The whole thing has Mackenzie questioning her "rock solid" marriage, while we're just trying to wrap our heads around the fact that rodeo groupies are a thing.
Mack's friend says that if SHE had a husband (and that's not likely to happen as long she's still trying to make that hair scrunchie "happen"), she would not even trust her husband to do "the rodeoing" because it requires him to be gone so much and be in environments known for cheating.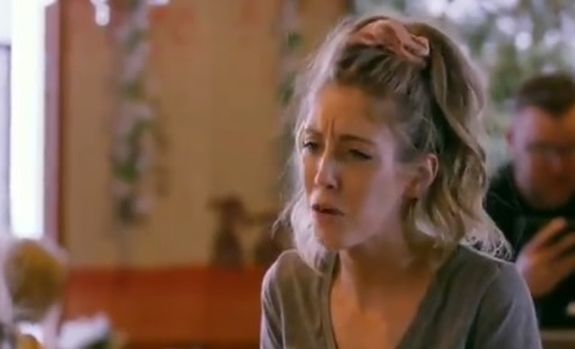 Mackenzie vows to "get to the bottom of this" situation, and find out once and for all if the only thing Josh has been riding lately is broncos!
Next we head back to Michigan where Tyler is driving—- a rarity on this show—- to pick Nova up from school. On the ride home, Tyler tells Nova he picked up a cake to celebrate Carly's birthday and Nova is confused, and at her age, rightfully so. She asks if Carly is coming over to their house and Tyler tells her she won't be because she's at home with her parents.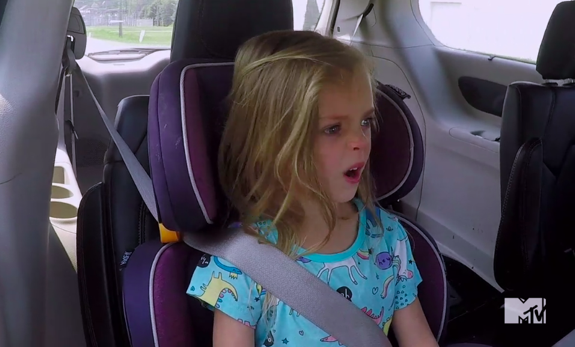 Despite the confusion, Nova gets confirmation that she's getting some cake out of whatever is going on, so all is well on her end.
Back in Tennessee, we catch up with Ryan and the Edwards crew. Jen and Mackenzie are excitedly telling Jagger that it's his first Father's Day with his dad. (Said dad, by the way, is standing as far away as possible from his family and lurking by the garage like he's there to fix the water heater or something.)
Mackenzie says she and Ryan are planning to go to Bentley's tournament, as are Jen and Larry. Jen says she plans to ask Maci if they can bring Bentley home with them after the game to celebrate the remainder of Father's Day. (Maybe Ryan will even agree to come within 20 feet of Bentley to mark the occasion?)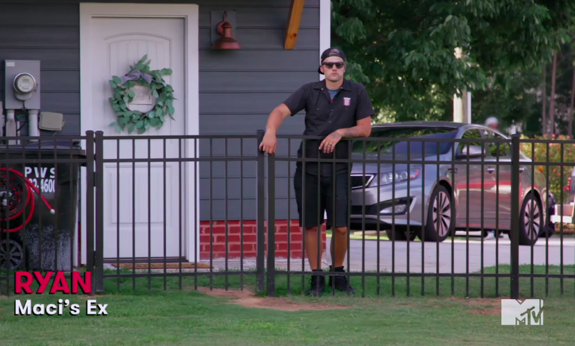 Back in Indiana, we see Amber call Gary to discuss Leah getting on Instagram.
"What's going on, Big Man?" she asks as he answers the phone. (I don't even want to know if that was his nickname from back when they were together or what…)
Amber and Gary are both nervous to allow Leah to have social media.
"She's been on TV her whole life and people take advantage of that!" Amber says. (We obviously know Amber's an expert on that happening.)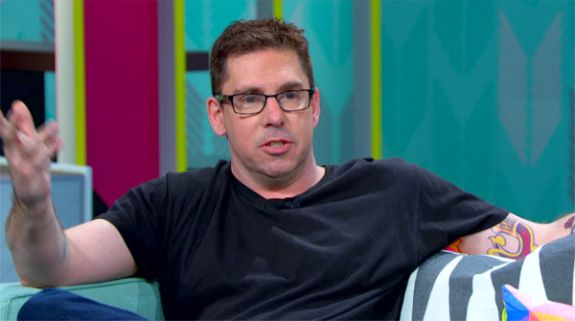 Amber suggests they allow Leah to get Instagram at age 12, but Gary is hesitant to agree to that. He points out that social media has greatly affected Amber's life and he doesn't want that happening to Leah.
Amber admits to Producer David that if Leah's whole life hadn't been plastered on TV, she may be more lenient in allowing Leah to do certain things.
Later, Gary breaks the news to Leah after talking to Amber and Kristina and Leah takes it pretty well. Something we're not taking very well, however, is the fact that this was literally Amber's only storyline this episode.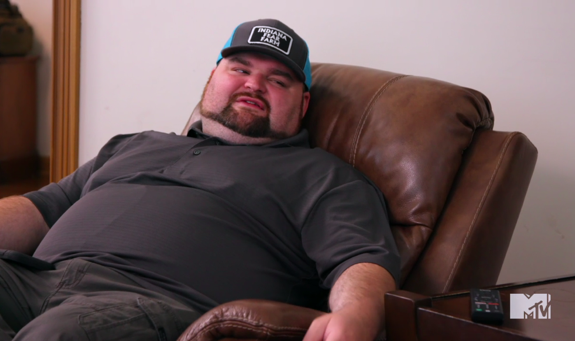 Over in Oklahoma, Mack is still reeling after hearing the news of her husband's wingman ways. She sits Josh down to get some answers and "clear the air." (Um, judging by the looks of that house, it would take a whole lot of Febreeze— and possibly a bug bomb or two— to clear the air in that place!)
Mack cuddles up to her (possibly cheating) husband to talk about what really went down at the bar while he was out rodeoing. We find out that Mack is actually mad that Josh even went to a bar and "lied" about it by not telling her.
Um…?
She tells Josh she's "giving him the chance" to explain "his side."
Josh explains that he "went to Billy Bob's" (no, seriously) for a few drinks when some women started talking to him and his friend.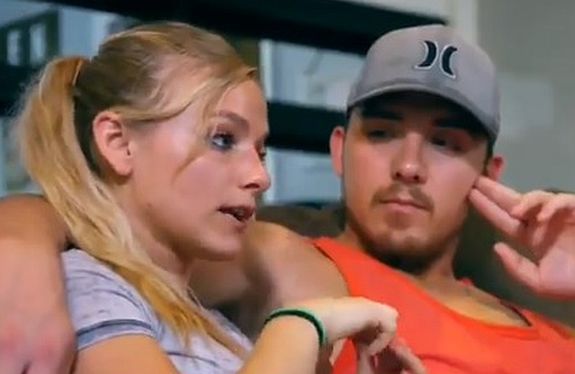 Josh points out that he didn't pursue anything with the rodeo hoes, it was his friend; however, Mackenzie is not happy that she had to hear about the situation from someone else.
Josh swears there was "no affection" being shown. (At least, I think that's what he said. This dude make the mumbling Corey Tyler look like the King of Enunciation!)
A beat-down Josh grumbles that he didn't tell Mack he was going to a bar because was "avoidin' a fight." He swears he would never cheat on her.
Mackenzie tells Josh that nothing is worth ruining what they have and she asks him if he'll tell her about these rodeo-hoe run-ins in the future. Josh says "I don't know," and Mack tells him she "can not live with him on that answer."
Josh gets a glint of hope in his eyes for the first time this episode, but it goes away almost immediately as he realizes Mack's not giving him a ticket out of the House of Chaos.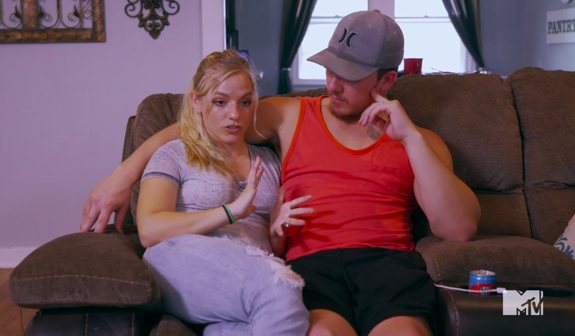 After dealing with Josh, Mackenzie meets up with her parents at a deserted park. She says she's been having a hard time because, now that her mom Angie is going through cancer treatments, Mack feels bad going to her for advice about bucking bronco bar babes and whatnot.
After talking about Mackenzie and Josh's trust issues, the topic changes to Angie's cancer diagnosis. Angie tells Mackenzie she's starting a certain type of chemo the following week, which she describes as something for "patients who have tried everything else."
Mack tells her mom that she'll be "really mad" if the chemo doesn't make her better, because she needs her mom to be the "glue" that holds her "shattered glass" of a hot mess life together.
Mackenzie can hear her mom say that she's literally trying the chemo of last resort to save her life, and somehow Mackenzie can make it about herself. That's talent!
Meanwhile, in Tennessee, it's finally Father's Day and everyone, including Ryan and Mack, have shown up to Bentley's baseball tournament.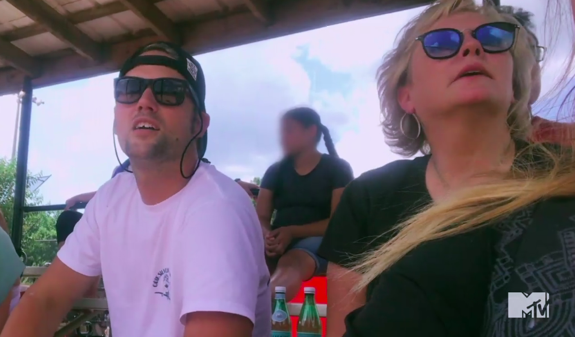 Unfortunately for the Edwards crew, Bentley is unable to go home with them because he has another game to play, followed by a golf tournament. Ryan and Mack think Bentley is taking on too much and they'd would prefer his schedule be more like the front of Ryan's mouth: wide open!
"If he wants to go home, let him go home!" Ryan says (as he shoves some sort of fried vegetable product into his mouth).
He and Mackenzie discuss the fact that Ryan can't talk to Bentley about his jail stint.
"I can't worry 'bout it too much," he says. "There's no fixin' it!"
Back at the bowling alley, Cheyenne's dad Kyle—-not to be confused with Cheyenne's sister R. WeSeriouslyStillWatchingThisShow—-starts to grill Matt on his feelings for Cheyenne and her co-parenting situation with Cory. During the conversation, Matt reveals that he loves Cheyenne.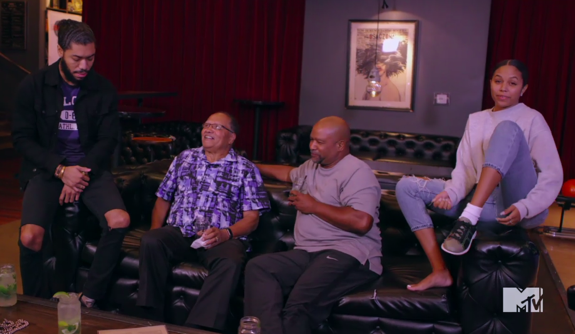 Kyle then forces Matt to give his definition of love and reminds him that Cheyenne is looking to get married and pop out some more Teen Mom OG stars kids. Matt says he knows, hence that whole Pinterest board nonsense.
Next we head back to Cate and Tyler's house as they gather around a cake to sing happy birthday to Carly—"the city girl," as Cate's dad calls her—all while Nova sits there still confused as to what's happening.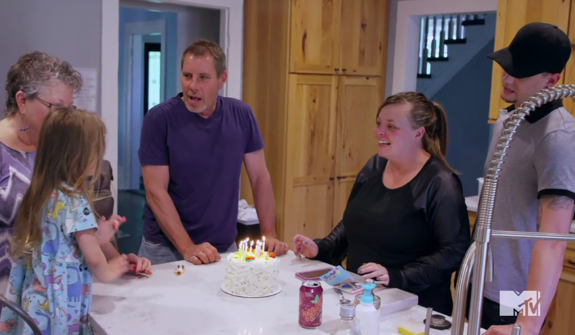 Later, Cate tells Tyler she wants to eventually get to a place where they can do something as a family for Carly's birthday each year. Tyler says it will be interesting to see how Nova and Vaeda react to Carly when they're older. He also admits they never really thought about how they would explain Carly's adoption to their future children. Our suggestion: don't sit them down to watch your MTV highlight reel.
That's it for this episode of 'Teen Mom OG!'
To read The Ashley's previous 'Teen Mom OG' recap, click here!
(Photos: MTV)