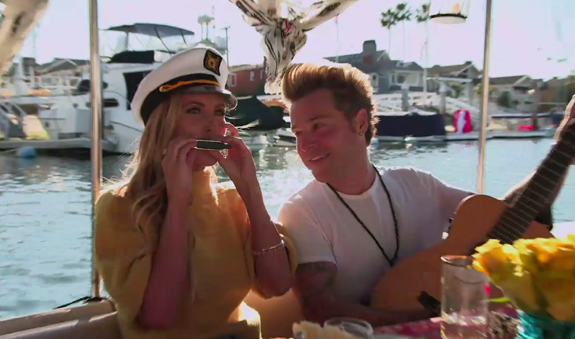 On this week's episode of The Hills: New Beginnings, we deal with assorted addictions, meddling mothers and a few (anniversary) surprises along the way.
Prepare yourself for plenty of awkward pauses, blank staring and an inexcusable amount of dialogue added long after filming wrapped as we run down the Top 5 Wildest Moments from this week's episode of 'The Hills: New Beginnings.'
1. Jason slips up on his sobriety.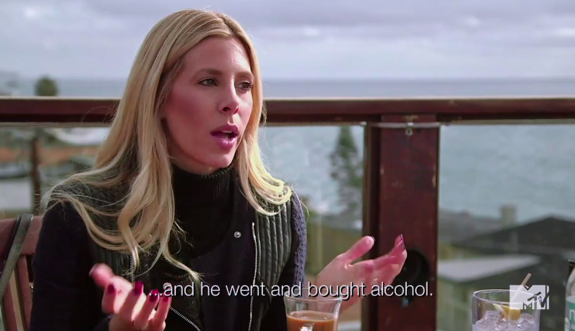 While having lunch with Audrina, Jason's wife Ashley reveals that Jason "had a slip" with his sobriety the weekend before Friendsgiving. Ashley said Jason had a moment of vulnerability and told her he was going to call his sponsor, but instead went to the store and bought alcohol.
"… I just feel like when somebody like, wants recovery so bad and they work so hard every day… imagine living with a disease where like, you try every day, you go to your meeting and everything but your mind is telling you like, you're a horrible, sh**ty person," Ashley tells Audrina. "It's not like he's trying to drink because he wants to have fun, it's like he's drinking because he hates the feeling of his own skin. That just makes me so sad."
Later on, Jason meets up with Spencer to tell him about his "slip," revealing what he says triggered it.
"I had a really tough day and got a bottle and I drank a fifth and that's what it was," he says. " … Just a lot of insecurities is what it came down to, about myself personally. I used to always be in shape and do stuff like that and it's just like, I never thought I'd have body issues … ."
In his interview, Jason goes on to further explain the issues with his self-image.
"I ended up gaining 30 pounds," he says. "The self-image hate was so bad and it got to the point where I was just so uncomfortable and I just couldn't take it anymore. Ya know, I thought about my wife and I thought about Delilah, whether I should be doing this or not and I still did it. I thought drinking was going to be the solution and it wasn't."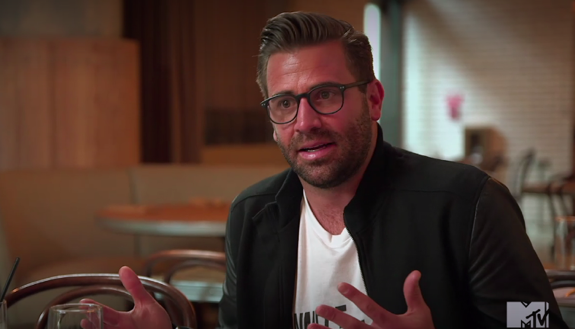 While Jason reveals he is back on track, Spencer offers him some support by sharing his own struggles with body image.
"When I was depressed, I got up to 250 pounds, like, I walk around at 170 usually," Spencer says. "I ate, like, that was my outlet. I was eating literally pies—multiple pies—like, every night."
2. Spencer works on his fitness.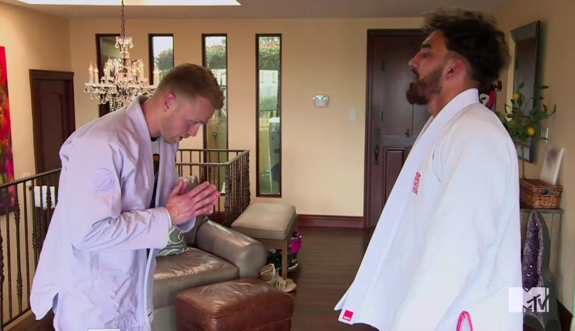 Earlier in the episode, Spencer talks about his body issues after wrapping up one of the six jujitsu classes he takes each week. Spencer says jujitsu keeps him in shape after having gained a significant amount in the past as a result of depression from he and Heidi going broke. (This is the first time we hear Spencer talk about his pie addiction.)
"Going from being a multi-millionaire to like, [having] no money, I gained like, 100 pounds," he explained. "All I did was just eat pie. Literally, like, two pies a day. I was addicted to pie."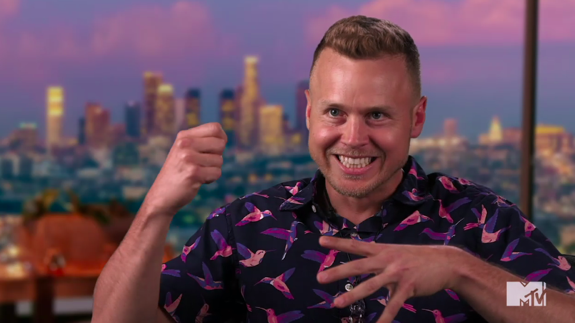 Spencer then mimics shoveling pie into his face while repeating, "I'm not rich, I'm not famous," to paint a mental image for viewers of what his pie-binging days looked like and it's a treat… appropriately so.
3. Brandon and his mom bond while breaking bread.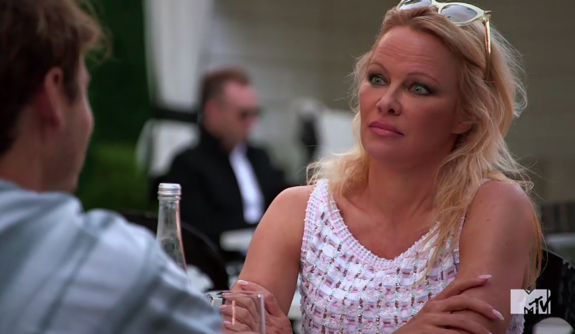 For the second time this season, Brandon's mom Pamela Anderson makes an appearance on the show, though this time she's here to eat lunch, not wave a bundle of sage around Brandon's crotch. (Thankfully!)
After encouraging Brandon to clean up his facial hair (and after Brandon reveals that his mom once told him he looked "like a sock" because of his pale skin), Pam goes into full mom mode and begins drilling her son on his love life.
"Well, you're 22, you should be thinking about marriage," she tells Brandon.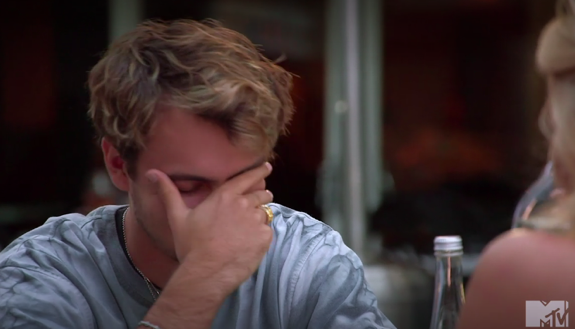 Brandon explains that his mom is eager for him to settle down because she happens to be "the biggest romantic in the world." Brandon admits that he's sort of the same way, but reminds his mom that people can be in love and not get married. Pam agrees, but Brandon argues that she married his dad, Tommy Lee, after knowing him for less than a week.
"I knew him four days," Pam says. " … Well, he proposed to me on the first day."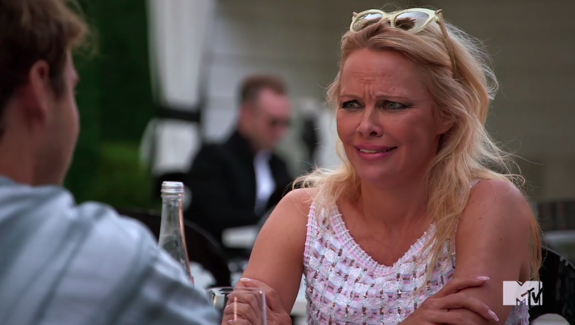 Brandon tells his mom that she really "showed a lot of restraint," to which she jokes, "I played hard to get." Pam goes on to give Brandon some encouraging words about mending his relationship with his dad and then praises him for his skills as an actor.
Aside from the whole crotch-saging thing and the push to marry her son off at 22 years old, Pam seems to be a surprisingly normal mom and that in itself is a 'wild moment.'
4. Heidi and Spencer celebrate 10 years of Speidi.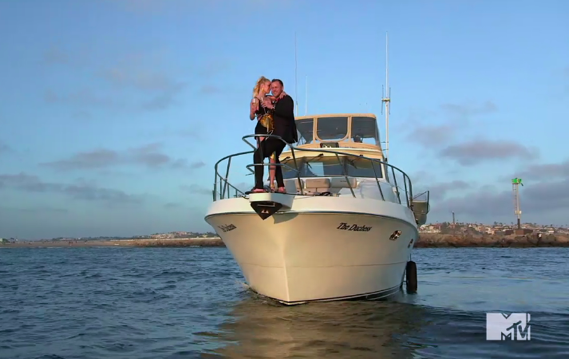 To celebrate their 10th wedding anniversary, Heidi and Spencer throw on some semi-matching, fully-terrible outfits and head out on a yacht for dinner, drinks and a cruise down memory lane.
After gifting Heidi with a scrapbook—yes, Spencer apparently dabbles in the world of arts and crafts—with photos taken throughout their relationship, Spencer talks about how much he loves Heidi for standing by him through thick and thin (both literally and figuratively, we've learned).
"I love that no matter where we are in life that Heidi's love for me doesn't change like the wind," he says. "When we were multi-millionaires to when we had no money, she didn't change at all. She didn't get, like, sad when our lifestyle completely changed and we only ate tacos everyday for seven years. And pie."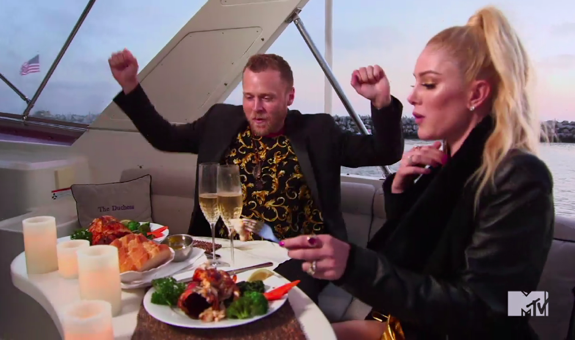 That was the final mention of pie in this story. I promise.
5. Heidi puts on a show in the bathroom.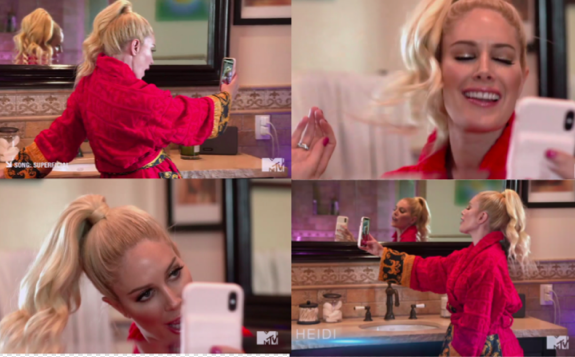 Before heading out on the anniversary date, Heidi jams out in the bathroom to a song by her favorite artist (herself, naturally) while busting out some sweet moves for her biggest fan (also herself).
Heidi's 'I Dream of Jeanie'-inspired ponytail and blinding Versace bathrobe in this scene almost distract us to the point that we're able to tune out her 2010-single "Superficial" playing in the background.
Almost.
RELATED STORY: The Top 5 Wildest Moments from 'The Hills: New Beginnings' Episode 7
(Photos: MTV)