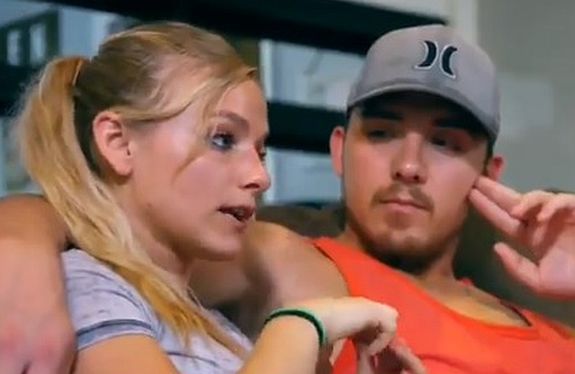 Mackenzie McKee is denying any wrongdoings of her rodeoing-husband Josh in the wake of new cheating allegations.
OK Magazine reports that there may be something worse than the bar-night at Billy Bob's story that fans saw on last week's episode of Teen Mom OG. While Mackenzie was upset over the fact that Josh hit the bars with his buddy during his rodeo work trip without telling her, two women are now claiming that Josh has not only lied to his wife, but has cheated on her as well. However, in an interview with The Ashley, Mackenzie is denying the girls' claims!
"I know the two girls who called in," Mackenzie tells The Ashley exclusively. "I have already been through all of this, talked to everyone there along with their husbands.
"Tell the two girls nice try!" she added. "I had already gotten to the bottom of this months ago. This is insane."
That being said, Mackenzie tweeted that she and Josh are taking some time off from their marriage.
"I would like to say, that due to stress, me needing to stay focused, the media, etc. I am deciding my marriage needs a break," she wrote on Friday. "My heart breaks for my kids. But as of right now, this is what's best. Thank you."
One of the women in question told the magazine that Josh was caught with a "mystery blonde" at a Fort Worth, Texas bar—the "Thirsty Armadillo," to be exact—in late April. (You seriously can't make this stuff up.)
"My friend and I saw Josh McKee and another guy walk in the bar," the woman claimed. "They walked over and joined a group of about five or six girls. Within a matter of minutes, he started talking with a girl with long blonde hair. They started making out and kept on kissing. Like, couldn't keep their hands off each other. They left the bar hand in hand."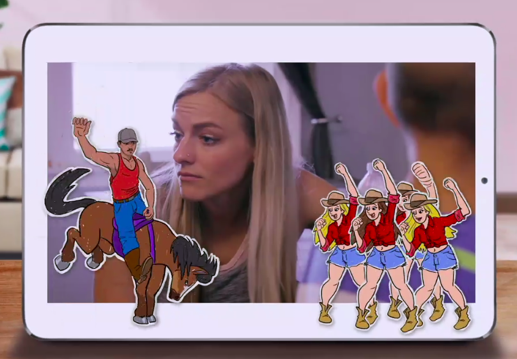 The woman said the group knew it was Josh but they assumed he and Mackenzie were no longer together. After seeing the cheating issue discussed on 'Teen Mom OG,' the woman decided to come forward with her own story. (The Ashley does find it strange, though, that the girls failed to take any photos of Josh's alleged encounter. You would think they'd want photographic evidence to help them sell their story to the tabloids?)
A second source came forward who also claimed to have been at the Thirsty Armadillo that night. (And, I mean, who wasn't? Clearly The 'Dill is the place to be for all your rodeo-ing hoeing needs!) The second source confirmed that "Josh and a tall guy were there as well."
"When they came into the bar they met up with a group of ladies," the source added. "Josh and one of the girls were very affectionate with each other. They kissed over and over again until they finally left together. His friend stayed behind with the other girls."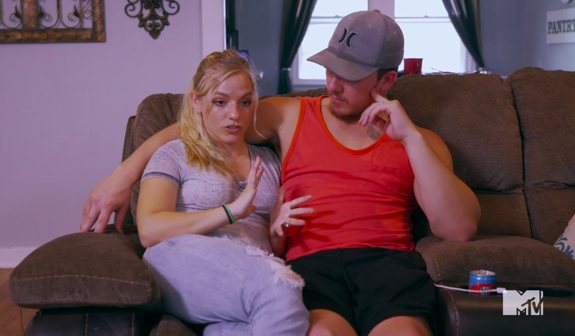 The source went on to claim that Josh and the mystery blonde "didn't look like strangers," given how quickly the two of them left together.
" … I mean, who walks into a bar, meets a random girl, makes out within 10-15 minutes and leaves? the source continued. "It's like they knew each other maybe. From the time they came in until the time they left together … it was maybe 30 minutes. That's fast."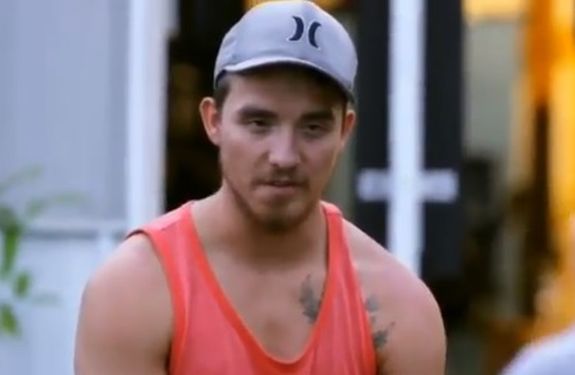 Before OK! magazine's story broke, Mackenzie seemed to have been tipped off that it was about to be published. She tweeted a message to who we can assume are the loose-lipped Thirsty Armadillo patrons who are quoted in the story, shutting down the allegations made against her husband and calling the source "a liar."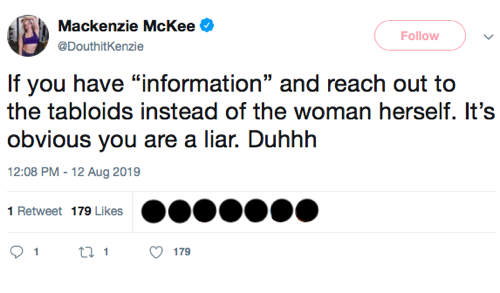 "If you have 'information' and reach out to the tabloids instead of the woman herself. It's obvious you are a liar. Duhhh," she tweeted on Monday.
However, a more recent social media post from Mackenzie may have hinted that she's had a change of heart regarding her husband's innocence in the cheating matter.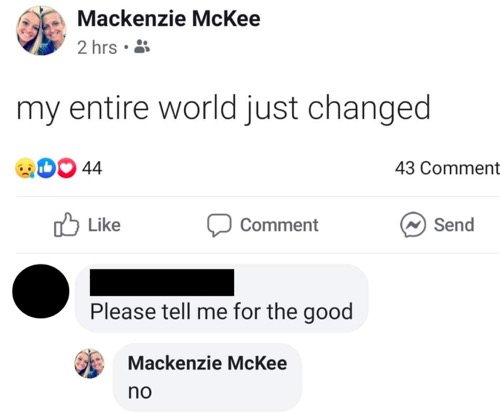 "My entire world just changed," Mackenzie vaguely shared on social media, while confirming that the change was not a good one. (The post has since been deleted from Mack's Facebook.)
OK! states that they reached out to both Mackenzie and Josh for comment on the cheating allegations.
"Josh called the allegations 'bull crap,' while Mackenzie claims she has 'proof' the women are lying," the magazine states. "OKMagazine.com cannot confirm the night the sources claim Josh cheated is the same night that was discussed on the show."
However, after Mackenzie revealed on Twitter on Friday that she and Josh are taking a break from their marriage, she opened up to fans who expressed their surprise.
"You guys seemed solid," one person wrote to Mackenzie.
"We were," Mackenzie responded. "We were truly best friends. It's all just devastating."
"I know in my heart he loves me. This was my decision," she told another person on Twitter.
She then posted that she was "freshly single" on Instagram.
"Freshly single and ready to, be the boss babe that I am and let God lead me to what i deserve edit:this is an old photo so my ring is on," Mackenzie wrote in the caption of a selfie she posted.
RELATED STORY: 'Teen Mom OG' Ratings Continue to Drop Despite Mackenzie McKee Joining the Cast; Mackenzie Remains Optimistic About Her Place on the Show
(Photos: MTV; Instagram; Twitter)