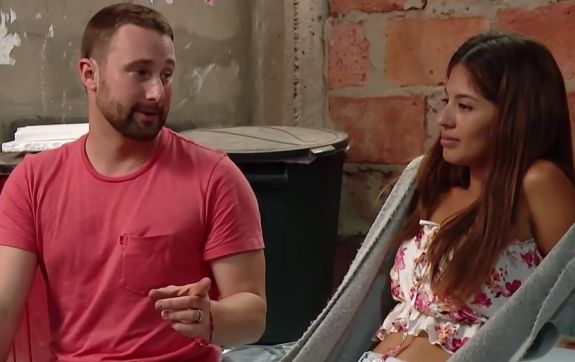 Corey Rathgeber reportedly celebrated his birthday on Wednesday a newly single man!
The 90 Day Fiance: The Other Way star reported dumped his fiance, Evelin Villegas, via an Instagram block on Wednesday. Soap Dirt reports that Evelin was in her native Ecuador when she informed fans that Corey had dumped her…via the social media site…on his birthday.
On her Instagram Story, Evelin asked her followers to wish her former fiance a happy birthday, since she couldn't because she was blocked.
The former couple is currently starring on the "The Other Way." In a recently aired episode, the death of Corey's father was addressed. In her Instagram Story, Evelin discussed the tragedy. (When his father died in January, Corey returned to the United States, but Evelin had to stay in Ecuador, as she's not allowed to enter the U.S. right now.) She also called out those who thought she was disrespectful to Corey during that time.
"That happened a long time ago and we all suffered for it…people shouldn't use that as an excuse to be hating on me," she said, in addition to posting videos of herself out partying.
Soap Dirt reports that Corey most likely dumped Evelin due to something that will be shown later this season on "90 Day Fiance: The Other Way."
"[The] Tell All [episode] will be brutal on Corey Rathgeber," Soap Dirt reported, crediting a production source. "We were told TLC had Corey sign a mental health waiver and then showed him – with cameras rolling – previously unaired footage of Evelin Villegas and her ex-boyfriend she cheated with. Reportedly, Corey broke down crying and spent time backstage being counseled by a shrink the network brought in.
"Given that they had him sign a waiver and had a shrink on standby, production knew this would devastate Corey. And it did. Now, just a few weeks after taping, and Corey Rathgeber's blocked Evelin Villegas on Instagram and her behavior certainly confirms the split."
While Evelin was ranting on Instagram, Corey was posting photos of himself celebrating his birthday with friends and family.
On Thursday, he posted a message to his fans who are asking him about the status of his engagement to Evelin.
"I know a lot of of you have questions about me and Evelin, but that is personal and strictly between me and her," he wrote on Instagram. "Thank you for understanding and respecting our relationship. And thanks to everyone who wished me a Happy Birthday yesterday. I appreciate all the love and support."
"90 Day Fiance: The Other Way" is currently airing Mondays on TLC.
(Photos: TLC, Instagram)