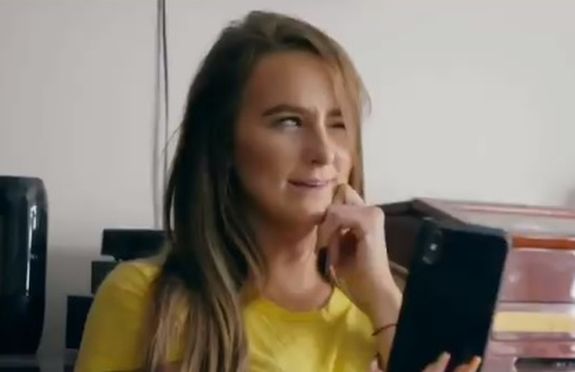 Hey y'all! It's time to check back in the cast of Teen Mom 2! Our favorite breeders are extra busy this week going on lavish international vacations and buying giant pieces of land and whatnot. You know, just the average young moms doing average things!
This marks the first of The Ashley's 'Teen Mom 2' recaps that is sans Jenelle Evans and all other dwellers 'o' The Land. While The Ashley is happy Lurch & Co. got the ol' heave-ho from MTV, she is quite sad that she will no longer be able to make fun of all the backwoods, straight-from-the-hootenanny things he and Jenelle do. Thankfully, though, we still have the rest of these people to bring us trashery to make fun of.
We kick this episode off in the hills of South Dakota, the land of plentiful cattle…and plaid shirts. Chelsea and her brood are paying Randy a visit for a dentist appointment. Chelsea had to drive the kids 45 minutes to see Dr. Randilicous and all he did was stick his finger in Watson's mouth.
To make the trip worth her gasoline, Chelsea starts rattling off about how she's "going to buy land, because there was a robbery, even though they were supposed to build a house they bought, but then there was land, not to be confused with The Land and…."
Sorry, I stopped listening after her voice curved into Whine Mode. But apparently she's going to go try to evict Jenelle and David and turn David's prized rakin' territory into a place she can hawk plaid shirts…or something. I don't know…now I'm just making crap up.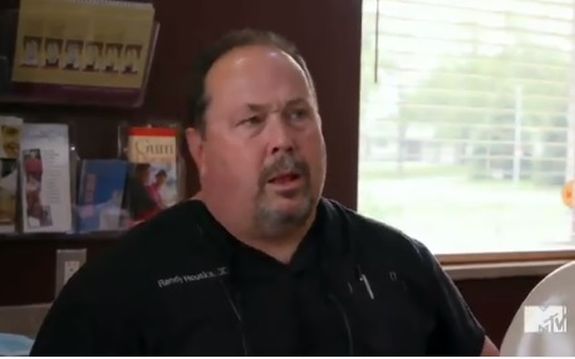 Chelsea says that her anxiety is still acting up, and that she's still having panic attacks. Randy suggests she go talk to somebody so that she stops talking like the Micro Machines man.
Later, she drags Producer Mandi out to a wet, grassy piece of land that happens to be free of 1) bearded men with an armory of guns 2) more-classier she-sheds and 3) house-eating swamp water. Cole has yet to see The Promise Land, but Producer Mandi looks less-than-impressed.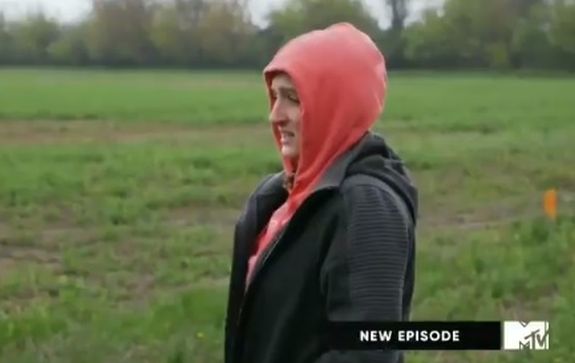 Meanwhile, Briana is in New York City, preparing to shoot her part of the Reunion. (Of course, she is filming away from the other girls because the producers were not trying to relive any of the vase throwin', hair yankin' fun of past reunions.) Bri says that the rest of the DeJesus Coven will be arriving the next day, so she's forced to speak on-camera to the rarely seen Producer Alexis.
They rehash "The Pool Situation" from last week's episode, and Bri says that Devoin hasn't apologized for being DRUNK! DRUNK! during his pool outing with Nova. She says that she's not taking any text apologies this time; if Devoin wants redemption, he's gonna have to bring his square-headed self to Bri in person and beg for forgiveness.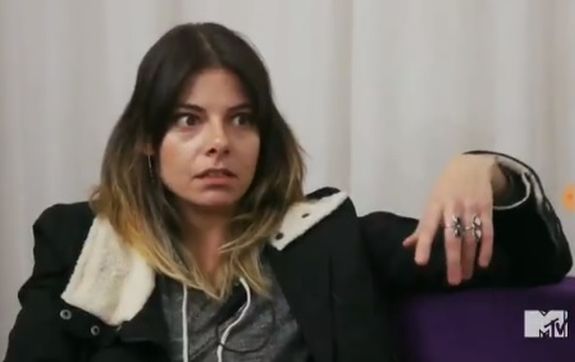 Briana says she can no longer trust Devoin to keep Nova overnight, or have her at his house, because she's afraid he'll start nipping at the cooking sherry again and they'll find Nova wandering through the streets of Orlando, looking for Roxanne (or any woman with bulging eyes and red pumps).
Producer Alexis reminds Bri that she and Devoin will be on the same stage the next day.
"I don't know what I'm gonna do!" Briana says.
Well…last time you were mad at a reunion, there was a massacre of stage props and your sister charged your co-star like a raging bull so…
Later, Devoin and his friend Pedro (who is obviously new to "the industry" as Amber Portwood would say because he keeps staring at the cameras) arrive in NYC. Devoin explains to Pedro why Bri is ready to beat him with a Size 8 wedge.
"I had some alcohol the other day while I was with Nova," he says.
Devoin says he thought he knew how many drinks (and/or bottles) of liquor he could have while watching his daughter but apparently he was wrong and overestimated.
"That was a lesson learned," he says. "You gotta learn that s**t!"
Devoin is so wise. He's like a Buddha in Beats headphones.
"It just sucks that it was one of the first times I got to do my thing with her and it just happened to be I'm drunk," he adds.
Um…I'm sorry, what!? If only you didn't have to guzzle a 40 and a half bottle of store brand tequila while you were supposed to be playing Marco Polo in the pool with your kid!
Oh….wait…
Devoin vows to storm off the stage if they refuse to take about anything but him livin' his La Vida (4) Lokos life.
"Word," Pedro manages to squeak out.
Next, we check in with Jenelle I mean Jade. She's been coming in hot with drama for her first few episodes, reaching 'The Land' level of trainwreckery without the dog-shooting and whatnot, though.
Jade– with her throaty voice-overing voice that puts Mackenzie McKee's robotic narration To.Shame.– tells us that she's still annoyed at Sean after their fight. Still, she's about to move into a new place, and Jade is hoping the new love nest will be able to save their relationship.
We then get treated to a series of flashbacks in which Jade and Sean tell each other how sick of each other's asses they are. (Why not just get a new ass? Basically everyone on this show has gotten one courtesy of Dr. Miami; it's kind of an initiation into the 'Teen Mom 2' crew at this point, isn't it?)
Jade's especially excited to move her crap heaps from one place to the next. (Seriously…what the hell? We haven't seen this level of mess since Leah's Crapmobile! I'm fairly certain that if they dug far enough into the trashheaps in Jade's apartment, you'll probably find Leah's daughter Addie covered in jackets…and possibly sugar packets.)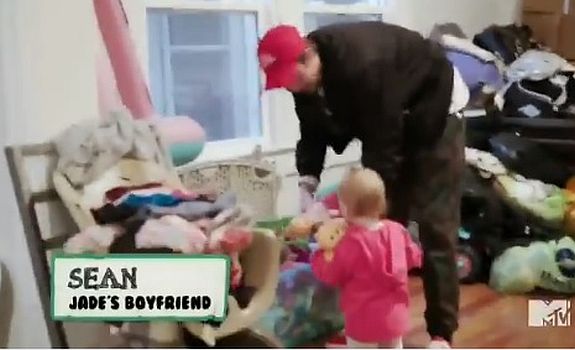 Jade tells her cousin that, with the new apartment, she and Sean "ain't gotta be right on each other's asses" so hopefully that will turn their dumpster fire of a relationship into something that at least won't have them ending up screaming in their underwear on Cops in under a year.
Jade's cousin is the voice of reason, though.
"Just 'cause y'all movin' don't mean y'alls problems is gonna go away," she says.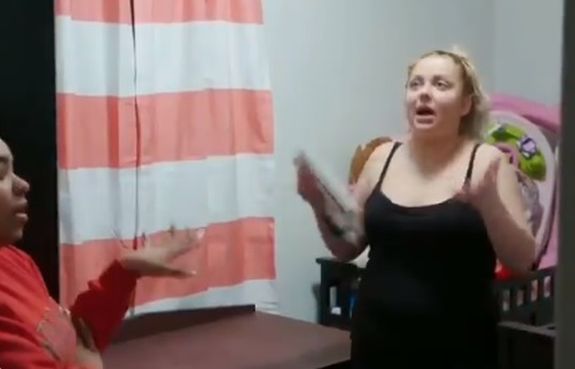 Jade says she's doing her best to make everyone happy, but things are stressful right now. Her cousin says that Jade should just worry about making herself and her daughter Chloe Khloe Klowy (how the hell do you spell this kid's name?!) happy.
Next we jump over to The WV to check in with Leah and the girlseseses. Leah asks the twins how their tests went that day.
"It was the most boring thing I've ever did in my whole life," Aleeah says.
Clearly, she doesn't watch 'Teen Mom 2' then….
Later, Leah is busy packing her suitcases because she's about to head to Costa Rica with "Kell" at the end of the week. (That's Kail, by the way. It took me a moment to figure out who this new friend Kell that Leah keeps talking about is.)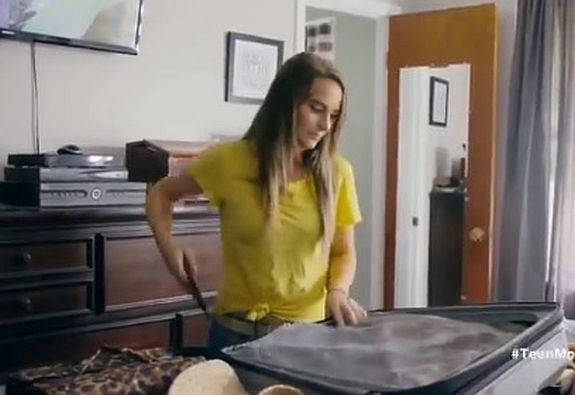 She calls up her friend Kylie to brag about her upcoming trip. We learn that in addition to "Kell," Leah's sister, Victoria, will also be joining in on the festivities. (Sadly, Mama Dawn seems to be sitting this one out. I would have given my last JE Cosmetics Eyebrow Kit to listen to Mama Dawn attempt to speak Spanish. "Bueno Tard, amagos!")
Leah says she's depositing the girlseses with their dadseses, and then she's ready to let loose!
She tells Kylie that she and Jeremy "kind of hit it off" (aka banged like bunnies) at the recent 'Teen Mom 2′ Reunion. She admits they hooked up after one too many Lynchburg Lemonades. After Jeremy gave her the ol' bacon slap (or whatever the kids call it these days), she's sad she has to leave him behind to go on vacation.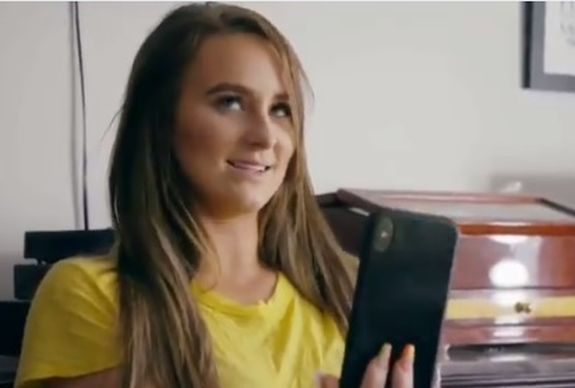 Leah says she'll be thinkin' of Jerm's sweet, sweet lovin' while she's gone, but she is still looking forward to the trip. She tells Kylie that Victoria has never been out of the country.
"Yeah," Leah scoffs. "We'll see how she acts!"
Well, that's quite the foreshadowing, ain't it?!
Back in New York, Briana and her family are getting ready for the Reunion shoot, as is her boyfriend John. Briana will be shooting her first segment with Devoin, and she's hoping that he admits to doing wrong at the pool.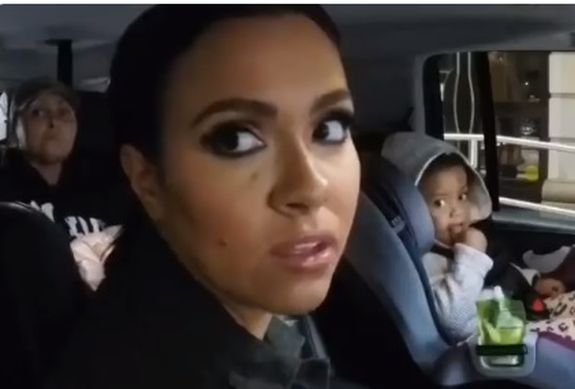 We are then treated to several clips from their Reunion segment. Dr. Drew asks Devoin if he has a "substance abuse problem." He laughs it off and Briana says that she's tired of Devoin laughing off what happened.
"Y'all don't see no progress ON MY PERSON!?" Devoin exclaims.
Um…putting on a clean shirt isn't "progress on your person," bro. Just sayin'.
Briana admits that Devoin is not as big of a trashbag as he was in years past.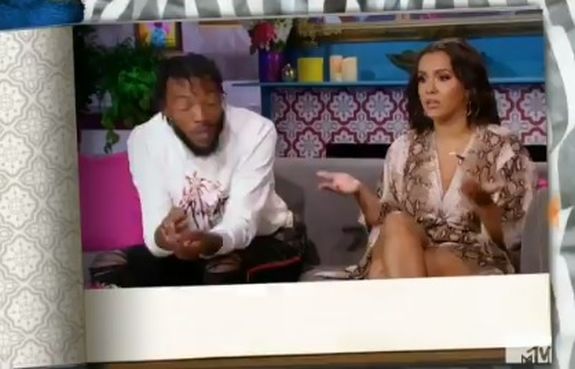 Later, in New York, Briana is still fuming that Devoin didn't admit to being a drunken crapball, so she goes to chat with Brittany about it.
Briana's cousin Michael Tyler (not to be confused with the Hillbilly King, Corey Tyler), says that it will be hard for Briana to get over and trust Devoin again.
Brittany says that, luckily, Nova was unaware that Daddy Dearest was three sheets to the wind. Briana is confused about what to tell Nova when she asks why she can't go to her dad's house.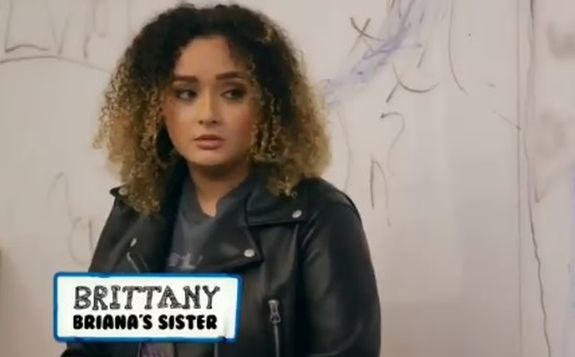 Briana starts crying because, even after eight years, Devoin still hasn't learned how to be a parent to their daughter.
Over in South Dakota, Chelsea, Cole and all the assorted rugrats hit the road, once again driving to see The Promise Land. Chelsea is trying to convince Cole to move there, because it's a "nice place to raise a family."
Chelsea shrieks as they pull up to what is literally just a big green field. Cole is surprisingly thrilled with the field and they decide to discuss moving there. They talk about how great it will be, because it's so secluded.
I mean, to me it kind of looks like a place they'd find a dumped body on 'CSI', but, you know, whatever floats your boat…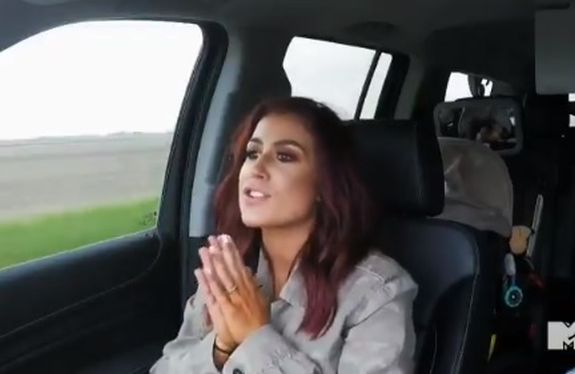 Later, Cole and Chelsea are talking about The Land, and how their mothers are going to be heartbroken if they move there (dontcha know). They agree to buck South Dee-ko-tah Mary's wishes and plunk down a big chunk of MTV money on the field.
Meanwhile in Costa Rica, Kell Kail tells us that her trip to Mexico was so stressful, so she's looking forward to this vacation to help her de-stress.
Um…'member when we used to watch these girls cry about having to come up with the money to pay their rent and/or fix their broken down cars? Now we're watching them bitch about one international vacation after another. Good times.
Anyway, Kail and Leah meet up, along with a random assortment of Kail's friends and Victoria. They go swim under waterfalls and jump off cliffs and whatnot.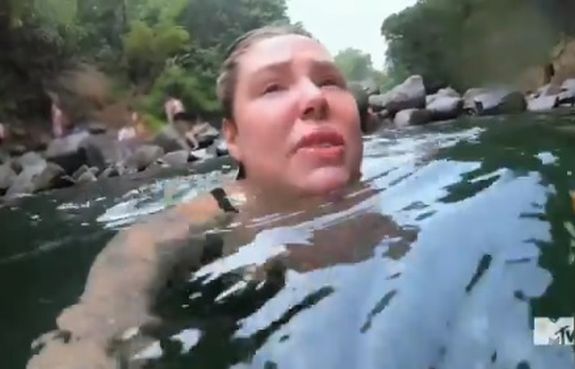 Back in Costa Rica, Leah and Kail are discussing Kail's recent trip to Mexico. She says that the older kids were disappointed they couldn't go on the resort waterslides because Kail had Baby Lux. She says it would have been easier had her third baby daddy, the elusive Chris, gone with them.
Kail says that she realizes that being a single mom to three kids with three different dads "is not it." She says she wishes she had help to take them where they wanted to go. Leah tells her that she's doing a great job as a mom.
The next day, the girls split up, and Leah and Victoria go explore a deep, dark mysterious rainforest. They go have coffee (which Leah thanked the waiter for by saying "grass-ious," by the way!)
Of course, the conversation quickly switches to Leah and Jeremy banging again.
"I feel like your relationship with Jeremy is getting better," Victoria says.
Um…yeah, because they're attached at the pelvis again…that helps!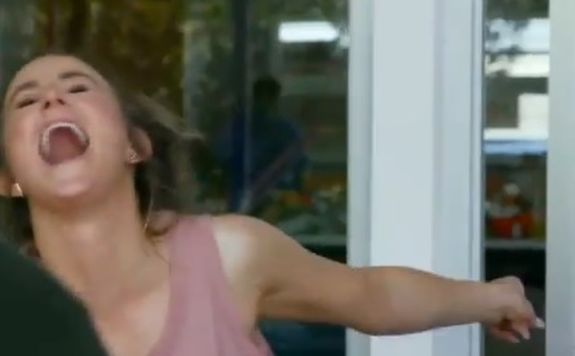 Leah says the girlseseses all want her to get back together with Jeremy, but she doesn't want to rush anything right now…other than sex, of course.
Later, they go on a white water rafting trip, which Kail says was "kind of scary." The next day, they go off-roading, with Leah behind the wheel.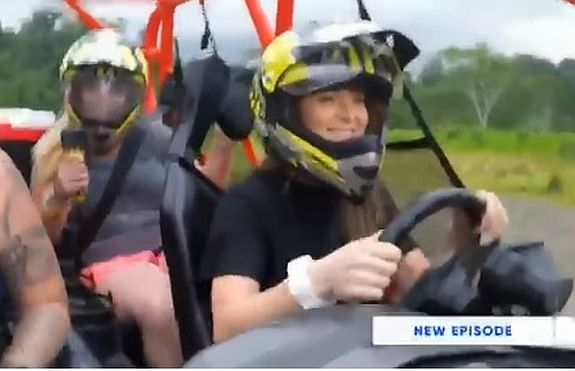 That night, Kail and Leah reflect on their vacation before heading home the next day. Kail encourages Leah to go home and "get to know Jeremy again." (Let's just hope they surf onto itsyoursexlife.com before they "get to know each other" again; otherwise they'll be adding to Leah's litter of girlseseses.)
Kail gives Leah her support in boning Jeremy.
Back in Indianapolis (where the air is cold and the sharp object count in Amber Portwood's home is high), Jade and Sean are sitting down to talk about how they need to keep things positive…but soon even their convo about being positive turns negative. Sean complains that Jade is always throwing attitude at him and always irritated at him. (I can't imagine why…this kid seems like such a motivated, productive member of society.)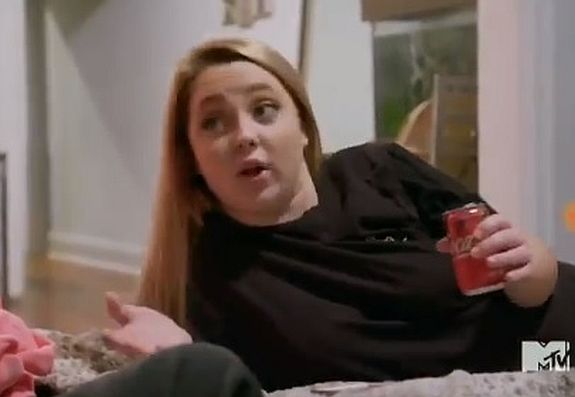 Sean storms out of the house, swearing and mumbling as he gets into his car.
The next day, it's time for the Crap Transfer. Jade has recruited to friends to help her haul junk, but she gives them fair warning that Sean could go "Portwood" on them, but says Sean probably won't be mean to them…and stuff.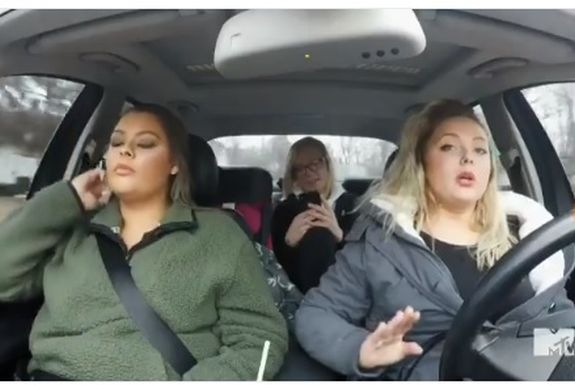 As Jade explains her moving plan, Sean tells her he had this all mapped out already. He quickly retreats to go pout as Jade's friends are throwing crap in boxes. Jade goes upstairs to fetch Sean, but after they both agree that he's an a**hole, she goes back down to where her friends are moving her stuff.
Sean comes downstairs and catches Jade talking crap on him, so soon they begin to just scream at each other as their friends look around nervously (possibly hoping to find something to shield them when the junk starts flying around the room?) It appears that whatever "pizza and beer" promise they were given to convince them to help with moving day is not going to be worth all this.
They arrive at Jade's new place, which is actually a house. (She's movin' on up, thanks to that MTV money!) Jade and Sean are getting along decently as they move stuff into the house, but as soon as Jade yells at Sean for saying "something ratchet-like" while the cameras are rolling, all hell breaks loose again!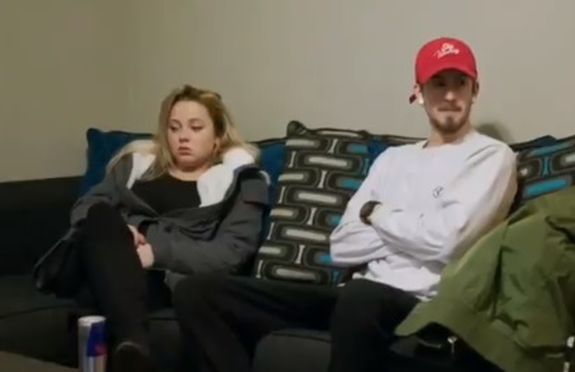 "I can say whatever the f**k I want, Jade!" Sean yells.
The couple continues to bicker. It won't be long until someone is kicking someone down the stairs while they're holding a TV….
That's all for this episode! To read The Ashley's other reality TV recaps, click here!
(Photos: MTV)