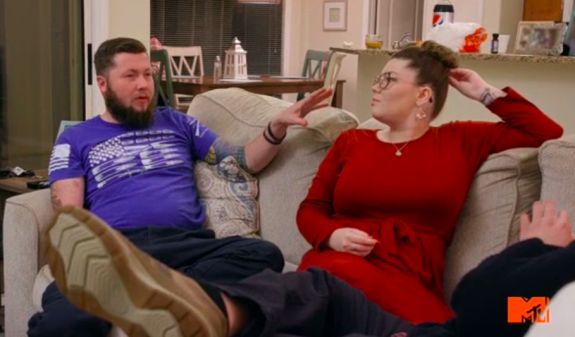 Amber Portwood's recent bail drama has put her name back in the news and put her brother back on the task of helping to tell her side of the story.
As The Ashley reported, a woman named Rhonda Russell has come forward alleging that she bailed the Teen Mom OG star out of jail after she was arrested in July for domestic battery against her (second) baby daddy Andrew Glennon. The woman is reportedly asking that the $2,000 she used to bail Amber out of jail be paid back to her… though Amber's brother Shawn Portwood—aka Bubby—is telling a different story on social media.
Shawn first denied that Rhonda was the one to bail his sister out of jail and revealed that he didn't even know "this Rhonda person."
" … I don't know her as being the one to bail my sister out," he added.
He then claimed that Amber was actually the one who bailed herself out of jail (with a little help from their mom).
" … The person who bailed Amber out really was Amber. My mom is the one that went to get her but Andrew actually put the money back in Amber's account after he stole it to bail her out," he wrote.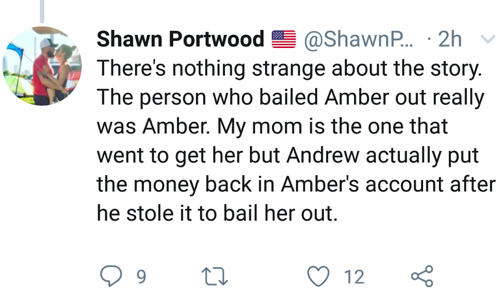 In an attempt to clarify his statement, Shawn went on to accuse Andrew of draining Amber's bank account and putting her in a financial bind.
"Well considering Andrew took all of the money out of her account and transferred it into his personal account. The only way she was able to bail herself out was to have him transfer money back into her account," Shawn tweeted.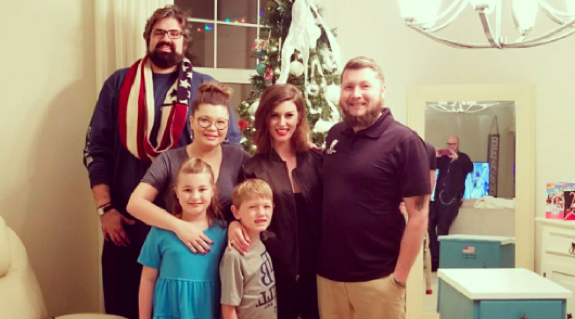 As to why he didn't bail Amber out himself, Shawn fired off a list of reasons why the burden didn't need to "be on [his] shoulders."
"First of all why would I bail her out? I live in Florida and she lives in Indiana," he said. "Second of all she has the money to (bail) herself out which she did. Why must it be on my shoulders to take care of all of that? Everyone holds me to this weird standard for some reason."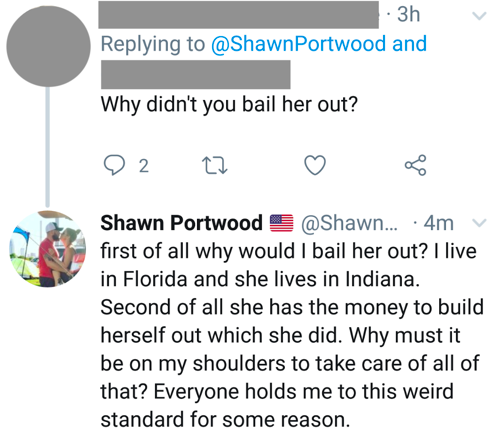 While Shawn admitted to not supporting Amber by way of bail money, he maintained his title of Number 1 Bubby by assuring followers that he was helping Amber by continuing to "defend the truth."
"Who says I'm not supporting her in a different way? I support her in a very different way but I'm defending what is right and what is wrong and this stuff that has been put out is not the truth," he tweeted. "I am entitled to defend the truth and this is not it."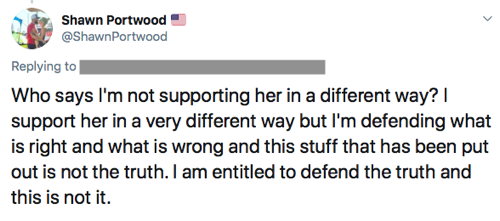 "These people are so concerned as if their own lives revolve around my sister but really no matter what happens to my sister whether she goes to jail or she doesn't it will not affect you in any way at the end of the day," he continued. "So why does this even matter?"
However, the court documents obtained by Starcasm last week specifically name Rhonda as the person who bailed out Amber. Whether or not she used funds given to her by Amber, or used her own money, is currently unknown.
RELATED STORY: UPDATED! Mystery Woman Who Bailed 'Teen Mom OG' Star Amber Portwood Out of Jail Wants Her $2000 Refunded
(Photos: MTV; Twitter)