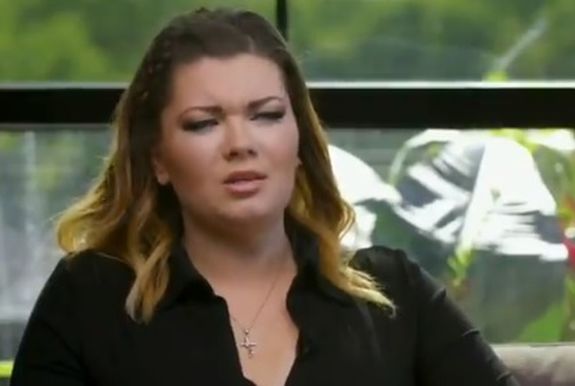 UPDATE! After the Starcasm article was posted, the Without a Crystal Ball vlog tracked down Rhonda, who says she was a housekeeper/employee of Amber and Andrew Glennon from May until about a month after Amber's arrest.
In her interview with the vlog, Rhonda stated that she witnessed Amber verbally abusing Andrew inside their home. She also confirmed that she was the person who bailed Amber out of jail, but states that she was pressured into doing it by Amber and her mother, Tonya Portwood. She claims the Portwood Pair made her feel like she would be fired if she did not shell out the cash to bail Amber out of the clink.
Rhonda also confirmed that she did, indeed, write the note to the court, attempting to get her bail money back. She stated that, while she wanted the money back, she was also doing it on behalf domestic violence victims and Andrew. (This part of the story has been met with some criticism online.)
Rhonda stated that she has given statements to the prosecutors, Andrew's lawyers and other officials about what she saw in the house. It is unknown if or how Rhonda doing the interview will affect the legal case against Amber.
Also, some of The Ashley's initial details were not correct. The Ashley stated that Rhonda was in her 60s but she is actually in her 50s. Also, Rhonda lives closer to Amber than The Ashley initially reported. The Ashley apologizes for the misinformation and has removed it from her original story!
You can watch Rhonda's on-air interview with Without A Crystal Ball at the end of this story.
The Ashley's original story appears below!
Bailing a Teen Mom star out of jail turned out to be much less exciting than one Indiana woman expected, apparently.
The mystery woman— whom The Ashley will only call Rhonda R.—bailed Amber Portwood out of jail after she was arrested for domestic battery.
She is now reportedly begging the court to give her the $2,000 she shelled out to free Amber from the clink. According to Starcasm, Rhonda submitted a hand-written note letting the judge know that Amber has not yet repaid her the bond money— and she needs the cash fast!
The Ashley has checked in with many sources connected to Amber, and did her own search to uncover the connection between Rhonda and Amber. It does not appear that Rhonda is related to Amber, does not live near her, and is not connected to Amber via MTV or her family.
A search of online court records shows that Rhonda did, indeed file a bond form on September 25.
In Rhonda's note– which was obtained by Starcasm— she explains that she has no job, and that she should have used the money to pay her utility bills, instead of bailing a 'Teen Mom' out of jail.
"I, Rhonda [redacted] am requesting that the court release the bond to me due to the fact that the money that I paid for the bond was income that [is] owed to me from the Defendant, Amber Portwood," Rhonda wrote in the note, before pleading for a refund.
"This bond posting has created a serious financial burden on my family and I am respectfully requesting that the bond be released to me immediately," she wrote. "I am currently unemployed and my husband is on short-term disability. We are facing disconnect issues on our electric and gas expenses and are without any other source of financial income."
Unfortunately for Rhonda, there are no refunds on reality TV star bail money. A judge denied her request on Wednesday.
Rhonda is on the hook for the bond money should Amber violates the terms of her bail. Her case is active, and her attorney is set to appear in court on October 10 for a pretrial conference, although Amber does not have to appear.
Watch Rhonda's interview below!
RELATED STORY: Andrew Glennon Expresses His Unhappiness About MTV Continuing to Film Amber Portwood for 'Teen Mom OG' Despite Leaked Audio Recordings
(Photos: MTV, Instagram)