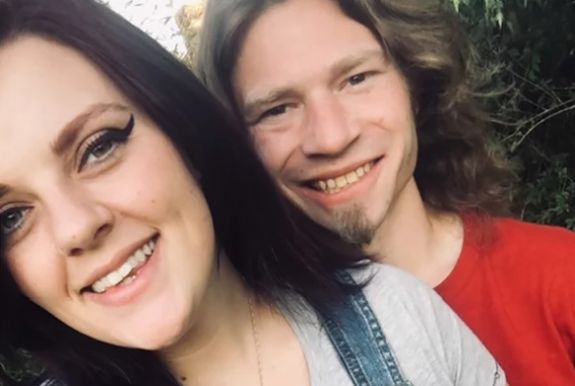 The story of Bear Brown's relationship with Raiven Adams has just taken yet another unexpected turn!
The Alaskan Bush People star announced on his Instagram on Monday that he and Raiven— who is his ex-fiance and future baby mama— are back together and trying to make their relationship work. In a video message posted to Instagram, Bear told his fans he had "some AWESOME news for everyone!"
"Hey everybody out there, I wanted to let y'all know that Raiven and I have decided to give it another shot," Bear said on his private Instagram account. "After having been separated for a little bit, we found that we still have feelings for each other. So, we're gonna give it another try!"
On her own private Instagram, Ravien told fans that she and Bear are going to make some changes in how they handle their relationship this time around. When a fan asked her what she and Bear will do differently this time, Ravien revealed that they plan to tune out other people.
"Stop reading your opinions or caring what y'all think…not in a mean way; I think we just cared too much what people thought before," Ravien wrote.
The reunion came as a shock to some 'Alaskan Bush People' fans, who watched as Bear and Raiven became engaged in August, only to break up two weeks later. Two weeks after the split, the exes announced that Raiven was pregnant with Bear's baby.
Although Bear and Raiven made it seem like they ended things on happy terms, Ravien's mother, Kassy, revealed in a series of social media posts made days after the baby announcement, that it was not the case at all.
She slammed Bear and his family for not caring about Raiven (among other things), and even revealed that Raiven broke up with Bear because she felt he was too "unstable."
While it's unknown at this point how Kassy feels about Raiven and Bear getting back together, but Raiven says that Bear is an excited father-to-be.
"We talk daily [and] he knows just as much [about the pregnancy] as I do," Raiven told a fan during the Q&A session.
Ravien— who had previously stated that one of the reasons she split with Bear originally was the pressure she felt from dating someone on a TV show— told another fans she's slowly adjusting to life in the public eye.
"I get it easier than most [of Bear's] family members since I'm new but it's also really nice to have so much support," she wrote.
Raiven is currently 10 weeks along in her pregnancy. It is unknown if the couple plans to continue with their engagement, or if they have just started dating again.
RELATED STORY: Mother of Bear Brown's Ex-Fiancé Raiven Adams Slams Bear & 'Alaskan Bush People' Family Following Raiven's Pregnancy Announcement
(Photos: Instagram)