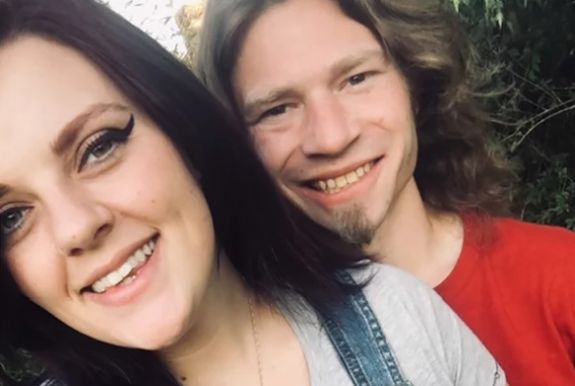 There will be no wedding in the Bush for Bear Brown!
The Alaskan Bush People star announced on Wednesday that he has split with his fiance, Raiven Adams, just two weeks after the couple announced their engagement. Bear told his fans about the breakup on his Instagram account.
"Hey everybody! I wanted to let y'all know that Raiven and I have decided to separate on good terms!" Bear wrote. "We are remaining friends like we started! I wish only the best for her and her family! She has had a hard enough time please everybody just let her be! She has a huge heart and really cares what everybody thinks. Thank you!"
Bear proposed to Ravien on the Brown Family land in Washington in August. They met last year at Bear's brother, Noah's wedding, but had only been dating a few months when Bear popped the question.
In an interview with People magazine, Bear— who is 11 years older than 21-year-old Raiven— discussed the split more.
"Raiven and I have made the difficult decision to part ways as a couple," he told the magazine. "She is a wonderful person and I will always care for her. Sometimes people are better as friends and that's perfectly okay. I will always wish the best for her in life."
Although Bear didn't go into any more details, it appears that Raiven actually dumped him. On Monday, she posted a telling message to her private Instagram account, explaining that the publicity that comes with dating someone on a reality show was overwhelming her.
"It's been a long battle for me to decide what I should do. What I should say," Raiven wrote. "I think this life is too much for me. The drama, the articles, the harassment. The mean people who have nothing better to do. And due to that, and several other reasons, me and Bear have decided to stay friends. Sometimes two people are meant to be in each other's [lives] … but not in the way they thought. Wishing the wolf pack all of the best luck on every adventure."
'Alaskan Bush People' is currently airing Sundays on the Discovery Channel.
RELATED STORY: 'Alaskan Bush People' Star Billy Brown Reportedly Hospitalized & Facing "Major Surgery"
(Photos: Instagram)