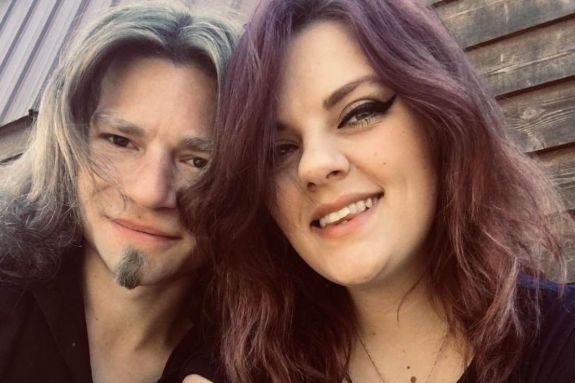 Bear Brown is once again speaking out against his baby mama, Raiven Adams, demanding she stop lying about what went down during their strange and stormy, on- and off-relationship.
After Raiven slammed Bear on social media for posting on Instagram about their infant son, River, Bear fired back on Friday, informing Alaskan Bush People fans that he no longer plans to stay silent about their failed engagement and custody battle.
"I have something to say! Everything that Raiven has told the news tabloids and has insinuated about me is a mean abusive lie and I will no longer stand by and say nothing!" Bear wrote on Instagram.
"Soon I will be making a post about the truth of what happened between us! Since Raiven has not stopped [lying] about me people deserve to know the truth!"
He also refuted Raiven's past claims that he abused her, and claimed that Raiven abused him, not the other way around.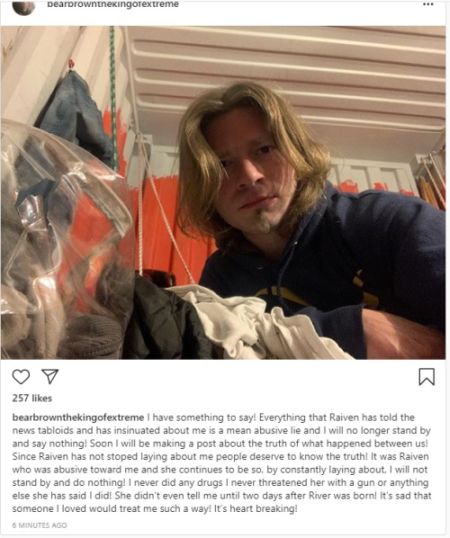 "It was Raiven who was abusive toward me and she continues to be so, by constantly [lying] about, I will not stand by and do nothing!"
As The Ashley previously reported, Raiven filed for a restraining order against Bear earlier this year, claiming that Bear allegedly used cocaine and exhibited "erratic" and "abusive behavior" during their relationship. She also claimed that Bear used guns to intimidate her while she was pregnant with River and that Bear threatened to take their baby away from her if she left him. Raiven dropped the restraining order in March, three days before River was born.
In his Instagram post on Friday, Bear slammed Raiven's drug and intimidation claims.
"I never did any drugs I never threatened her with a gun or anything else she has said I did!" he wrote. "She didn't even tell me until two days after River was born! It's sad that someone I loved would treat me such a way! It's heartbreaking!"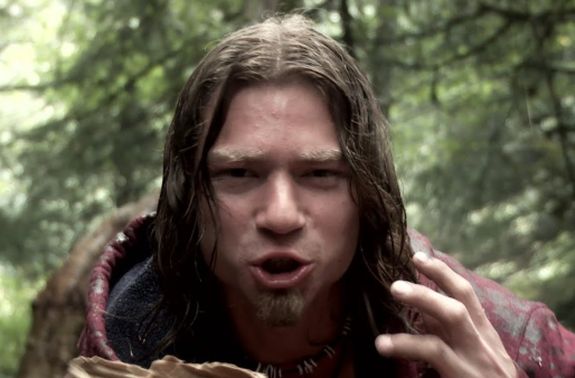 After a paternity test confirmed that Bear is River's father, Raiven filed for sole custody of the baby, asking that River only be allowed "restricted visitation." Additionally, Raiven is seeking "primary physical custody" of River in lieu of Bear's requested "shared physical custody" and she is asking that Bear have "restricted visitation" with the baby. She is also requesting that Bear pay child support effective March 9 (the date of River's birth).
A custody hearing was held on July 1, and the custody case remains open and active, although it has been sealed from the public.
Bear has yet to meet his son, but has been posting photos of him on Instagram, much to Raiven's dismay. Last weekend, she told her Instagram followers that she would no longer be sharing photos of River, due to somebody using them inappropriately.
"Unfortunately, due to recent events, I won't be posting photos of my son," she wrote on Instagram Stories. "His privacy is more important, and the way they are being used by everyone else is not appropriate."
UPDATE! Raiven has responded to Bear's post with a post of her own. In it, she made fun of Bear's misspellings of the word "liars" (he wrote "layers"), and informed her ex that he should be taking his grievances to a judge instead of social media.
"Let the battle of the 'layers' begin jk the adults go to court for help not Instagram," she captioned a post about narcissists that reads, "Narcissists try to destroy your life with lies because theirs can be destroyed with the truth."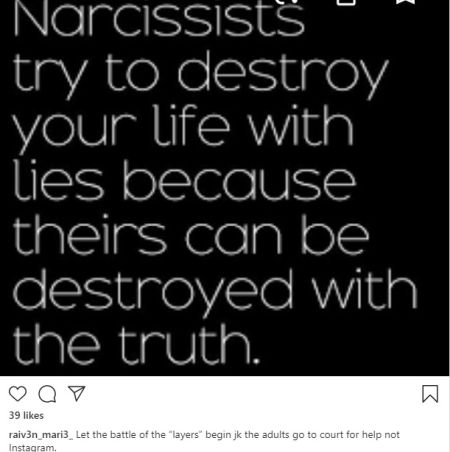 Raiven's mother Kassy provided her thoughts in the comment section of Raiven's post.
"You're such a layer Raiven," she wrote. "He's mad you didn't release a public statement like him and his lawyer demanded you to do by today. This further proves his mental instability and abuse is real. If you were abusive you wouldn't have this baby in your home. He sealed the custody agreement to avoid the public knowing the outcome. If he was a victim why would he seal it? This is typical behavior from an abusive person just take a deep breath and let your attorney handle the rest."
On Saturday, Raiven appeared to have a change of heart about posting about her drama with Bear on social media. She told her Instagram followers why she removed her previous post.
"I took the night to think about how I should respond and how it will affect others," Raiven wrote. "Then I realized anything besides this response is childish and damaging for my son. So I am wishing peace for your heart… My job was to protect my son and myself not argue or be petty. My son comes first and I won't be explaining why this is so very wrong.
"I pray you all put your children first and love them enough to let go of anger. I pray you protect yourself but let that be the end," she continued. "Hurting one another at the expense of your child for social gain is disgusting. Time to move along and keep being the best momma I can be. My attempts in the past where to make awareness not to gain sympathy or approval. I simply wanted to hold someone accountable for their actions. But then came my son and that's far more important. Teaching my son what a loving parent is who puts him first is a lesson I would much rather teach."
In the comment section of the post, a fan asked why Raiven is still keeping River from Bear. Raiven denied that she was the reason Bear has yet to meet his son.
"I don't keep his son from him," Raiven responded. "Just curious as to why you assume I keep him from him because he hasn't met him it has to be my fault!?"
She later posted the following to Instagram Stories: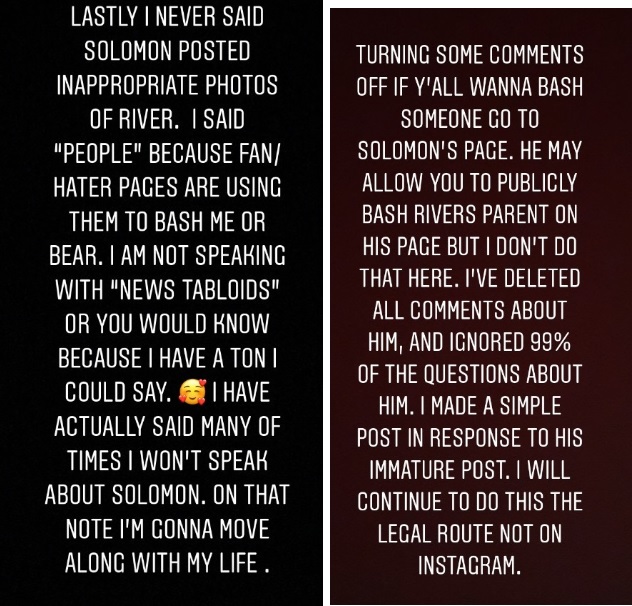 RELATED STORY: Raiven Adams– Ex of 'Alaskan Bush People' Star Bear Brown– Demands Sole Custody of Son River, Wants Bear to Have Only "Restricted Visitation"