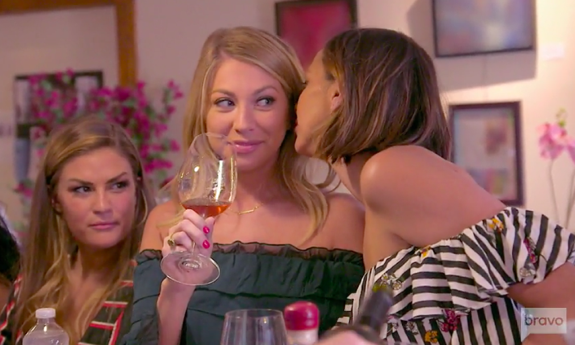 There appears to be some drama brewing amongst the self-proclaimed Witches of WeHo…
Vanderpump Rules star Stassi Schroeder finally opened up on her podcast, Straight Up With Stassi, about the suspected feud between herself and co-star Kristen Doute, whom Stassi says she's "taking a break from."
"If taking a break from someone is a b**ch move and makes me nasty, then I don't give a f**k," Stassi said on the October 11 podcast episode. "It doesn't mean I don't care about her. I absolutely do. Sometimes you just can't be in the same room with someone without wanting to kill them."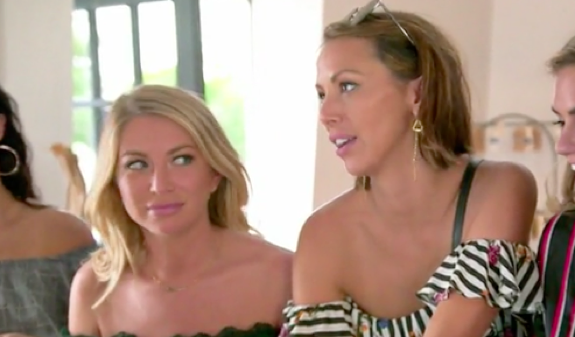 Stassi went on to allude that the feud would play out on the next season of 'Vanderpump Rules' (no surprise there) and that she was "prepared to look like the a**hole" if that's how it ends up airing.
"Listen, I have to take care of my own mental and emotional health first," she added.
'Vanderpump Rules' fans began to speculate that something was going on between the friends when Kristen appeared to be absent from the July engagement party for Stassi and her fiancé Beau Clark, despite being the one who introduced the couple to each other.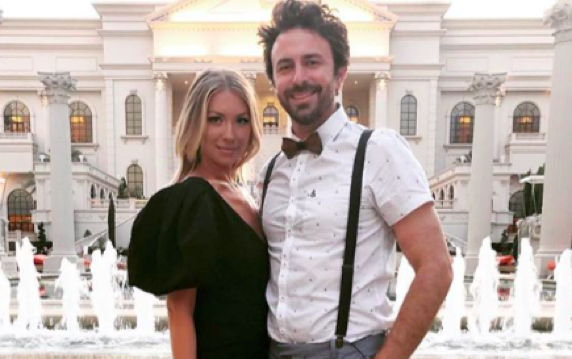 A fan even reached out to Stassi's mom Dayna Schroeder in the comments in an attempt to find out what was going on between the pair. Dayna, who has always been a big supporter of Kristen, said she was sad Kristen wasn't at the celebration for Stassi, though she noted that she "didn't really know all the particulars."
" … I was out of the loop for a while. Don't you worry, it's like Lion King and the circle of life," she continued. " … each one of these girls will grow, change and come back to their original strong friendship bond that they've always had. Somethings just take time."
That same month, the two attended an event promoting their Witches of WeHo wine line, along with Katie Maloney, but by August, they appeared to be keeping their distance from each other once again.
In addition to missing out on the engagement party, Kristen was absent when Stassi shopped for her wedding dress in August and Stassi herself skipped out on Kristen's T-shirt event. (The horror!)
That month, Stassi seemed to reference the ongoing drama with Kristen on an episode of her podcast.
"The drama is killing me," she said. "I can't anymore. I can't talk about this s**t anymore. I'm literally dead inside."
Kristen appeared to respond to those comments with a post on her Instagram Story of a caterpillar telling a butterfly "you've changed," to which the butterfly responded, "we're supposed to."
Despite their current rift, the on-again, off-again besties, did manage to put their differences aside for a good cause this weekend. On Saturday, Kristen shared a photo from an event held at SUR to raise money for a friend of the 'Vanderpump Rules' cast who was recently diagnosed with cancer. As you can tell from the photo, both Kristen and Stassi were in attendance for the fundraiser.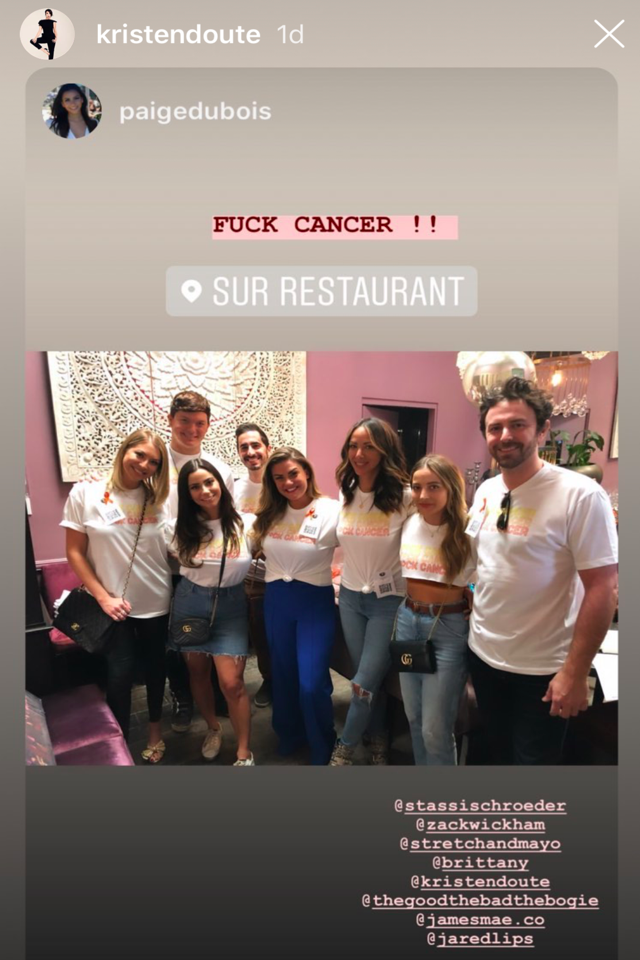 Stassi even joined her friends in wearing one of the "F**k Cancer" charity tees designed by Kristen's company, James Mae.
RELATED STORY: 'Vanderpump Rules' Star Kristen Doute Announces Split from Boyfriend Brian Carter
(Photos: Bravo; Instagram)