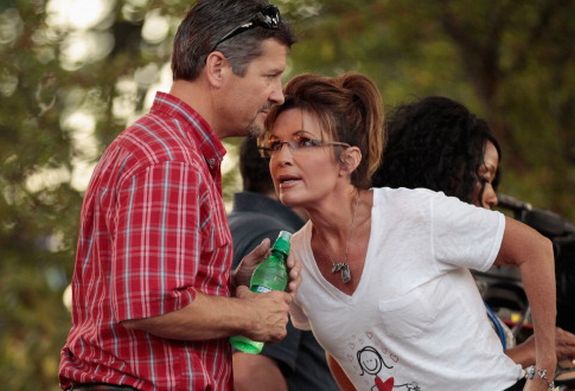 Sarah Palin and her estranged husband Todd are heading to trial to move forward with their divorce.
According to The Blast, a judge has scheduled the Palin divorce trial to begin April 6 of next year. The courtroom battle is expected to last four days.
As The Ashley told you last month, Todd filed for divorce after 30 years of marriage to Sarah, claiming "incompatibility and temperament between the two parties such that they find it impossible to live together as husband and wife."
https://www.instagram.com/p/BnHymkunXgP/?utm_source=ig_web_copy_link
It was also revealed at the time that Todd had enlisted the legal assistance of Alaskan attorney Kimberlee Colbo to represent him in the divorce—the same attorney Dakota Meyer used to divorce Todd and Sarah's daughter (and former Teen Mom OG star) Bristol in 2018.
The Blast reports that Sarah filed her answer to Todd's divorce petition on September 20, however, she also filed a counterclaim against her estranged husband, denoting that she did not agree with him on all issues in their divorce. The pair's trial date was set the day Todd responded to Sarah's counterclaim. According to court records, the former Sarah Palin's Alaska stars have been unable to resolve the issues in their divorce case.
As part of the divorce, Todd is seeking joint-custody of he and Sarah's 11-year-old son Trig. The couple also share four adult children—Bristol, Willow, Piper and Track.
RELATED STORY: Todd Palin Files for Divorce From Wife Sarah; is Using Lawyer Former 'Teen Mom OG' Dad Dakota Meyer Used During Divorce From Bristol Palin
(Photos: Chip Somodevilla/Getty Images; Instagram)