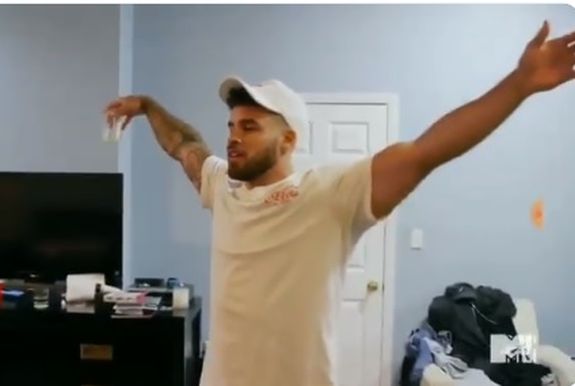 Cory Wharton may have a pregnant girlfriend now, but that's not stopping his quest to get his mug on as many MTV reality TV shows as possible!
The Ashley hears that the Teen Mom OG dad touched down in Prague in the Czech Republic on Tuesday, along with the other reality TV stars who are set to appear on the upcoming 35th season of MTV's The Challenge.
Cory recently announced that his girlfriend Taylor Selfridge (whom he met on— you guessed it!— an MTV reality show!) is pregnant. Last week, Cory told his followers that he's thrilled to be able to spend Taylor's pregnancy with her and go to her doctor's appointments and ultrasounds, since he didn't get to do that when his first baby mama, Cheyenne Floyd, was pregnant with their daughter Ryder.
"Just being there from the day she found out that she's pregnant and knowing that it was mine, I knew that I was going to have to step up," Cory recently told Us Weekly. "It's exciting for me. It's gonna be a lot, but I'm excited. I never went to an ultrasound, you know? I never went to the doctor's appointments to see her check-ups and things like that. So for me, this is like my first baby almost, as weird as that sounds."
The Ashley's 'Challenge' source tells her that Cory's girlfriend Taylor was supportive of Cory's decision to go on another season of 'The Challenge,' despite it meaning he will miss part of her pregnancy.
"She encouraged it because she's hoping he can make enough money to buy a house," the source told The Ashley.
If Cory makes it until the finale, he would be gone between six and eight weeks, the source said.
Cory will also reportedly be in the 'Challenge' house with two of his exes, according to the 'Challenge' sleuths on Vevmo. Aneesa Ferreira and Kailah Casillas are also appearing on Season 35.
RELATED STORY: 'Teen Mom OG' Dad Cory Wharton Threatens Legal Action Against Woman Who Accused Him of Trying to Cheat On His Pregnant Girlfriend Taylor Selfridge With Her (Exclusive Details)