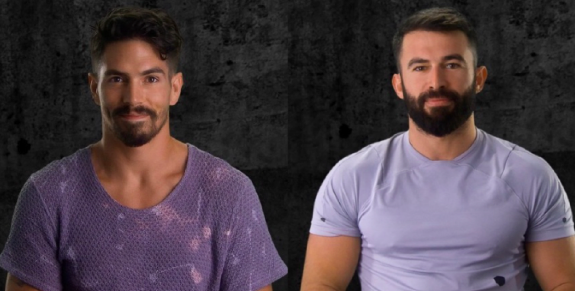 Turabi "Turbo" Camkiran, reigning champ of The Challenge: War of the Worlds, was sent home from the competition on Wednesday's episode, despite never technically coming to blows with Jordan Wiseley during their second argument of the season.
After a deliberation in the house among some of Team U.S., Jordan and Turbo once again found themselves face to face (literally), with the argument really heating up once Jordan decided to imitate Turbo's signature walk.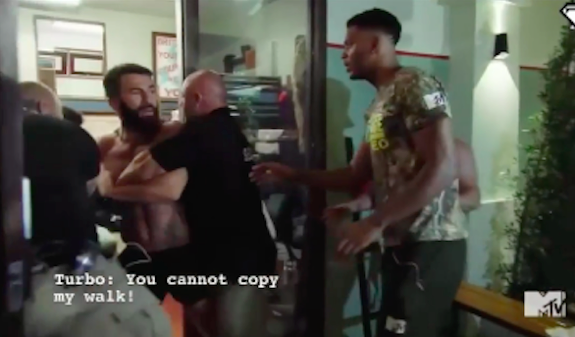 While chaos quickly ensued, Turbo and Jordan remained a good distance from each other throughout the incident, mostly due to the multiple security guards woking to hold Turbo back. Viewers then watched as Turbo was removed from the house, presumably to cool off for the night. However, host TJ Lavin revealed to the cast at the next day's challenge that Turbo had actually been sent home.
While fights among the cast typically have to turn physical before a competitor is removed, Jordan explained on the Challenge Mania podcast that he and Turbo's interaction that night wasn't what sent the Turkish reality star home.
"It was nothing that Turbo did to me… He did not put his hands on me," Jordan explained. "Turbo had an all-out brawl with security. It took three security guards to hold him down."
Jordan also pointed out that both he and Turbo had already received warnings for nearly getting into a physical fight with each other a few weeks earlier.
"We all get a second chance," he said. "We both got a stern talking-to: 'Don't let this happen again…' This is the game — you've gotta be professional. When security comes in and says, 'This is over,' it's gotta be over. It's not your job to start fighting security."
Jordan went on say that he didn't believe a language barrier was at fault for Turbo possibly not understanding the show's rules.
"Turbo absolutely knew that he could be sent home," he explained. "He has been sent home from shows before. This is not his first physical altercation on a show, whether it was a U.S. show or a Turkey show… He's someone who respects people in the armed forces and the security positions. … So I don't know if it was just the weight of everything coming down.
"People snap. People snap all the time. I don't believe it was just the sh*t talking that got him that worked up. Maybe so. Maybe I am that good at pressing buttons — but I do think he was very aware that he could go home for his actions."
The day after his departure-episode aired, Turbo took to social media, posting clips of he and Jordan's altercations this season, along with a lengthy caption stating that his honor was more important than a million dollars and that he would "break all his bones" ("his" being Jordan's, we assume), if security wasn't around.
He posted a similar, albeit shorter, message on Twitter, in which he called out those who "do everything for the money" and hinted that he plans to make a comeback.
My honor important than 1.000.000$ F**k the a$$holes who can do everything for the money. Thats why…
Last lion go home.
Happy chicken days chickens! #TheChallenge34
(thank u very much @ChallengeMTV n @MTV)
N thank u guys who support me always.
So soon gonna see me again.❤️

— TURBO TURABİ (@turabicamkiran) October 31, 2019
In July, 'The Challenge' executive producer and showrunner Justin Booth told People that the show "doesn't put up with" physical altercations.
"You can watch a fight on television on almost every channel now," he continued. "I think it's ridiculous and kind of trashy and I'm not impressed by it. So security details have increased but in the past three or four seasons, the cast is getting my message."
To hear some of the cast (including Jordan) give their thoughts on the Turbo incident on the latest episode of MTV's Behind The Challenge, click below. (The discussion takes place during the first four minutes of the video.)
RELATED STORY: 'Teen Mom OG' Dad Cory Wharton to Appear on Upcoming 35th Season of 'The Challenge'
(Photos: MTV; Instagram; Twitter; YouTube)