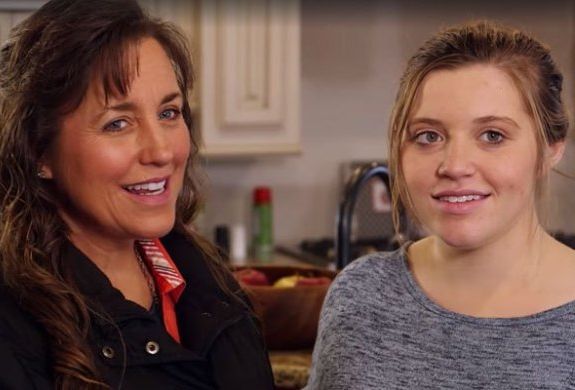 It looks like Joy Forsyth's days of living in a camper are almost over, thanks in part to her parents Jim Bob and Michelle Duggar.
On Sunday, the Counting On star announced on Instagram that she and her husband Austin Forsyth have purchased a home for themselves that is not on wheels.
"Sooo…WE BOUGHT A HOUSE and YES! We plan to settle down and live in this one for awhile!" Joy wrote.
Austin has bought and flipped several houses during his marriage to Joy; however, the couple has never actually lived in any of them for more than short periods of time, and have spent most of their marital life living in a large RV. However, it appears that Austin and Joy shelled out $10 for their new abode which they purchased from– you guessed it!— Joy's parents.
According to land records obtained by The Ashley, Joy and Austin gave the Duggars 10 whole dollars in September for the home, via a Quitclaim Deed transfer. (They also spent an additional $10 on an adjacent parcel of land, which was also purchased from Ma and Pa Duggar.)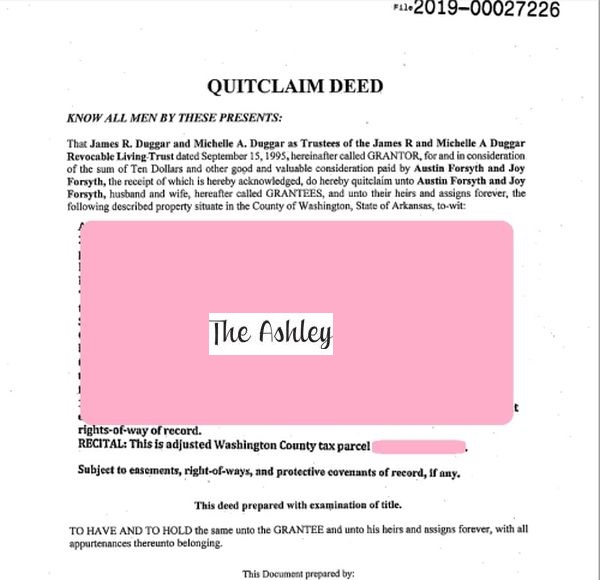 Court records show that both pieces of land has been in the Duggar Family since at least 2010. Jim Bob and Michelle purchased one parcel in 2010 for about $30,000, and the other parcel was originally owned by Joy's grandma, Mary Duggar.
Of course, it's possible that Joy and Austin gave Jim Bob and Michelle cash for the property and did not report it. However, there is no amount listed in the sale price section of the legal documents. According to Legal Zoom, it's likely that the home and land were given to the Forsyths as a gift by the Duggars.
"Quitclaim deeds are a fast and easy way to move property among family members or to place real estate into a trust," the site states. "Quitclaim deeds are most commonly used when property is transferred without a traditional sale. Examples include when property is transferred between family members (such as parents transferring a home to their children), between married spouses (after marriage when one spouse wants to add the other to the title of his or her separate property), between divorcing spouses (when one spouse will keep the home), or when property is being transferred into a living trust."
Also noteworthy is the fact that Joy and Austin's new neighbors are Joy's cousin Amy Duggar King and her husband Dillon.
Anyway, Joy excitedly announced their purchase on Instagram on Sunday.
"After a year and a half of camper living we're so ready! I love living in the camper, but I'm ready for more space and a little more organization!" she wrote.
"This house has 3 beds and 3 baths and its a very open floor plan!" she added. "We are just fixing up the basics… flooring, trim, new countertops, & fresh paint!"
Joy also posted photos and videos of Austin renovating the home's kitchen.
"YES! It's for US to live in!" Joy said in an Instagram video.
Joy has a right to be excited about moving to a stationary house. For the past year or so, she and Austin and their son Gideon have been living in a fifth wheel trailer. 'Counting On' fans watched as Joy and Austin moved into the camper immediately after their wedding. (It was likely the place that they conceived Gideon, who was born nine months after the couple's May 2017 wedding day.)
Joy did admit in August that there are some downsides to camper-life—-"It's hard sometimes because you don't have a bigger kitchen or space."
Now that she has a bigger home to live in and decorate, Joy said she has a decorating scheme in mind.
"I think I want to go for the Scandinavian/boho/minimalist style, all brought together!" she wrote.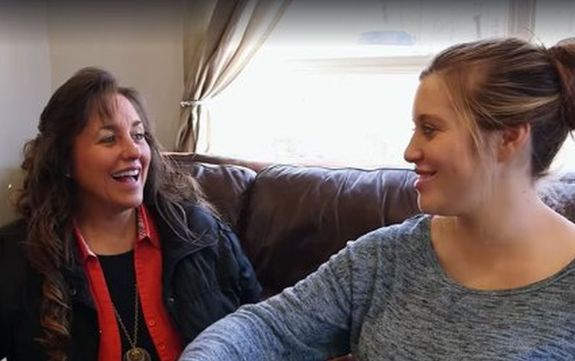 Joy's relatives expressed their excitement for her in the post's comment section.
"So happy for you guys! Can't wait till it's done and y'all are all settled in!" Anna Duggar wrote.
"So happy for your family Joy!" Ben Seewald's family account posted.
Joy did not say when she and her family will be moving into the new home.
RELATED STORY: 'Counting On' Star Forsyth Explains Why She & Her Family Are Living in a Camper
(Photos: TLC, Instagram, Washington County Clerk)