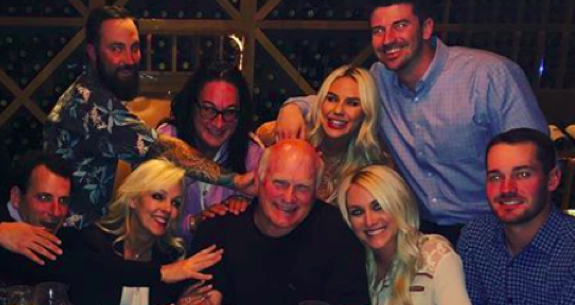 Legendary NFL quarterback Terry Bradshaw is opening up the doors to his Oklahoma home to show fans what life is really like in the Bradshaw family!
The Bradshaw Bunch — a new series coming to E! later this summer– will feature Terry, his "playful and pranking" wife Tammy, daughters Rachel, Lacey and Erin and his grandkids. The show will give viewers a look into Terry's life in rural Oklahoma and all of the fame, farming, football and "real-life hijinks" that come with it.
"I'm excited and a little nervous to let the world see the crazy life I share with Tammy and our girls," Terry said in a statement featured in the show's press release. "I never know what will happen next around here between Rachel, Lacey and Erin … I thought winning four Super Bowls was hard, but it's nothing compared to having three girls."
For those unfamiliar with Terry's impressive NFL stats, he played for the Pittsburgh Steelers from 1970 to 1983, is a four-time Super Bowl championship quarterback (1974, 1975, 1978 and 1979), two-time Super Bowl MVP and in 1989 he was inducted into the Pro Football Hall of Fame.
Off the field, Terry boasts an equally impressive résumé, having done everything from acting and singing to motivational speaking, horse breeding and becoming a New York Times best-selling author. In 2001, he received a star on the Hollywood Walk of Fame — becoming the first former NFL player to do so.
Terry is also a reality TV star. In 2016 and 2018, he appeared on NBC's Better Late Than Never alongside William Shatner, George Foreman, Henry Winkler and Jeff Dye. In 2019, he was revealed to be The Deer on The Masked Singer.
"Terry Bradshaw is an NFL legend, award-winning broadcaster and one of the most iconic figures in entertainment today," said E! exec Rod Aissa said in a statement. "On the field, Terry is known to be a touchdown titan, but in reality, he spends most of his time surrounded by and supporting so many strong women in his family. He's the glue that holds that family together and we're excited that viewers will really get to see a side of him that they've never seen before."
Terry's daughter Rachel seems to share the network's excitement, as she posted the news about the show on social media, inviting viewers to "watch all of the craziness" of the Bradshaw family.
His daughter Erin shared the same announcement to her Instagram Story, adding that she was "so excited and a little nervous."
'The Bradshaw Bunch' is set to premiere on E! later this summer.
RELATED STORY: 'Bachelor in Paradise' Star Jade Robert Stripped of $1 Million Fantasy Football Prize After Being Accused of Colluding with Husband Tanner Tolbert
(Photos: Instagram)