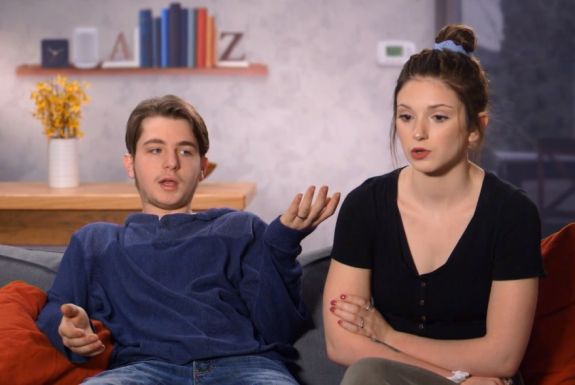 On-again, off-again Unexpected couple McKayla Adkins and Caelan Morrison are on a break yet again, just a few months after the couple revealed they had reconciled following McKayla's short-lived relationship with ex-boyfriend Josh.
The news of the pair's latest split was revealed Wednesday by Caelan on Instagram Live when he announced that McKayla had left him because "she obviously has some health issues that she's working on." (Back in October, McKayla had opened up about her struggles with mental health in a YouTube video.)
There's a lot to get through here, so we'll try to break down what happened between these two on Wednesday…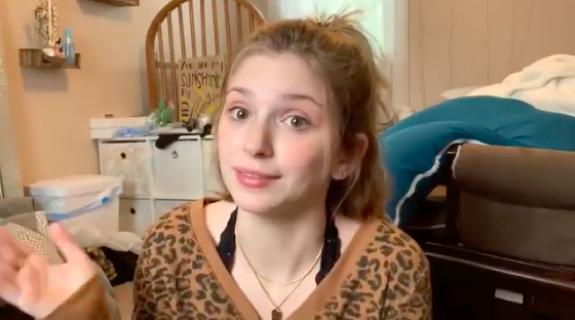 First, in the video he posted, Caelan said McKayla had broken up with him "for no reason," and that when he refused to leave their shared home, McKayla had gone across the street to stay with her grandparents. He accused McKayla of refusing to let him see their kids and also of speaking to other guys behind his back.
"I'm not trying to make her look bad but it's just crazy and horrible what she does," Caelan said. "She messaged other guys already, telling them that she's been broken up with me for weeks….four days ago she was telling everyone in my family and in hers that she loves me and wants to marry me."
During Caelan's Instagram Live, McKayla's brother Dylan Adkins hopped on in the comment section and wrote, "Caelan I swear to god" and "If you don't stop lying I will expose you right now." Dylan's comment quickly escalated from a threat to a promise, as he ended up physically coming to Caelan's house while Caelan was still filming, as captured by tlcunexpected.tea.
https://www.instagram.com/p/B77HcNrH9sC/?utm_source=ig_web_copy_link
At this point, even more family members got involved. Caelan's mother jumped into the argument, as Caelan defended himself on-camera. At one point, he even looked directly into the camera and encouraging viewers to "grab your popcorn."
In Part 3 of Caelan's Instagram Live video, Caelan's mom called Dylan and McKayla's grandfather an "old f**k. Caelan then described the whole messy situation in a very non-PC way.
Caelan alleged in his social media rant that McKayla's spends all her money on tattoos and hair dye. He also accused McKayla's grandfather of "choking out" both he and Dylan in the past.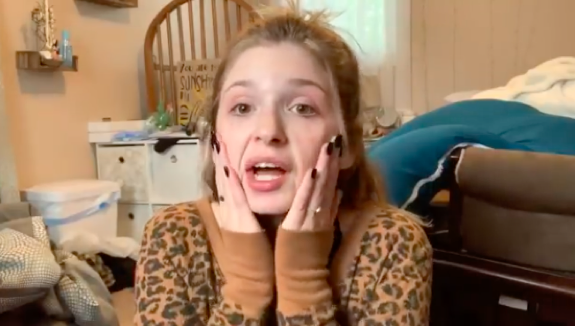 On Thursday, Caelan appeared to be suffering from poster's remorse as he took to his YouTube channel to issue an apology for his Instagram Live rant, explaining that it felt like "the right thing to do at the time."
" … I sincerely regret doing it because I was so upset and emotions and feelings can get the best of you sometimes, like, sometimes you say things you don't mean but I shouldn't have said personal things about our life online," he said. "It's just really hard trying to do the best thing lately and that's all I've really been trying to do."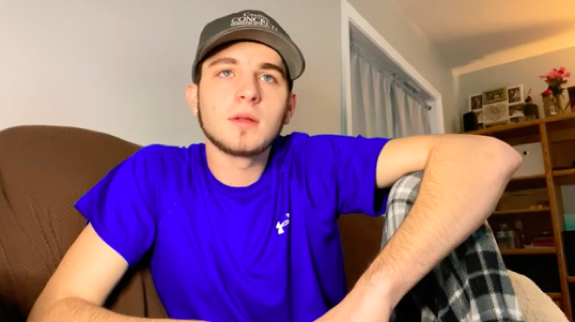 Caelan went on to say that "this whole thing" was "killing" not only him, but also his dog Domino, whom he said had been looking out the window crying and waiting for McKayla and the kids to return. Most importantly, however, Caelan said the drama between he and McKayla was affecting their children.
"They're going to grow up and my worst fear is that they think that I don't want anything to do with them and I do," he said. "They mean every f**king thing to me, like, they're my world … ."
Caelan later revealed that McKayla had cops accompany her Thursday morning to retrieve some of her belongings from their house, despite Caelan claiming that he "never told her once that she is not allowed to come over to the house to get anything."
"I would never ever put her in any danger or harm," he added.
Caelan said the back-and-forth between himself and McKayla has left him confused, especially since the two have "been doing so much better" lately, though he blamed the recent turmoil on a counseling session which he believes caused McKayla to relive old memories.
"I literally hate even talking about it, I know I shouldn't be talking about it," he said. "She thinks I'm self-diagnosing her or whatever, like, these are what the counselors are saying. If you're gonna come to me and you're gonna say, 'I don't know why I did that, I feel like something's wrong with me, I love you, I don't want to lose you,' like, if you're saying things like that to me, of course I'm gonna care and you're already bringing up that there is something wrong, so I'm not self-diagnosing you. I literally just love and care about you and I'm trying to help you get better … ."
https://www.instagram.com/p/B322oQxj0LM/?utm_source=ig_web_copy_link
Later on in the video, Caelan said all he wants is for McKayla to be happy.
"I don't care if it's with me or with anybody else, I want her happiness, like, I just want her to be happy and that's all I've wanted from the start, ever since I met her," he said. "I just wanted her to be happy and making her happy made me happy so I was always happy in the end."
Watch Caelan's full "I apologize" video below.
RELATED STORY: 'Unexpected' Star Max Schenzel Arrested for Domestic Assault; Victim Was Chloe Mendoza, According to Chloe's Mom Jessica
(Photos: TLC; Instagram; YouTube)