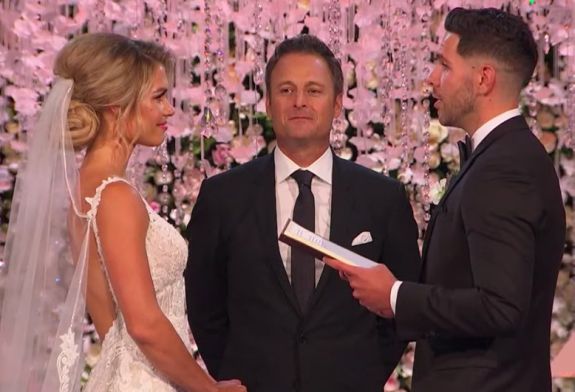 It's over— already!— for Bachelor in Paradise couple Krystal Nielson and Chris Randone!
The couple— who met in 'Paradise' and married a year later (also in 'Paradise') announced over the weekend that they are calling it quits on their marriage after less than eight months.
Krystal and Chris released a joint statement on Friday letting their fans know that they were breaking up, but they did not reveal what caused the very sudden split.
"It hurts to announce that at this moment, we have mutually decided to separate. Never did we imagine this scenario, but we've come to a point where we both need to work on ourselves," the couple wrote in a statement posted to the official Bachelor Nation website. "We are best friends that love and care for each other so deeply. We've appreciated everyone's love and support so far throughout our journey and we just ask that you please respect our privacy as we navigate through this."
Krystal and Chris met on 'Bachelor in Paradise' Season 5 in 2018, and became engaged at the end of that season. In June 2019, they got married, with Bachelor host Chris Harrison performing their wedding ceremony. The wedding footage was shown during 'Bachelor in Paradise' Season 6 last summer.
'Bachelor' fans seemed surprised by the split, as the couple had been very vocal about their desire to have children this year.
Chris and Krystal have not posted about the split on their individual social media accounts.
They are just the latest 'Bachelor in Paradise' couple to shock Bachelor Nation with a split. Last month, fan favorites "Grocery" Joe Amabile and Kendall Long broke up. They met during 'Paradise' in 2018 and had been together ever since.
RELATED STORY: 'Bachelor in Paradise' Star Jade Ropert Stripped of $1 Million Fantasy Football Prize After Being Accused of Colluding with Husband Tanner Tolbert
(Photos: ABC; Instagram)