Last year, Tyra Banks surprised (and maybe confused) people when she announced plans to open ModelLand — a modeling-themed attraction in Santa Monica, California, that would be complete with interactive entertainment, retail shops, dining options and more.
At the time, the press release sent out by ModelLand explained Tyra's vision as a "new world of storytelling and adventure in a grand, fantastical, physical place where all expressions of beauty are celebrated."
Almost one year later, Tyra's vision for ModelLand is still on track, despite the exact location and opening date having yet to be revealed (other than a vague guesstimate of Winter 2020), according to Dazed.
While some of the details remain a mystery at the moment, Tyra has continued to promote ModelLand on social media (along with the official ModelLand account), often posting photos, videos, ModelLand job listings and more.
Most recently, Tyra and her team filmed a promotional video for ModelLand's UpRiXing campaign, in which Tyra pretended to receive a cease and desist letter in the [Tyra] mail.
Tyra may work the humor angle on social media at times, but on the ModelLand website, she shares the inspiration behind the project and what it means to her.
"Everyone deserves to be the fantasy version of themselves," she says. "It's unfair only a select few get the chance to live that dream. After decades of fighting cookie cutter beauty standards, I believe in making dreams come true. ModelLand is a fantasy version of the modeling world — a first-of-its-kind story driven attraction, combining the universes of beauty, fashion, shopping and theatre."
"Bringing modeling to the masses" is Tyra's ultimate dream, she says, noting that "YOU are ModelLand's star."
"We can't wait to capture your beauty with our cameras," she adds.
When the news of ModelLand was first announced, it was often described as a theme park, but according to Tyra, it's much more than that. The website itself addresses the frequently asked question, stating that it's "not really" a theme park and though it doesn't have any rides "Yet!" it will "have ever-changing themes."
While we've yet to learn exactly what we can expect in ModelLand, the website explains that upon stepping into ModelLand, we're led by Tookie De La Creme and a "squad of atypical beauty rebels as they stag an UpRiXing – a revolt inciting you to X Booty Standards."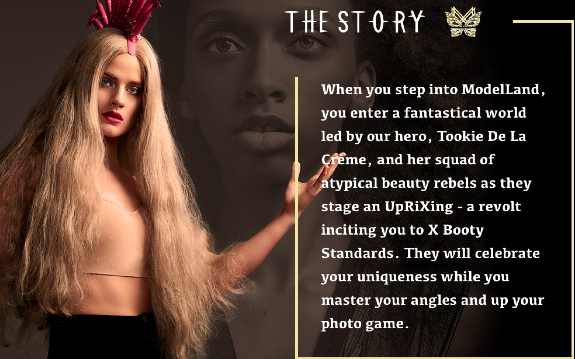 It's also states on the website that a during a trip to ModelLand, individuals will "learn how to pose like a boss, all while getting tips and tricks from Miss BanX herself," take part in photoshoots and leave with their very own ModelLand Lookbook and more.
According to the website, those interested in visiting should download the ModelLand app to complete a profile and to stay up to date regarding ticket sales. ModelLand is also hiring a variety of corporate, glam squad and retail and operations positions at the moment.
(Photos: Instagram; ModelLand.com)