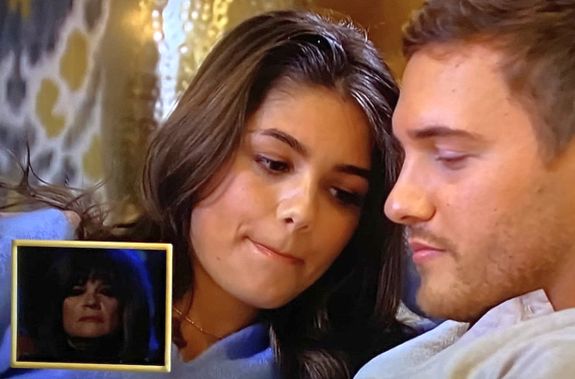 Peter Weber's "journey to find love" on The Bachelor came to an end on Tuesday night and, while his flip-flopping between final girls Hannah Ann Sluss and Madison Prewett made for hours of fun (literally hours…and hours…and hours…), it was Peter's mom Barbara who really stole the show!
From her overreaction to basically everything (such as when she acted like Peter was returning home from a years-long deployment, even though she had seen him literally days before), to her almost obsessive campaigning to Peter to pick Hannah Ann (whom she called "a dream come true,") Babs was over-involved and overbearing.
However, she saved her best reactions for the After the Final Rose portion of the episode. (Stop here if you haven't watched Tuesday's finale yet. You can click here to read Tamara Tattles' recap of the episode here to catch up.)
Barb was not happy that Peter ended his engagement with "angel sent from above" Hannah Ann to reunite with Madison, and she was not afraid to show it via eye rolls, catty remarks and a straight-out roast of Madison and her relationship with Peter.
Naturally, Twitter was loving it all, so The Ashley has compiled her Top 11 Barb- and 'Bachelor'-related tweets below!
The Ashley thinks Babs will be Microsoft Paint-ing Madison out of these pics ASAP:
I find peace knowing that Madi will forever be in Barb's vow renewal pictures #suckitbarb #TheBachelor pic.twitter.com/GpbW68TQR2

— erikamegan_ (@erikamegan1) March 11, 2020
Barbara got her sign from God…then threw it back in Madison's face:
*Barbara asking for a sign from God*

the sign:#TheBachelor #TheBachelorFinale pic.twitter.com/hQmznf2vxO

— Niki Bell (@nicoletteholly) March 11, 2020
The Ashley will soon be begging MTV/ABC/anyone to make this dream show happen:
Barbara from The Bachelor and Barbara from Teen Mom 2 should have their own show together#TheBachelor pic.twitter.com/Gx5UdJ6vNi

— Holly (@_HollyPocket_) March 11, 2020
Over/under that Peter also drinks his coffee out of an airplane-themed sippy cup?
this is what i imagine barb tucking peter into bed every night in #TheBachelor pic.twitter.com/8VBORxGcdi

— Miranda Diane (@MirandaDiane19) March 11, 2020
Windmill sex apparently makes Peter's mom proud:
Barb when her baby boy has sex 4 times in a windmill while the girl is dating 3 other guys

vs

Barb when her son said he would wait until marriage for the girl he loves#TheBachelor pic.twitter.com/Q14J92mvle

— Katie Perry (@Katie_perry0) March 11, 2020
The Ashley is hoping ABC gets cameras into the Weber home for Easter because we know it's about to go down!
Madison showing up to Easter Dinner at the Weber's with something special. #TheBachelorFinale #thebachelor pic.twitter.com/nDfoNDGUor

— Thebachelorrealness (@Thebachelorrea1) March 11, 2020
It may be moving day at the Webers'…
Luggage Guy Trent coming to get all of Peter's luggage from his Momma's house this morning 😁 #TheBachelor pic.twitter.com/e1rkRHeVsS

— Dana Rae (@dslatton) March 11, 2020
Madison nailed it…
If the expression "Bless your heart" had a picture reference. #TheBachelor pic.twitter.com/K5IlhWGvqn

— Melissa Garcia 🌸🦋 (@MelissaYGarcia) March 11, 2020
Well…she definitely had the haircut for it…
Barbara definitely turned into a Karen and asked to see the manager of The Bachelor when Peter chose Madison #TheBachelor

— cath (@cathgraceritter) March 11, 2020
#Accurate
Run Maddie Run 🏃‍♀️#TheBachelorFinale #BachelorPeter pic.twitter.com/RBZkGyPkXF

— Cally (@CallyWi78899542) March 11, 2020
I honestly don't know the answer to this question…
If you were to board a flight tomorrow, would your primary concern be A) COVID-19 or B) the fact that an individual with Peter Weber's decision making ability could be operating the aircraft?

— Maggie Trabucco (@maggietrabucco) March 10, 2020
(Photos: ABC, Twitter)