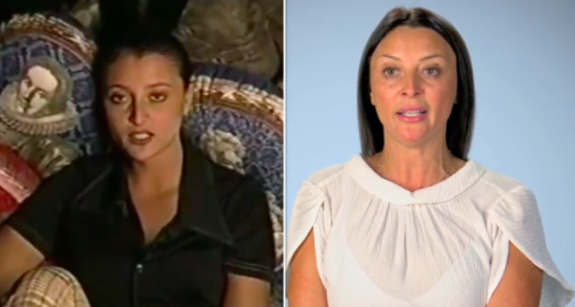 She's back…and with a "uniboob!"
It's been a long time since Flora Alekseyeun was on reality TV, but the former star of The Real World: Miami is set to appear on the E! reality series Botched next month, in hopes that the show's doctors can help her solve an embarrassing issue with her breasts.
Flora— who starred on 'The Real World' in 1996 and later competed on 2002's 'The Challenge: Battle of the Seasons'–is shown in a new trailer for the upcoming new season of 'Botched.'
The now-48-year-old meets with Dr. Paul Nassif and Dr. Terry Dubrow due to her case of symmastia, or a "uniboob," which was caused by her three previous plastic surgeries. According to Dr. Dubrow, symmastia is "a communication between the right and left breast pockets."
WebMD describes the condition as "when your breasts grow together, with little or no cleavage between them. Instead, there's a web of skin, fat, and tissue across the cleavage area."
Flora said she came to the 'Botched' docs because she felt they were her last hope of getting the condition corrected.
"Right now, I'm to the tenth power of anxiety," she says in a clip for the upcoming episode. "I'm terrified that Dr. Dubrow and Dr. Nassif can't help me. I just want to take a big poop."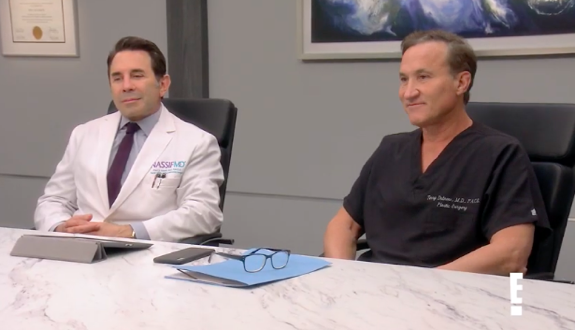 Dr. Dubrow refers to the issue as a "very complicated breast problem" that used to be "unfixable," though with time and experience plastic surgeons have found a way to fix this.
Flora blamed "stupidity" on her decision to get breast implants, explaining she wasn't thrilled with how her breasts looked after she had her baby.
"And, after I had the baby, my breasts looked like I could feed the world—and then some," the former reality star quips.
While advised against going under the knife for a third time, Flora disregarded the expert opinion. Unfortunately for Flora and her boobs, though, the third procedure was not a success.
"A few months later, my boobs were getting closer," she told the doctors.
"The doctor said, 'Flora, I'm not gonna cut you again, because I can't put you at risk of more complications,'" she says. "Of course, that went in one ear and out the other."
This time, however, she was treated by a different surgeon with "twilight" anesthesia, meaning she was sedated but semi-conscious during the surgery. When the 'Botched' docs heard that, they seemed horrified.
"News flash to Flora's doctor, twilight anesthesia is not one of those circumstances, because, number one, it's incredibly painful and number two, it's really hard to do when the patient's awake," Dr. Dubrow explains.
'Botched' has been helping patients, both celebrities and non-celebrities, for the last six seasons on the E! Network.
'Botched' returns Monday, April 13th on E! Watch a preview of Flora's segment below!
RELATED STORY: Mama June Shannon's Less Famous Daughters, Anna & Jessica, Just Underwent Extensive Plastic Surgery Makeovers
(Photos: E!; MTV; YouTube)