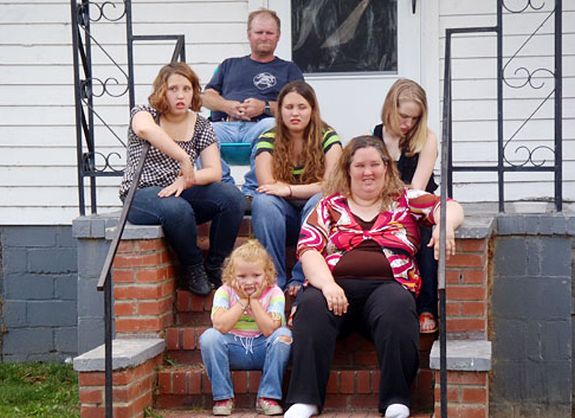 Mama June Shannon's makeover didn't last, but her daughters are hoping that they'll have better luck!
Jessica Shannon (aka "Chubbs") and Anna Cardwell (aka "Chickadee")— who are Mama June's two oldest daughters– reportedly each underwent massive plastic surgeries makeovers in February, with Anna's surgeries totaling over $47,000 and Jessica's coming in at nearly $81,000, according to TMZ.
Fans of June's first reality show, Here Comes Honey Boo Boo, will remember Jessica and Anna, as they both appeared on the TLC show over the course of its run.
Things between Anna and June became estranged in 2014, though, after June began dating a registered sex offender, who had been recently released from prison, where he was serving time for sexually abusing Anna as a child. (That scandal actually led to 'Honey Boo Boo' being cancelled by TLC in October 2014.)
View this post on Instagram
Anyway, TMZ reports that Anna and Jessica flew to Los Angeles to undergo multiple cosmetic procedures. Anna's surgeries included a breast lift and the addition of D-cup breast implants. She also received 16 veneers from a cosmetic dentist.
As for Jessica, she underwent a weight loss surgery that has helped her lose 45 pounds, as well as liposuction on her back, bra and flank areas. She also received a tummy tuck and got eight veneers.
Anna and Jessica did not appear on June's WEtv show Mama June: From Not to Hot. However, they are both managed by Gina Rodriguez, who manages June and her daughters Alana (aka "Honey Boo Boo") and Lauryn (aka "Pumpkin.")
It is not yet know if Jessica and Anna's makeovers had anything to do with the new season of 'Mama June: Family Crisis' that is set to premiere on March 27. TMZ reports that mother-of-two Anna (who is apparently going through a divorce right now from her kids' father), wanted a new look. Jessica, meanwhile, chose to have the surgeries in hopes of meeting a man and becoming a plus-sized model.
Both Anna and Jessica are reportedly estranged from June. However, they have continued to have a relationship with their sisters.
RELATED STORY: New 'Mama June: Family Crisis' Trailer Shows June Shannon's Physical Decline & Her Family Reacting to Her Downward Spiral
(Photos: TLC; Instagram)