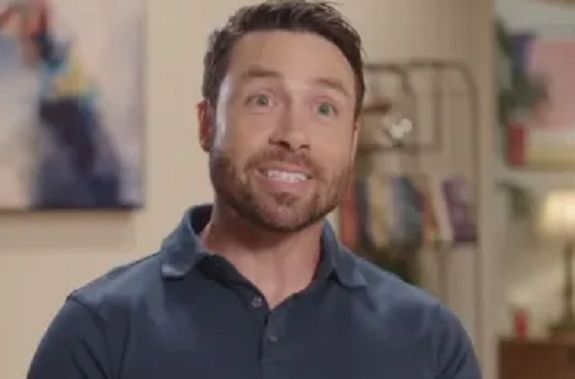 Geoffrey Paschel, the controversial star of the currently-airing season of 90 Day Fiancé: Before the 90 Days, has responded after thousands of fans signed an online petition demanding his removal from TLC show due to his criminal past as well as the current allegations and criminal charges he's facing.
The Change.org petition — which is also asking that Geoffrey be banned from appearing on any TLC shows in the future — launched Saturday with a goal of 1,500 signatures and has since increased its goal to 5,000. As of Friday afternoon, the petition had received nearly 3,000 signatures.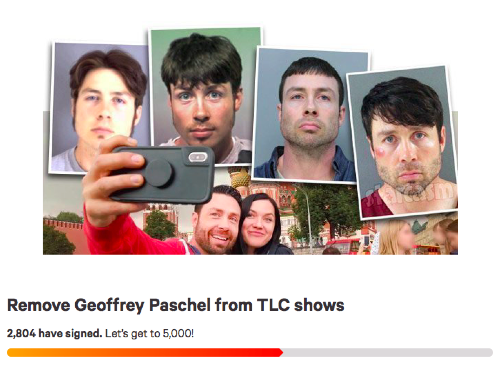 Geoffrey recently took to Instagram to address the petition, his past and the attention the show brought to his criminal record. From the sound of it, he seems to have no regrets about choosing to become a public figure by going on TV.
"With the path I chose, it cannot EVER be reversed," he wrote in a post. "Everything about me is out there for the would to see, whether it is true or fantasy. I can never go back, and honestly, I would not have it any different."
The petition is requesting that Geoffrey be removed from TLC shows for a number of reasons, including an allegation made by his ex-wife (Lisa) that he has sold prescription opiates and used his children as a cover, as reported by Starcasm, as well as a claim by his estranged wife Brittany that he abused her, deprived her of food and water and left her in a hotel room alone to deliver their youngest son.
The petition also addresses the current criminal charges Geoffrey is facing for allegedly attacking and abusing his then-girlfriend in June 2019. Geoffrey was arrested in Tennessee following the incident and he is scheduled to return to court later this month on charges of aggravated kidnapping, domestic assault, interference with emergency calls and vandalism.
In his Instagram post, Geoffrey revealed why, given his "checkered past," he'd want to further expose his actions by going on television.
"I have been repeatedly asked why I would EVER want to be on a show (the best show FYI) where my life would be put in front of everyone to pick apart — especially with my checkered past," he wrote. "Well, guys, it is MY past. It is MY life. It is MY choice. If we were all the same: thought the same, looked the same, or acted the same, how lame would that be?"
Geoffrey went on to say he had "hid so much about himself" in the past, asking "what crazier, whacked up way" could he have revealed everything better than by "blasting it out there."
Geoffrey concluded his post by saying he was focused on finding "light and new beginning at the other end of the tunnel."
On Thursday, Geoffrey took a different approach in addressing the issue when he posted a photo of a small snake to his Instagram Story and compared the cold-blooded reptile to his online haters.
"Not all snakes hide behind a keyboard… This one owns it…," the post read.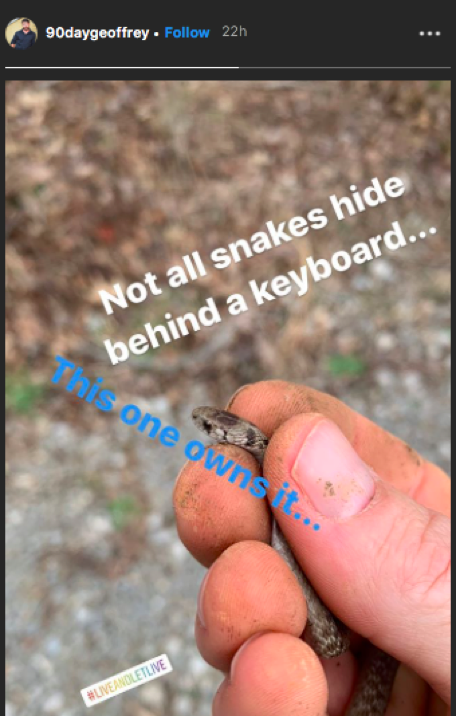 Aside from his reptile post, Geoffrey seems unfazed by his critics, as proven by his most recent Instagram post. Along with a carousel of (mostly shirtless thirst-trap) photos, Geoffrey explained in his caption that he was "still obviously learning" the social media platform and while he may "feel awkward trying to build [his] fan base," he's been "getting advice on how to manage it."
As of press time, TLC had released no public comment regarding the petition or Geoffrey's future on the show and network.
RELATED STORY: Online Petition Asks TLC to Remove Geoffrey Paschel From "90 Day Fiancé" & Prevent Him From Appearing on Future Shows Due to Criminal Charges & Current Abuse Allegations
(Photos: TLC, Instagram; Change.org)