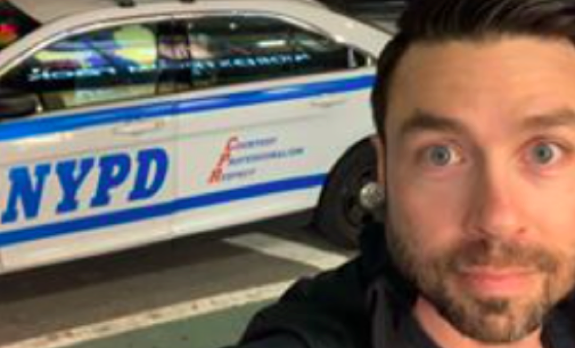 An individual has started a Change.org petition requesting that Geoffrey Paschel be removed from the current season of 90 Day Fiancé: Before the 90 Days and that he also be prevented from appearing on TLC shows in the future, due to his criminal past and the allegations of abuse he is currently facing.
The Change.org petition launched on Saturday with a goal of 1,500 signatures and as of Monday afternoon, the page was nearing its goal, having garnered 1,464 supporters.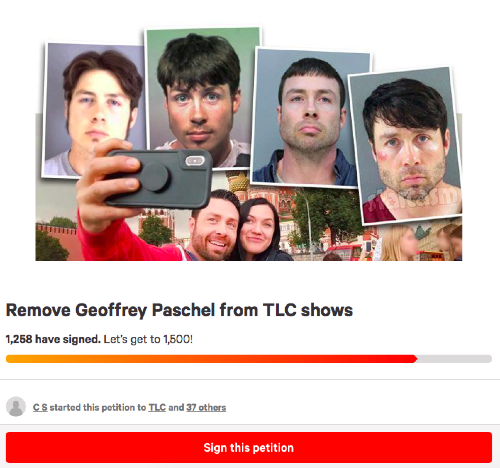 On the site, the organizer of the petition said the goal was to not only to remove and prevent Geoffrey from appearing on TLC shows, but also "make advertisers aware of what they are supporting and hope to see that your companies will not stand for promoting such atrocities as these."
The petition description then mentions specific allegations and past charges against Geoffrey, including an allegation made by his ex-wife (Lisa) that Geoffrey has sold prescription opiates and used his children as a cover, according to Starcasm.
Currently Geoffrey is facing criminal charges for allegedly attacking and abusing his then-girlfriend back in June 2019. Geoffrey was arrested in Tennessee following the incident and he is set to return to court this month on charges of aggravated kidnapping, domestic assault, interference with emergency calls and vandalism.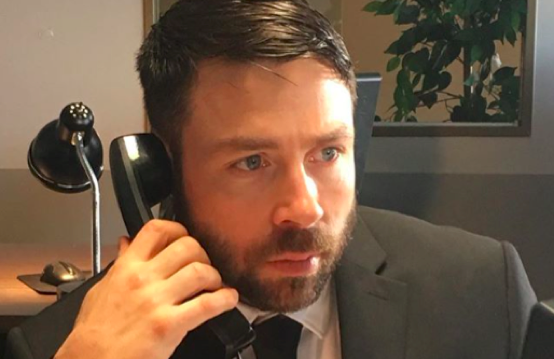 The petition goes on to mention allegations that Geoffrey abused his pregnant ex-wife and locked her in a hotel room in Costa Rica without food or water, forcing her to deliver their baby alone.
According to the shocking Geoffrey timeline provided by Starcasm, Geoffrey's wife (Brittany) actually delivered the couple's youngest son, Kazhem, while their older son, Cayvan, was with her in the hotel room — not that this in any way helps Geoffrey's case. (As those following the '90 Day Fiancé' star's sketchy past already know, Kazhem passed away while in Geoffrey's care in March of 2018, at which point Geoffrey and Brittany had already split and were in the middle of a complicated divorce.)
Supporters of the Change.org petition were vocal on the site about their disdain for Geoffrey, as well as their concern about him having a large platform through the TLC show.
"Geoffrey Paschel is a danger to women," one supporter wrote. "It is already shameful that TLC enabled him to go and meet a new woman, knowing his background. He needs to be edited out from the rest of the season. Do NOT promote abuse of women with this scum bag."
Another supporter noted that although some participants of the "90 Day" franchise "are a bit unstable, this guy takes the cake."
"It is shameful that TLC either failed to properly vet this man, or instead knowing of the pending charges, and various accusations, still chose to air Geoffrey Paschel's segments," another added.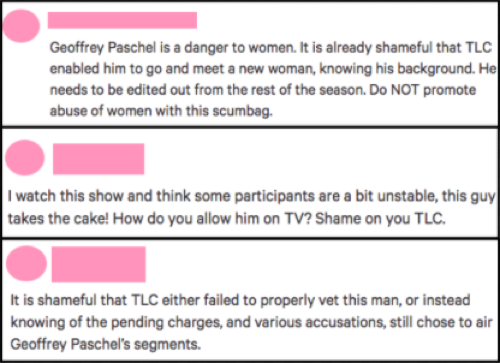 Among the listed "reasons for signing," there were even a couple of supporters who alleged that Geoffrey had assaulted people close to them.
"He assaulted my cousin," one supporter claimed. "He beat her so bad she was barely recognizable."
"My dear friend['s] niece was abused by this a**hat," another claimed.
The critics seem to have also made their way over to Geoffrey's social media as the comments on all of his posts now are now limited.
RELATED STORY: Boyfriend of "90 Day Fiancé" Star Anfisa Nava Confirms Relationship…Even Though Anfisa is Still Married to Prisoner Jorge Nava
(Photos: Instagram; Change.org)