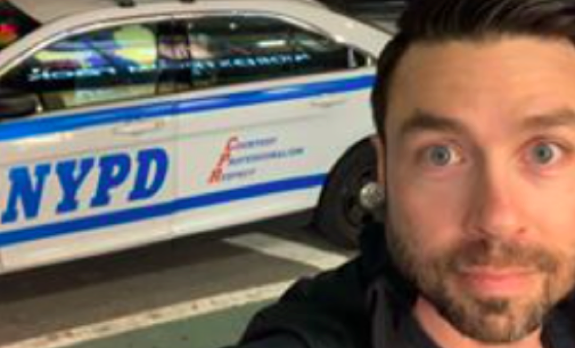 The criminal past of 90 Day Fiancé: Before the 90 Days star Geoffrey Paschel is shining a light on what else went on "before the 90 days."
Starcasm reports that an ex-girlfriend of Geoffrey's filed an order of protection against the reality star in June after an alleged attack that occurred in their home. While Geoffrey has not been found guilty of anything, he's reportedly scheduled for arraignment in January on charges of aggravated kidnapping, domestic assault, interference with an emergency call and vandalism.
As The Ashley told you last week, Geoffrey is set to appear on the upcoming season of 'Before the 90 Days' with his Russian girlfriend Varya.
Based on the order of protection filing obtained by Starcasm, the incident allegedly happened after the Geoffrey and his ex-girlfriend (not Varya) returned home from a Knoxville restaurant on June 8, 2019. Geoffrey's (now ex) girlfriend detailed the alleged attack in the documents.
"When I got back to my house, I was attacked by Geoffrey Paschel," she explained. "He repeatedly bashed/slammed my head into the hardwood floors of my home. He dragged me through the house by my hair and continued throwing my body into walls and furniture. (I know this because of blood on my walls, furniture, etc. Also, the couch was overturned and the kitchen table was moved several feet.) I screamed for him to stop multiple times. This went on for approximately 30 minutes."
The woman then claimed that Geoffrey made her wash her face with lights off and blow her nose, as it was dripping blood into her mouth.
" … He flushed the toilet paper down the toilet when I was finished. He then ordered me to get into bed, which I did to stop any further abuse," she continued.
Geoffrey then allegedly got onto the woman's phone and began deleting all texts, emails, voicemails and photos between the two of them. The woman wrote that, during this approximately two-hour duration, she laid in bed pretending to be asleep. Geoffrey also pulled the screen off of her phone, disabling it so she could not call or text anyone. He also synced her iCloud to his MacBook.
"When he was finished going through my phone, he tried to embrace me and apologize," she said. "I told him not to touch me and quickly jumped out of bed and ran out the front door to my neighbor's house. I rang her doorbell and asked her to call 9-1-1, which she immediately did."
https://www.instagram.com/p/BpDjfRFhpRt/?utm_source=ig_web_copy_link
After the police arrived and got her statement, the woman said they went to her house and arrested Geoffrey. Afterwards, she reportedly went to a hospital to have her injuries looked at.
"I was diagnosed with a concussion, but had no bleeding on my brain," she stated in the filing. "I was released from the hospital around 6 a.m. Upon returning home, I realized he took my car keys."
The filing goes on to claim that this was not the first time abuse occurred within their relationship.
"In the past year (since September 2018), Geoffrey has assaulted me four other times. This includes pushing, hitting, choking and verbal threats," the woman wrote.
Following the alleged June incident—- at which time both Geoffrey and his young son Cayvan were living with the victim—- Geoffrey's ex was granted a temporary order of protection, which has been extended twice, with a hearing for another extension set for February.
Starcasm reports that Geoffrey's criminal history goes back further than the June incident, including a 2001 arrest in Texas in which he was served on a federal warrant by the U.S. Marshals Service.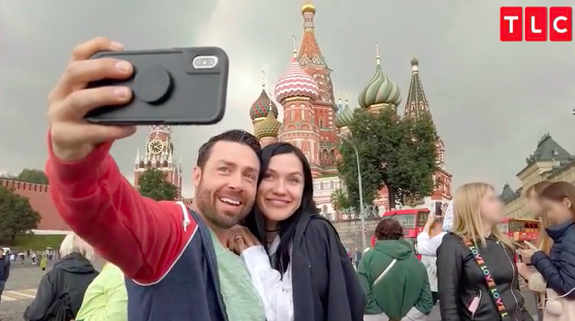 Geoffrey seems to have moved past the relationship with the woman involved in the alleged June incident. It is unknown (at this point, anyway) how much time elapsed between the alleged incident and Geoffrey meeting Varya.
In the couple's TLC bio, viewers are told that Geoffrey tragically lost his son after his second marriage ended, but things began to look up after meeting Varya on an international dating site. This season, viewers will see Geoffrey travel to Russia with the intention of proposing to Varya, but he must first prove himself to her friends and family.
Season 4 of "90 Day Fiance: Before the 90 Days" premieres Sunday, February 23 on TLC. Click here to watch the season's trailer.
RELATED STORY: Tarik Myers Disputes Dean Hashim's Explanation for Why They No Longer Appear on "90 Day Fiancé: Pillow Talk"; Tim Malcolm Calls Dean Out for "Running His Mouth"
(Photos: Instagram, TLC)