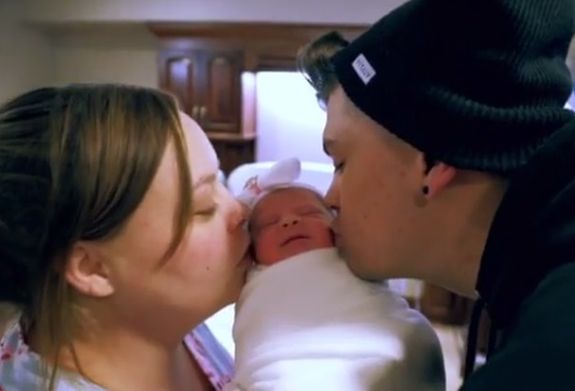 The year 2019 saw the births of many reality TV babies! This year, the reality TV stars seemed to be extra fertile, resulting in a plethora of new babies being added to the reality TV universe.
Here, The Ashley has provided a complete listing of all of the babies born to reality TV stars in 2019.
(Names that are hyperlinked can be clicked for more information.)
And, of course, many of these reality TV star babies were saddled with "unique," original and sometimes just downright strange names. Be sure to vote for the year's weirdest reality TV baby name at the bottom of the post!
(If you see a reality TV star's baby that was missed, please include it in the comments section.)
January
January 1: Axel (Parents: Russ & Paola Mayfield, "90 Day Fiance")
January 5: Christopher John "CJ" (Parents: Deena Cortese & Chris Buckner, 'Jersey Shore')
January 9: Beau Bobby Bruce (Parents: Nev Schulman & Laura Perlongo, 'Catfish')
January 11: Zane Israel (Parents: Rebecca Robertson of 'Duck Dynasty' & John Reed Loflin)
January 12: Mila Rose (Parents: Anthony D'Amico & Ashley Petta, 'Married At First Sight')
January 12: Zander Cruz (Parents: Chris Siegfried & Desiree Hartsock, 'The Bachelorette')
January 14: Olivia Joan (Parents: Mike & Aziza Eloshway, "90 Day Fiance")
January 21: Jacob Bryan (Parents: Carrie Underwood of 'American Idol' & Mike Fisher)
January 23: Eleanor Louise (Parents: Andrei Castravet & Elizabeth Potthast, "90 Day Fiance")
January 24: Gracie Stella (Parents: David Tutera of 'My Fair Wedding' & Joey Toth)
January 29: Gracelynn Ann (Parents: Caelan Morrison & McKayla Adkins, 'Unexpected')
February
February 2: Ruth Ray (Parents: Bekah Martinez of 'The Bachelor' & Grayston Leonard)
February 4: Benjamin Allen (Parent: Andy Cohen of 'Watch What Happens Live')
February 21: Vaeda Luma (Parents: Tyler Baltierra & Catelynn Lowell, 'Teen Mom OG')
February 26: Elijah Conner (Parents: Noah & Rhain Brown, 'Alaskan Bush People')
February 26: Olivia Nicole (Parents: Bobby Dodd & Danielle Bergman, 'Married At First Sight')
March
March 17: Maverick (Parents: Cody & Jessica Nickson, 'Big Brother 19' & 'The Amazing Race')
March 22: Pilar Jhenna (Parents: Porsha Williams & Dennis McKinley, 'Real Housewives of Atlanta')
March 22: Pierre Martins (Parents: Paul & Karine Staehle, "90 Day Fiance: Before the 90 Days")
April
April 4: Oscar James (Parents: Gordon Ramsay of 'Hell's Kitchen' & Tana Ramsay)
April 17: Shams Francis (Parents: Mercedes 'MJ' Javid & Tommy Feight, 'Shahs of Sunset')
May
May 7: Kennedy (Parents: Asuelu Pulaa & Kalani Faagata, "90 Day Fiance")
May 9: Psalm (Parents: Kim Kardashian & Kanye West, 'Keeping Up With the Kardashians')
May 26: Ivy Jane (Parents: Ben & Jessa Seewald, 'Counting On')
May 29: Alessi Ren (Parents: Ari Luyendyk Jr. & Lauren Burnham, 'The Bachelor')
May 30: Angelo James (Parents: Nicole 'Snooki' Polizzi & Jionni LaValle, 'Jersey Shore')
June
June 12: Reece Ellis (Parents: Reagan Charleston & Reece Thomas, 'Southern Charm: New Orleans')
July
July 3: Carley Rose (Parents: Tiffany Franco & Ronald Smith, "90 Day Fiance: The Other Way")
July 7: Dean Michael (Parents: Michael & Ashley Darby, 'Real Housewives of Potomac')
July 10: Skylar Gray (Parents: Slade Smiley & Gretchen Rossi, 'Real Housewives of OC')
July 16: Ace David (Parents: Josh Altman of 'Million Dollar Listing Los Angeles' & Heather Altman)
July 19: Willow Kristy (Parents: Kelton & Josie Balka, 'Bringing Up Bates')
July 25: Felicity Elise (Parents: Megan McConnell of "16 and Pregnant" & Chase Eubanks)
July 29: Brooks Easton (Parents: Tanner Tolbert & Jade Roper, 'Bachelor in Paradise')
August
August 16: Ariah Jordynn (Parents: Kayla Sessler & Luke Davis III, 'Teen Mom: Young & Pregnant')
August 20: Evangalynn Kodi (Parents: Caleb & Maddie Brush, 'Sister Wives')
August 26: Jay Wolfe (Parents: Lexi Tatman & Kyler Lopez, 'Teen Mom: Young & Pregnant')
September
September 6: Hudson London (Parents: Ant Anstead of 'Wheeler Dealers' & Christina Anstead of 'Flip or Flop')
September 20: Madison Jade (Parents: Mike "The Miz" & Maryse Mizanin, 'Miz & Mrs.')
October
October 1: Valentina StellaMaris (Parents: Sean Duffy & Rachel Campos-Duffy, 'The Real World')
October 8: Charlie Wolf (Parents: Lauren Conrad of 'The Hills' & William Tell)
October 9: Daxton Ryan (Parents: Amy Duggar & Dillion King, 'Counting On' and 'Marriage Boot Camp')
October 11: Slash Electric (Parents: Amber Rose of 'DWTS' and 'Master of the Mix' & AE Edwards)
October 17: Leo Brian (Parents: Tylor Strawmyer & Laura Barron, 'Unexpected')
November
November 2: Addison Renee (Parents: Joseph & Kendra Duggar, 'Counting On')
November 2: Asha-Leigh Presley (Parents: Joanna Krupa of 'Real Housewives of Miami' & Douglas Nunes)
November 6: Kohen Brian (Parent: Hunter Barfield, 'The Challenge')
November 7: Khloe Eileen (Parents: Zach & Whitney Bates, 'Bringing Up Bates')
November 8: Bella Milagro (Parents: Josiah & Lauren Duggar, 'Counting On')
November 12: Charlie Wolfe (Parents: Evan Bass & Carlie Waddell, 'Bachelor in Paradise')
November 18: Banks & Blaise- twin girls (Parents: Willow Palin of 'Life's a Tripp' and 'Teen Mom OG' & Rickey Bailey)
November 26: Holland Grace (Parents: Chad & Erin Payne, 'Bringing Up Bates')
November 27: Maryella Hope (Parents: Josh & Anna Duggar, "19 Kids & Counting")
December
December 23: Mia (Parents: Sean & Catherine Lowe, 'The Bachelor')
RELATED STORY: In Memoriam: Reality TV Stars Who Died in 2019
(Photo: MTV)