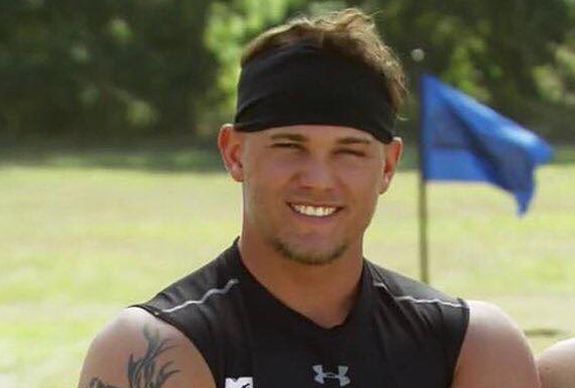 Hunter Barfield has a new 'Challenge': fatherhood.
The star of MTV's The Challenge announced on Thursday that he is now the proud papa of a baby boy. Hunter— whose most-recent season of the show was "War of the Worlds" which aired earlier this year— posted a photo to introduce his son on social media.
"Kohen Brian Barfield you are my WHOLE WORLD!" Hunter wrote. "Weighing in at 8 lbs 6 ounces at 19 1/2 inches long meet our perfectly healthy beautiful baby boy!"
Hunter, who got his start with MTV by appearing on Are You The One? Season 3, has kept Baby Kohen's mother private. (She has not appeared on any reality shows with him, though, so The Ashley is not revealing her name.)
"Mom and the baby are both doing great!!! It was a very fast labor and they are both perfectly healthy," Hunter told People magazine.
"Being a first-time parent, the process was an emotional roller coaster but it was the most beautiful moment I've ever experienced," he added. "I'm a crier so I definitely cried a little bit! I never knew I could love something so much so fast but he's already my best friend!" We are overwhelmed with support from family and friends and we could not be more thankful and blessed."
Hunter announced that he was going to be a dad in May by posting to his Instagram account.
"We are excited to announce Baby Barfield coming soon!" he captioned a photo of a sonogram photo. "I've always wanted to be a Daddy and now my dream is finally coming true!
He posted a video of the gender reveal in June.
After announcing his son's birth, Hunter got plenty of love from his 'Challenge' cast mates on Instagram.
"Lawd he's ready to play at Florida already!" Jemmye Carroll wrote in the post's comment section. "I wanna hold him so badly. Congrats baby."
"Best feeling in the world!! Congrats fam!! So happy for you!!" wrote Brad Fiorenza, who is a father of two boys himself.
"What a wonderful news brother!" wrote JP Andrade, who starred on "War of the Worlds" with Hunter. "God bless your kid. Now there's a new mission to accomplish… being the best father you can . Looking forward to meet him."
Hunter is not appearing on the "War of the Worlds II" season, which is currently airing on MTV. Before competing on "War of the Worlds," he competed on "Invasion of the Champions" in 2017, as well as the "Dirty 30" and "Final Reckoning" seasons.
He is probably best-remembered for finishing in first place during the "Final Reckoning" finale with his then-partner Ashley Mitchell…who infamously decided to keep all of the $1 million prize money for herself, costing Hunter a whopping $500,000.
After that season finished airing in December 2018, Hunter took to his Facebook page to provide his thoughts on what happened.
"Despite half a million dollars being stolen from me on national television 2018 you were alright," he wrote. "Met some people along the way that I now consider family and that's all that matters. Ready for 2019 and the life's I can impact positively along the way!"
RELATED STORY: 'The Challenge' Star Amanda Garcia Announces She's Expecting Her First Child
(Photos: MTV; Instagram)