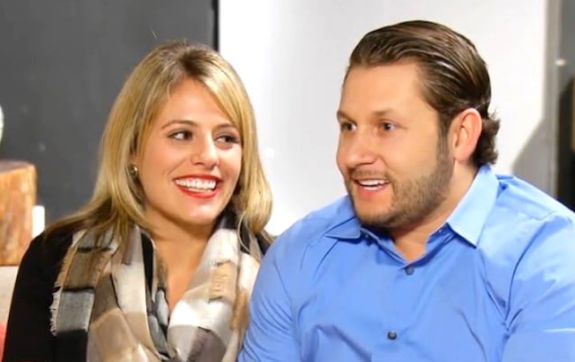 It's a girl for Married At First Sight stars Anthony D'Amico and Ashley Petta!
The couple, who starred on the fifth season of the reality show, welcomed a daughter on January 12, three weeks before Ashley's due date. The couple named the baby Mila Rose.
Ashley expressed her joy in the caption of a photo showing her and Anthony posing with Mila.
"Our little peanut Mila Rose made her debut 3 weeks early on 1/12/19 at 3:34am weighing 4 pounds and 14 ounces!" Ashley wrote. "She is everything I dreamed of and more. We are so in love and can't wait to show our baby girl the world."
Anthony also posted about Mila's birth.
"Our baby girl is finally here!" he wrote on Instagram. "3 weeks early and oh so perfect! Ashley and I are absolutely in love. So far I've kissed Mila about 7,000 times and counting. Love being a Dad it's what I was meant to be. To say I'm in love with this little girl would be an understatement. There's no words to describe. I can't wait to watch her grow up and do all the fun Daddy, Daughter stuff! Our little family is one step closer to complete."
This is the first child for the couple, who got married on the same day that they met back in 2016. They announced the pregnancy back in August.
Ashley and Anthony are one of five couples from 'Married At First Sight' who are still together. The other couples are Season 6's Shawniece Jackson and Jephte Pierre; Season 1's Jamie Otis and Doug Hehner; Season 1's  Cortney Hendrix and Jason Carrion (although it's rumored that they have split but nothing has been announced); and Season 7's Bobby Dodd and Danielle Bergman.
(It has not yet been revealed which, if any, of the Season 8 couples are still together, as the season is still currently airing.)
Bobby and Danielle will be following Ashley and Anthony into the maternity ward, as Danielle is currently pregnant with the couple's first child, which is a girl. Danielle and Bobby, as well as Ashley and Anthony, have been appearing on the 'Married At First Sight' spin-off Happily Ever After.
(Photos: Lifetime, Instagram)