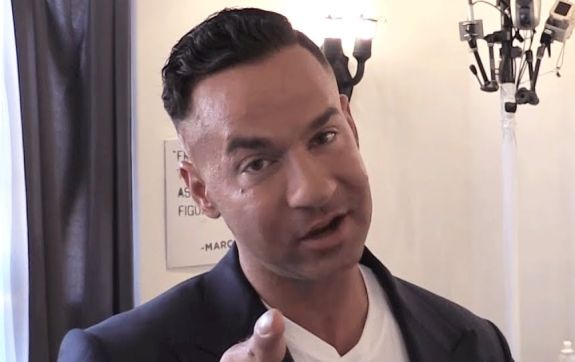 Well, it's official… Mike "The Situation" Sorrentino is no longer a free man.
The Jersey Shore star was officially booked into prison today to begin his eight month sentence for tax evasion.
Mike posted a video to Instagram Live that was made as he was driving to surrender himself to the correctional facility he'll be in for the next eight months. Mike, sporting a "Feast Mode" T-shirt and a big smile, seemed to have a positive attitude, encouraging his fans to subscribe to his new YouTube channel to keep up-to-date on all things "Imprisoned Sitch."
The comeback is always greater than the Setback 👊🏻 pic.twitter.com/TVTJyAsrlu

— Mike The Situation ☝🏻 (@ItsTheSituation) January 15, 2019
As The Ashley previously reported, Mike received a sentence of eight months in federal prison in October as well as two years of supervised released. The month after his sentencing, Mike married his longtime girlfriend Lauren Pesce in an extravagant, last hoo-rah ceremony held in New Jersey.
Mike has been checked into FCI Otisville in New York, a facility described as a "medium security federal correction institution with an adjacent minimum security satellite camp and detention center." Mike will presumably be residing in the facility's minimum-security satellite camp, based on the address he shared with fans interested in writing to him during his stint in the slammer.
For family , friends & fans
Mailing Address for letters only:

Michael Sorrentino#66910-050
Otisville FCI
Federal Correctional Institution
Satellite Camp
PO Box 1000
Otisville, NY 10963

— Mike The Situation ☝🏻 (@ItsTheSituation) January 15, 2019
Mike's life will, no doubt, be very different now that he's behind bars. The funfetti-aficionado will certainly have less choices when it comes to "eats," and will be kept on a strict schedule that will make it much harder for him to do the signature "GTL" (Gym, Tan, Laundry) routine kept by the 'Jersey Shore' boys.
Thanks to the handy FCI Otisville Inmate Handbook, we have an idea of what life will be like for Mike while he's in prison.
Food: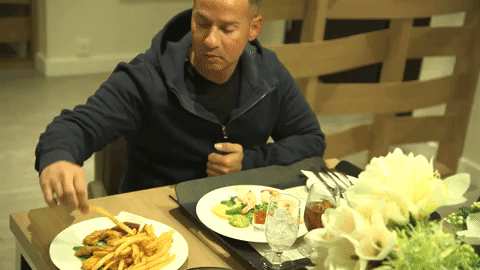 In typical prison fashion, Mike will be treated to three square meals a day. In addition to the standard breakfast, lunch and dinner grub, Mike will have access to vending machines in the visiting room as well as the option to treat himself to some goodies from the prison's commissary list.
Mike will be able to cobble together a decent Italian meal, as FTI Otisville is known for having some of the best commissary food choices offered by any correctional institution.
Among the delicacies offered by commissary are a $3.60 pizza kit, $2.60 pepperoni, $1.40 mozzarella block, $2.30 pasta and even a $.60 kosher pickle. While the facility unfortunately doesn't appear to sell funfetti cake, it does offer $.60 chocolate chip cookies and $1.95 snack cakes.
Gym, Tan, Laundry: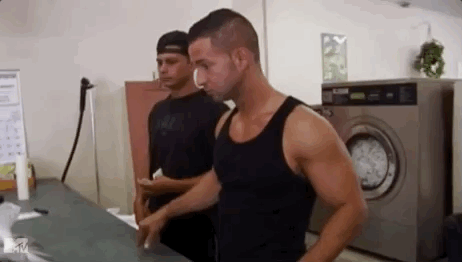 Fans of 'Jersey Shore' know that GTL (gym, tan, laundry) is practically a religion among the cast and luckily, Mike won't have to go without during his time in the big house.
In addition to having access to a gym, Mike can also participate in recreational activities such as basketball, handball, tennis and baseball—-all of which would give Sitch plenty of vitamin D, thus also satisfying the "T" in GTL.
As for laundry, Mike will have to rock prison-issued gear during his stay, which he will also be responsible for washing and drying.
FCI Otisville also provides psychologists for inmates, an education room and a chapel for religious services. The prison also has required quiet hours for inmates as well as work assignments, which we hope for FCI's sake don't involve screen printing t-shirts.
Smushing: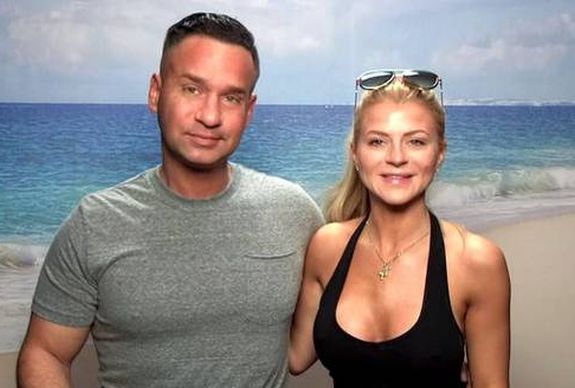 Unfortunately for Sitch, there will be no smushing, as the Federal Bureau of Prisons does not permit conjugal visits. Mike will be able to have a little physical contact with his wife Lauren(s), though. According to the facility's website, "in most cases, handshakes, hugs, and kisses (in good taste) are allowed at the beginning and end of a visit."
RELATED STORY: Vinny Guadagnino Reveals How Mike Sorrentino Prepared to Begin His Prison Sentence
(Photos: WEtv, MTV, Instagram, Twitter)