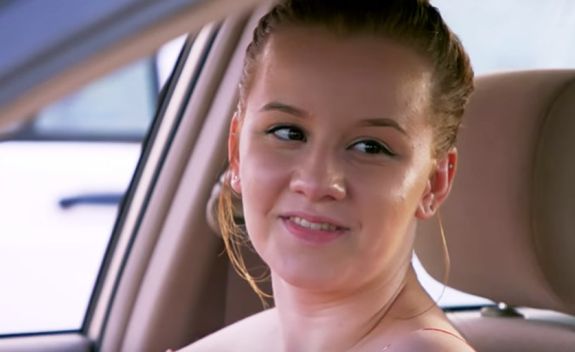 It's a girl for Kayla Sessler and her boyfriend Luke Davis III!
On Friday, the Teen Mom: Young and Pregnant star welcomed her second child, a baby girl the couple named Ariah Jordynn Davis.
Baby Ariah weighed in at exactly 7 pounds, and measured 20 inches long at birth. This is Luke's first child and Kayla's second. (Kayla is also a mom to a son, Izaiah, whose father is Kayla's ex Stephen Alexander.)
Kayla and Luke each announced the birth on their Instagram accounts. Kayla posted a video of Izaiah meeting the baby and excitedly declaring, "I big brother!"
Luke posted a photo with a caption explaining that his daughter was born on the 15th anniversary of his grandmother's death.
"15 years ago today I lost my grandmother and today I become a father to my baby girl," Luke wrote. "Granny I know you smiling down on me and your great granddaughter Ariah Jordynn Davis."
Kayla– who is currently 20 years old– announced her pregnancy in February, and in March she told fans via an Instagram Q&A session that this pregnancy was "definitely not" planned.
"Ladies! If you are on the pill and you get sick with the stomach flu or any other sickness that causes you to throw up, YOUR PILL IS NO LONGER ACTIVE!" she wrote in March. "If you throw up within 2 HOURS of taking it. It didn't have enough time to absorb into your body. You're literally throwing up your birth control."
She also stated that she plans to get an IUD to prevent more unplanned pregnancies.
While getting birth control is in Kayla's future plans, a wedding is not…at least, not for a while, according to what she told fans in March.
"Eventually [we want to get married], but I'm not in a rush! I'd prefer for us to both finish college before getting married," she wrote.
Kayla is the first of the 'Teen Mom: Young and Pregnant' girls to give birth to a second child.
Check out more photos of Baby Ariah below!
RELATED STORY: 'Teen Mom: Young & Pregnant' Star Kayla Sessler Answers Questions About Her Current Pregnancy, Future Marriage Plans & More
(Photos: MTV, Instagram)