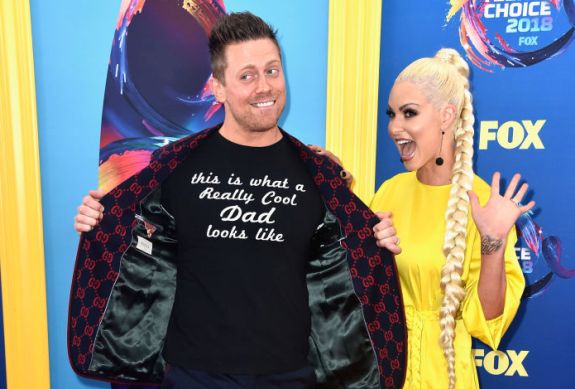 It's another girl for Mike "The Miz" Mizanin and his wife Maryse Ouellet!
The Miz and Mrs. stars welcomed their second daughter on Friday, Maryse confirmed in an Instagram post over the weekend.
"We've got the whole world in our hands!!!" Maryse wrote in the caption of a photo featuring her hand, along with Mike's and their baby's foot. "Welcome, Madison Jade Mizanin Born 09/20/2019 8:02am 7lbs 15 ounces."
(Naturally, little Madison Jade already has her own Instagram account.)
This is the second child for the pro wrestling duo. Their first daughter, Monroe, was born in March 2018. (She has her own Instagram account, too, of course.)
Mike– who we first met on The Real World and later went on to star on The Challenge— announced Maryse's pregnancy back in February live to the WWE Elimination Chamber audience.
"We always said that when we had a huge announcement that we would announce it right here in the WWE, in front of all of you," Mike told the crowd, as Maryse stood beside him. "And tonight, we got a really big announcement! So without further ado, Maryse?"
"We're having another baby!" she told the excited crowd.
Mike and Maryse have a lot to celebrate. In addition to their growing family, the couple's 'Miz & Mrs.' reality show was renewed by USA Network for a second season. The 20-episode new season will air some time in 2020, according to Deadline. The show's first season– which premiered in July 2018— was a big hit for USA. In fact, Deadline reported that the show was USA's biggest unscripted show launch in over seven years. It averaged 1.7 million viewers during the first three episodes.
RELATED STORY: Mike "The Miz" Mizanin Says He Will Never Be Respected Because He Was on 'The Real World'
(Photo: Lisa O'Connor/AFP/Getty Images; Instagram)