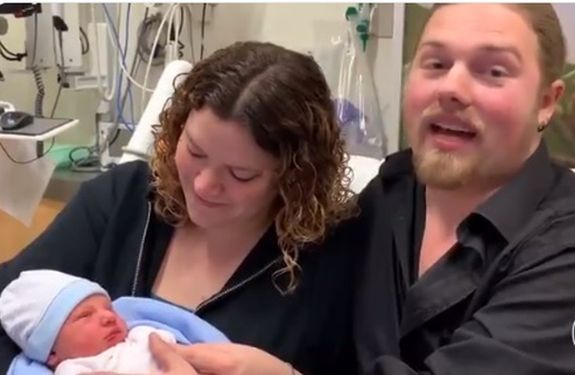 There's a new baby in the bush!
Alaskan Bush People star Noah Brown and his wife Rhain announced the birth of their first child on Wednesday. The baby boy, born on Tuesday, weighed in at 7 lbs., 5 oz. and measured 20 inches long at birth.
Noah and Rhain gave their bundle of bush people joy a surprisingly "normal" name: Elijah Conner.
"Rhain and I are thrilled to announce the arrival of our son Elijah Connor Brown," Noah told People. "Mom and son are healthy and happy — he's already working on his howl! Rhain is a wonderful mother already, I am truly in awe of her and we are both very grateful and excited to welcome him to our family."
In a video made for Discovery Channel, Noah stated that Rhain was in labor with Elijah for 18 hours.
"You don't realize how much respect women really deserve until you witness something like this [birth]," Noah said.
Meet the newest member of the Brown pack! We think you'll love the name. 💕🍼

Follow our first time parents' journey on the season premiere of Alaskan Bush People this SUNDAY at 10p on Discovery and Discovery GO. pic.twitter.com/nktTXWXtZC

— Alaskan Bush People (@AlaskanBushPPL) February 27, 2019
This is the first grandchild for Noah's parents, Ami and Billy Brown. In a statement to People, Billy expressed his excitement over the baby's birth.
"The day is finally here – we're grandparents!" Billy told the magazine. "Ami is over the moon and we all feel so blessed. We can't wait to meet the handsome young man and have them all back on the mountain soon."
Noah's little sister, Rain, posted to her Instagram account about her new nephew's birth.
"Dear Elijah Conner, I first met you at 3:30am Tuesday February 26th. And I will never be the same," she captioned a photo of herself holding the baby. "You have forever changed my heart and I will spend the rest of my life protecting loving and teaching you all I know. May the road rise to meet you, and the wind always be at your back. and the rains fall softly on your fields. May God hold you gently in the palm of his hand. Love you Eli, and I love you Noah and Rhain, you are amazing parents and you will only get better with time ♥️#staystrong #stayhappy #happyaunt"
Noah and Rhain announced the pregnancy in November, just three months after their wedding.
Noah, Rhain and the whole 'Alaskan Bush People' gang will return to Discovery Channel for Season 9, which premieres on March 3.
RELATED STORY: 'Alaskan Bush People' Star Gabe Brown Marries Raquell Rose Pantilla in Secret Ceremony
(Photos: Twitter, Instagram)